As a restaurant owner, it's important to offer your customers a seamless and convenient payment experience. You want your customer's payment experience to be just as exquisite as your customer service, so you need a payment solution that orders up.
Accepting digital payments not only creates a better customer experience but also improves your cash flow and reduces your restaurant's risk of fraud. Choosing the right restaurant debit terminal can be overwhelming, but with the right information and guidance, you can make an informed decision and be well on your way to serving your customers painless payment processing experiences.
Let's discuss how to choose the right restaurant debit terminal, and why Moneris is the perfect choice for your restaurant's payment processing.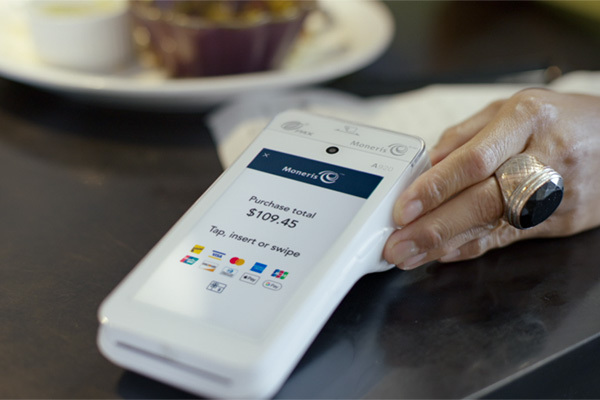 What to Consider When Choosing a Debit Terminal
When it comes to choosing a restaurant debit terminal, there are several factors to consider. Your terminal should be compatible with various payment methods, have a reasonable cost and associated fees, be user-friendly and easy to use, and have advanced security features to protect against fraud.
Let's explore each of these factors in more detail to help you make the rightdecision for your restaurant:
Compatibility with payment methods:
First, when considering which restaurant debit terminal to choose, take a look at the POS compatibility with payment methods. Your terminal choice should be able to accept credit and debit cards, mobile wallets such as Google Pay and Apple pay, and contactless payments. With the increasing popularity of mobile payments and contactless payments, you must have a terminal that can support each of these increasingly-preferred payment options.
Cost of the terminal and associated fees:
The cost of the terminal and associated fees is also an important consideration. Some terminals may have a higher upfront cost, but may offer lower transaction fees. Consider your budget and choose a terminal that fits your needs and budget. Moneris is known for offering some of the lowest fees in the country without sacrificing the customer service our merchants know and trust.
User-friendliness and ease of use:
The user-friendliness and ease of use of the terminal are also important factors to consider. Your staff and customers should be able to use the terminal with ease. The terminal should have a user-friendly interface and be easy to navigate. Accessibility may also be a factor for you, so choosing a payment terminal that offers your customers accessible options is another important consideration.
Security features:
Security is a top priority when it comes to payment processing. Your terminal should have advanced security features to protect against fraud. Moneris offers a range of security features, including end-to-end encryption, EMV chip technology, and real-time fraud detection.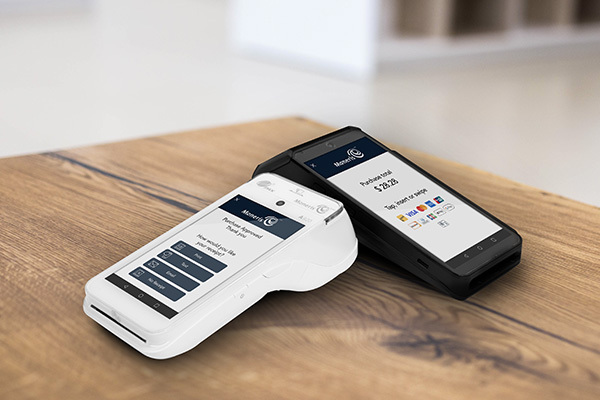 Moneris Debit Terminals
Moneris is a leading Canadian financial technology company that specializes in payment processing. We offer a diverse set of payment solutions, provide 24/7 support, and offer on-site field services. Moneris caters to both brick and mortar and online businesses. We have been serving Canadian businesses for over 20 years and were created as a joint venture by RBC and BMO. We are happy to support more than 325,000 merchant locations across the country.
Moneris offers restaurant POS terminals trusted by national chains and independent restaurants alike Moneris Go and Moneris Go Plus are our fastest, sleekest restaurant POS solutions. Moneris Go Plus has minimal setup time and features a 6-inch LED touchscreen, all-day battery life, and dual cameras. It includes enhanced security features to reduce card fraud and easily connects to wireless 4G and Wi-Fi. Moneris provides industry-leading in-store payment solutions and offers restaurant POS terminals and online ordering solutions.
Benefits of Moneris Debit Terminals for Restaurants
Moneris debit terminals offer benefits that can enhance the customer experience, improve cash flow, and provide valuable insights into your business. Let's take a look at the benefits of Moneris debit terminals in more detail to help you make an informed decision for your restaurant.
Improved cash flow and reduced risk of fraud:
Moneris debit terminals offer impeccable security features that protect against fraud and reduce the risk of chargebacks. This, in turn, can improve your cash flow and help you avoid costly disputes.
Enhanced customer experience:
Moneris debit terminals are user-friendly and easy to navigate, making them ideal for busy restaurants. Our POS systems support a range of payment options, including contactless payments, creating a better customer service experience and improving customer satisfaction.
Detailed reporting and analytics:
Moneris debit terminals offer detailed reporting and analytics, providing valuable insights into your business. Your business can track sales, monitor inventory, and analyze customer behavior to help you make better, more informed business decisions.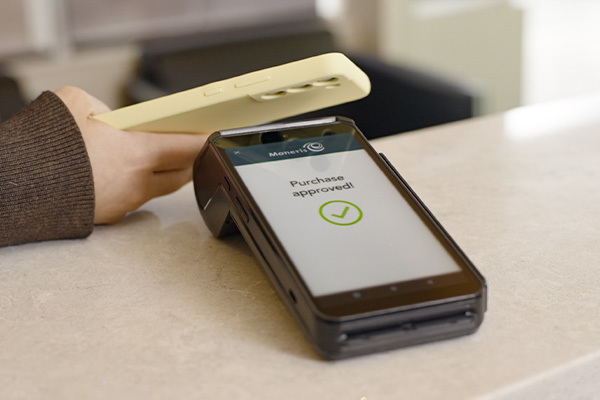 Switching to Moneris
Switching to Moneris is easy and hassle-free. Moneris can help businesses switch from their current payment processing solution and address common concerns and pain points, such as downtime and loss of data. The Moneris team will work closely with you to ensure a smooth transition and provide training and support every step of the way. Moneris offers scalable restaurant POS systems, meaning we can find the right payment solution for your business at each stage of growth.
Conclusion
Choosing the right restaurant debit terminal is an important decision that can impact your business in many ways. Moneris offers a range of reliable and secure payment solutions that can help you improve the customer experience, increase cash flow, and provide impeccable security.Contact Moneris today to learn more about our payment solutions and how we can help your restaurant thrive.
Moneris: Discover restaurant debit terminals that grow with your business
At Moneris we understand that as a business owner, it is important for you to be able to focus on running your operations as smoothly as possible.
Our integrated tools are designed to help you increase your income and achieve success. We believe that you deserve products that are always connected and consistently perform at a high level, just like your business.
Get started with Moneris today