The Moneris® Merchant Scoop Series offers an inside look at Canadian businesses thriving in an ever-changing business landscape. Learn about how these entrepreneurs got their businesses off the ground and how they continue to maintain their success!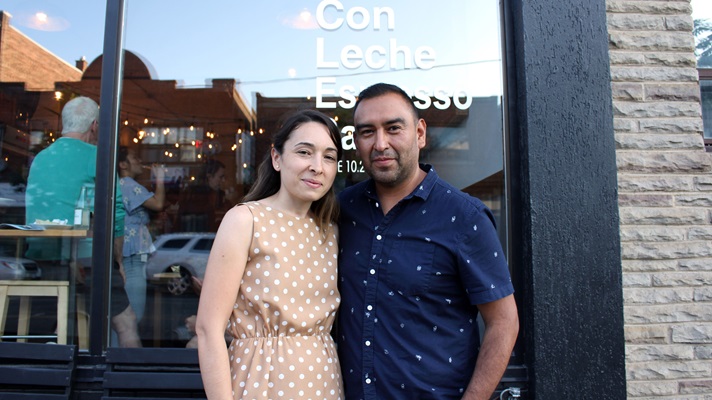 In this edition, we had the chance to sit down with Sandra and Carlos Flores of Café Con Leche at their location in Toronto's Junction Triangle neighbourhood. Having recently taken over the coffee shop again, the evening was marked as a special celebration.
Sandra and Carlos' Story
Carlos and Sandra started their journey by walking around Junction Triangle and asking the locals if they would want a coffee shop nearby. When they first found the space for their café in 2012, it was an old laundromat in rough shape, and the photos of the interior revealed that it was going to need a bit of work. They quickly renovated, adding a few missing pieces along the way. However, their goal was always to encapsulate the life in the community. They wanted to be loving, caring and go above and beyond to make everyone's day better.
Around the same time they opened Café Con Leche, they also shared their hot sauce recipe with the community. Although they never intended to make a brand name, it started to grow quickly. As No.7 Mexican Hot Sauce started to pick up, they found it was difficult to give their attention to both businesses. Eventually, in 2016, they sold Café Con Leche to their friends Brad and Jessica to focus on growing their hot sauce brand.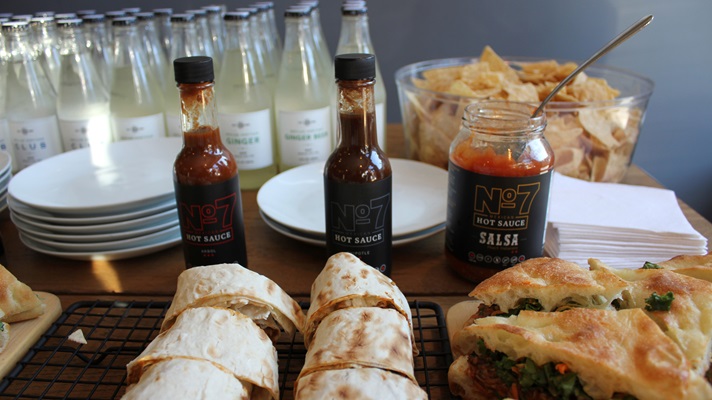 However, neither the café nor the neighbourhood left their hearts. Almost 3 years later, Brad got an opportunity to go back to his career in marketing, and Carlos and Sandra got a chance to own their coffee shop once again.
How excited are you to be back behind the café counter and how much has changed in the year since being away?
Sandra: We are super excited to be back! I was both exhausted and excited for our first week, but this week I'm just excited. A lot has changed since we left. Many of the families that we used to know have moved away. Many families who are brand new in the area are coming in and asking if we're the original owners. There are more businesses and more developments in the neighborhood, so it does feel like we've missed a bit. You have an odd memory of how things used to be, and then you wonder, "How do we pick it back up again?"
Carlos: Some people that walk in and you remember their faces, but you're not sure if you met them at the cafe or around the neighbourhood. You feel like you went back in time and all of a sudden you're here in the present.
If you had three words to describe Cafe Con Leche, what would they be?
Sandra: Definitely "family." This is a place of community, good coffee, and happiness. We don't want customers walking in to see us frown. At the end of the day, we serve good coffee. We are here to ask how you're doing and make the cafe a happy place. We want to make every experience here a good time for everybody.
Carlos: I would say family, friendship, and community. That sums up the way we do business. Often times, we are the first person a customer may see in the morning. People leave their house early to go to work and they come to our coffee shop first thing. If I'm behind the counter with an attitude, it's not welcoming. I feel as though when we eat and drink, our senses are triggered by our emotions. If I walk into a business and I see a bad attitude, even if the food is good, I'll still walk away with a bad experience.
Moving from a bad taste to a good taste, what is your favorite treat that you sell?
Sandra: That's a difficult one because I like all things sweet. My ultimate favorite is the almond croissant. They are also my favorite thing to try outside our business. I ask bakers if they would make it for my shop and that becomes my favourite thing. I recommend the almond croissant.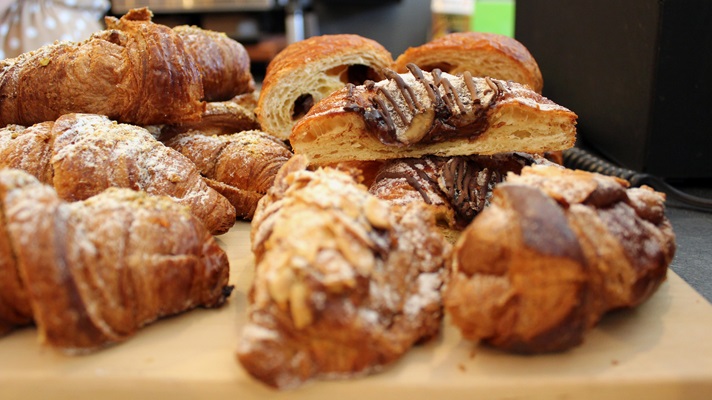 Carlos: For myself it's the chocolate croissant. We have a friend currently making rum cake for us to sell. We don't have it in stock for the café yet but I can probably eat a whole tray of those.
Welcome home, guys! Is there anything else you would like to add?
Carlos: If I can say one last thing, we have been with Moneris for 10 years through several businesses. I like the fact that if I pick up the phone I can get support right away. Last time we needed a new device to accept credit card payments with tap, Moneris made it super easy and took care of everything right away. I have always appreciated having such a dependable and supporting payment processor.
If you haven't "bean" to Café Con Leche, try their specialty – a café con leche! Having named their business after the well-known bold Spanish beverage, this drink is sure to help you hit the grounds running! If that doesn't sound like your cup of tea, you can visit the espresso bar for more sweet and strong options at their location in Toronto at 1571 Dupont St.
---
Want your business to be featured in a future Merchant Scoop? Please contact us at socialmedia@moneris.com.