The holidays are undeniably the busiest season for sales, which means traffic is about to hit an all-time yearly high.
Are you ready to get the most out of it?
People aren't only browsing – they're shopping and spending big: Canadians, on average, spent $1,276 per person in 2020 on holiday gifts. And, to top it off, 55 per cent of Canadian millennials admit they exceed their holiday spending budgets.1 That's great news, especially for small businesses looking for a revenue boost.
And the online trend is still going strong: a 2020 survey revealed 70 per cent of Canadians did their Christmas shopping online.2 For restaurants, professional services, and retail alike, this means it is prime time to expand business digitally and get ready to take on more.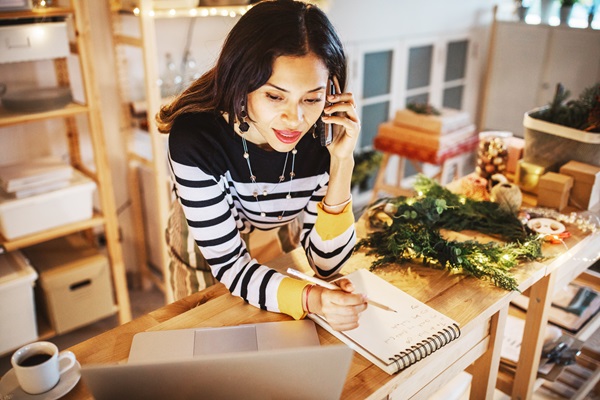 Here are our top tips on how to sleigh sales this year.
Double down on your sales channels
Prepare to be busy – and be present everywhere. The pandemic has changed the way consumers shop, spend, and utilize their time. So as a small business in today's world, omni-presence is vital. Take care of your customers' needs no matter where they'll be searching for you: in-person or online.
Social media
Stay connected. Create a space where customers (regulars, new ones, and potentials) can get up-to-date information, strike up a convo, ask questions, and even shop straight from your posts. Integrate your social channels and create the in-person experience online.
Ecommerce
While social media channels are your greatest marketing tool, if you're not set up with an online store yet, there's a good chance you're missing out on a great deal of customers.
As gift lists get longer and people become busier, they may be looking for more convenient ways to shop – without having to step foot in a store. Tap into that potential and start selling online fast with an all-in-one ecommerce platform.
In-person
If you have a bricks-and-mortar location, make sure you create that holiday-theme and get people excited right when they step in. Create a campaign that can be promoted in-store through signage and online through your homepage or a seasonal landing page. Send out email blasts, host giveaways and drive traffic everywhere you can be reached through your social media accounts.
Optimize for an influx in traffic
Simplicity and speed are the rules you need to abide by if you want to drive greater traffic and sales. The quicker your site loads, the quicker shoppers can browse, add to cart, and buy in a cinch.
The right ecommerce platform will give you essential reporting tools, so you can get a full audit of your website and get insights on how to optimize it. Make sure everything is running smoothly, pages are loading, and nothing is lagging. Products and inventory should be up to date, photos clear, and links live.
Understand your customer
Once you're set up and ready for business, a customer-centric experience should be the main focus.
In "Restaurants Chart a New Course for Customers", Discover® Global Network advises that "to win, merchants need to understand the new consumer and maintain their loyalty in a post-pandemic world. They will need to build a seamless experience across both physical stores and e-commerce websites, so that a customer who has been shopping at a retailer's website will have a comparable experience when shopping in-store."
Make getting your products or services a no-brainer – whether they want to buy or reserve online, pick up in store, shipped across the country to a friend, or delivered straight to their door.
Simplify scheduling
Online reservations are a big deal. With a built-in online scheduling tool, get everything organized so you can navigate through all the traffic. Let customers also find their way around peak times by scheduling their orders, pick-ups, dine-ins, and appointments on their time, when they want it.
Integrate shipping
When it comes to shipping, customers want two things: fast and inexpensive. With the right ecommerce solution, you can get the benefit of a reliable shipping partner, while your customers enjoy discounted rates. Bonus.
Sell gift and eGift cards
Options are important, and the more the merrier. Give customers the gift of choice with gift and eGift cards. They're an added source of income for you, a perfect option for the last-minute shoppers, and an easy way for your loyal clientele to refer your business to their friends and family too. Win-win-win.
The holidays are possibly the most important time of the year to turn browsers into buyers. Increasing your conversion rate by just one per cent could make a major impact on sales for your business.
Whether they want preferred shipping rates, flexible payments, various gifting options, or the ability to shop 24/7, let them have it all with an ecommerce solution that gives you almost everything you need.
You'll be more than prepared to turn peak traffic into serious revenue. After all, 'tis the season for shopping, and you want people shopping with you.
1,2 https://reviewmoose.ca/blog/holiday-spending-statistics/