It's more vital than ever to take your restaurant online. Why? Because right now, everyone is online. In the second half of 2020 alone, 63.8 per cent of Canadians surveyed responded they had ordered food online in some capacity, with convenience being the most popular reason why.1 So if you haven't expanded your restaurant onto the digital space yet, what are you waiting for? It's time to take your restaurant to where all the diners are at.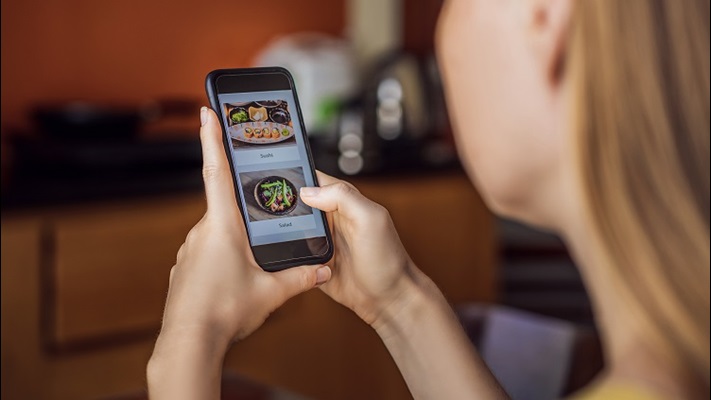 Elevate your social (media) ambiance
Social media can bring your restaurant to life, expanding your space right into your customers' homes. Draw people in with high-quality, eye-catching photography. Display menu items, show off your food and plating skills, and bring followers into the kitchen for some behind-the-scenes action. Stir their curiosity and make them want to check out your restaurant now (through takeout), and they'll be eager to reserve a spot once they can.
Enhance your online presence
There is nothing more convenient for customers than having a restaurant come to them. And right now, demand is at an all-time high. A strong online presence has the power to elevate your reach and get more customers booking tables, placing orders, and generating more revenue for your business. Where do you begin?
Step 1: Build a website with Moneris Online
Take your restaurant online with Moneris Online, our complete ecommerce solution. Master your digital presence with an AI-powered website builder, secure checkout page, easy online reservation booking, eGift acceptance and so much more. You'll gain access to more customers and drive loyalty, so you can have the ability to increase profits.
Step 2: Set up Reservation Module
When it comes to scheduling curbside orders or dine-in tables, give customers the experience they deserve. Simplify how reservations and pick-up times are made by letting them book directly on your website with the Moneris Online Reservation Module. It's the perfect solution for taking orders during off hours, peak hours, or even during your sleep hours.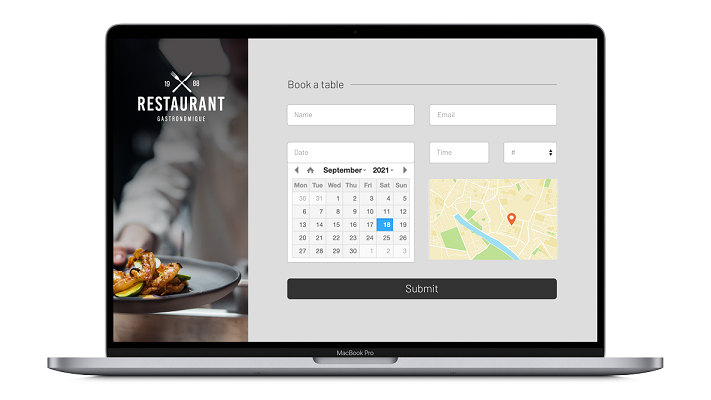 Setting up the reservation module is quick and easy. Plus, it's customizable to your business' needs.

Add: enable the Reservation Module by signing on to your web builder.

Customize: choose your preferences based on pick-up time, party size, time intervals, and anything else you want – it's up to you!

Manage: watch your tables fill up, and manage, edit, or change bookings right from your dashboard.
Step 3: Optimize your menu for takeout and delivery
While dining in, customers can ask questions and get advice from well-versed and personable wait staff (who may even upsell and cross-sell). But ordering online is a different narrative altogether. Make takeout easier so customers feel confident about their orders and know exactly what they're getting.

Optimize your menus and opt for dishes that travel well. Add vivid photos and write clear (and mouth-watering) descriptions for each and every item. List all ingredients including food restrictions and allergy warnings, and let customers personalize their orders with add-ons and substitutions wherever possible. Convenience is the name of the game, and the more options they have, the more beneficial for everyone.
The extras and add-ons: How to get more orders
Okay, so now you're online, getting orders in, and ready to take future reservations. Now what? Go beyond the basics to get more people on your site, and give them other incentives for choosing your business.
Serve up more ways to pay
Gift cards help get your name out there to those who may have never heard of you otherwise. This also makes them a great way to add to your revenue streams. Did you know that 63% of recipients spend more than the value of their gift card2? By offering digital gift cards (you can, effortlessly with Moneris Online) you're not only offering more flexible ways for your customers to shop, you're giving them more reasons to.
Sweeten the deal with special offers
People love being recognized and rewarded. Offering incentives for your followers' loyalty is a nice touch, and an effective way to increase followers. Consider a loyalty program, discounts for first-time and repeat customers, daily specials, and giveaways. Making customers feel extra special is an invitation for bragging rights (for them) and great five-star reviews (for you).
Give them a taste of the in-house experience
There's more to dining out than just the food. Restaurants offer an elevated atmosphere, the chance to try a new cuisine, and a professional-level, high-quality service. Whether it's a celebration, a simple get together, or a self-indulgent treat, dining out is a special occasion on its own.

Takeout gives customers the chance to enjoy your restaurant's cuisine, but dining at home can feel a little tired and stale after a while. Give customers new and exciting ways to re-create the dine-in experience. Put together a fun, curated meal kit they can prepare on their own, or offer a live-stream cooking class so they get that extra chef's touch. Make a wine pairing list and host a guided tasting. Share a mood-boosting playlist and voilà – date night-in just got elevated to a whole new level.

Although your doors may be closed, your restaurant doesn't have to be. While people are turning online more than ever before, it's crucial for you to position your business where it can be accessed anywhere, anytime. This alone can make a world of a difference when it comes to retention and revenue. Start taking online orders today with Moneris Online for an easy-to-navigate site, a seamless checkout solution, and essential features like scheduled orders and eGift acceptance. When the time is right, your customers can reserve spots at their convenience and you'll be filling the tables with satisfied patrons.
---
1 https://www.foodincanada.com/food-trends/many-canadians-intend-to-order-food-online-at-least-weekly-after-the-pandemic-146830/

2 Based on Moneris-supported gift cards purchased in 2018 and redemptions and payment transactions processed from 2018-2019. The figures provided are based on historical aggregated and anonymized transaction data for Moneris gift card