As a business owner, growing your business and attracting new customers is important. We're here, in partnership with American Express, to help make that easier with numerous tools and resources available to you at no additional cost to set your business up for success.
Let Your Customers Know You Accept Digital Payments
In recent years contactless digital payments have become a preferred way to pay for most customers.
As less consumers carry cash and more reach for their card or mobile wallets, Amex has developed complimentary signage, at no extra cost to Amex-accepting merchants, to let your customers know that you accept contactless transactions and that they can tap, pay, and go.
Visit amex.ca/signage to order complimentary business signage, industry-specific items like reserved signs and cheque presenters, decals to promote contactless payments, downloadable signage for your website, and so much more.

Open Your Doors to Valuable Customers
Many credit cards in the market offer competitive loyalty programs that incentivize and reward customer spending. Eligible American Express Cardmembers can use their Amex Card to take advantage of product-based rewards and benefits and new offers-based campaigns. By accepting American Express® Cards, you can connect with Cardmembers that are loyal to American Express, and in turn, could be your loyal customer.
With a wide range of Card offerings for Consumer, Small Business, and Corporate customers, you could be welcoming valuable customers within the American Express Cardmember base.
Connect with Customers Through Relevant Marketing
We know the importance of connecting with your customers in meaningful ways and showing them what your business has to offer. American Express is here to provide you with relevant and targeted solutions and products that cut through the clutter and connect your business with engaged Cardmembers based on where and how they spend, so you can focus on running your business.
Amex Maps and Online Directory feature eligible American Express accepting businesses and help Cardmembers find relevant businesses when they are ready to spend.1 Your business could be featured in a targeted recommendation email to Cardmembers. This means more exposure to Cardmembers to help keep your business growing and keep you welcoming valuable customers.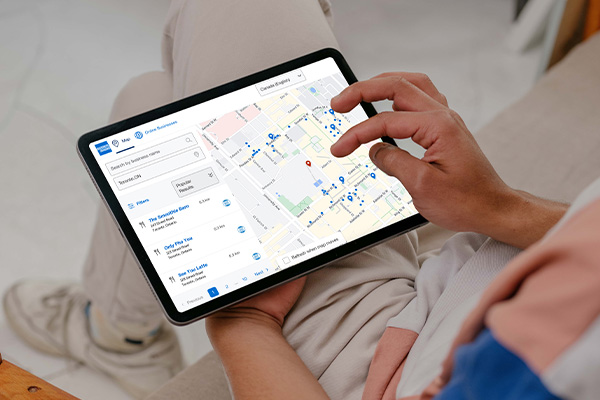 Your business could be featured as one of the small businesses promoted by American Express to Cardmembers throughout the year as part of the Shop Small program. Shop Small is promoted to Cardmembers via the Amex App, targeted emails, and social media across Canada. Through Shop Small, merchants are connected to new and valuable customers. Once you sign up to be an American Express Card accepting merchant your business may be eligible to be included in the Shop Small program.

Access Industry Insights with American Express Business Trends and Insights
With a continuously changing economic environment, it is important for business owners like you to stay up to date on latest trends and insights in your industry. American Express Business Trends and Insights provide access to podcasts, webinars and articles tailored to your industry to help you navigate today's business challenges. Explore topics on business strategy, industry insights, cash flow and so much more at americanexpress.ca/businessclass.
Check out these recommended articles for more on trends and insights in emerging industries:
Not currently accepting American Express Cards? Contact Moneris at 1-888-782-3965 to learn how.
____________________________________________________________________________________________________
TM, ®: Used under license from American Express. Copyright ©: Amex Bank of Canada, 2023. All Rights Reserved.
1 American Express Maps features eligible American Express Card accepting merchants and is intended for general reference purposes only. It does not represent a comprehensive list of all Card accepting merchants. Data is updated from time to time and may not be 100% accurate. For a list of eligibility criteria or to access Frequently Asked Questions please visit https://icm.aexp-static.com/content/dam/one-amex/merchant/en-ca/footer/default/CAFAQs.pdf.