Running a small business is a pretty big deal. But it's also a lot of hard work, and we recognize the hustle. That's why we've made it our business to provide the resources and tools you need (with 24/7 support) to succeed. Check out our latest and greatest articles, where we've rounded up helpful tips, insights, and how-to's, on everything you need to make the best decisions for your small business.
Ecommerce is undoubtedly the new norm. Lockdowns, brick-and-mortar store closures, and widespread restrictions have pushed consumers online, driving ecommerce to an all-time high. Businesses and retailers have been rolling with the punches though, and many have successfully transitioned to a digital existence.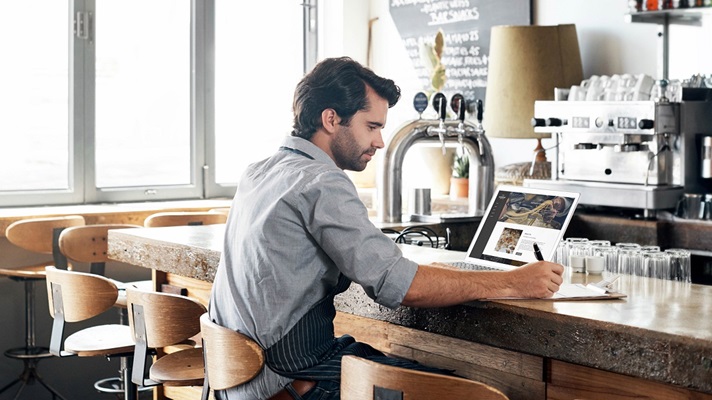 If there's anything the pandemic has taught us is that businesses only ever have two options: adapt or be scrapped. But the reality is that the future of ecommerce is bigger and brighter than it ever has been, so it's time to come out of the dark and get your business thriving. Although it may seem like an overwhelming task at first, pivoting online can be an easy process. It's all about starting small, thinking big. We've outlined five strategies to help pave the way and make the shift as seamless as possible.
Brush up on your social skills
Social media is your portal to the online world. You likely already have social channels you can leverage and reach out to your loyal followers. This is your main point of contact with your customers, and your foundational step towards building a larger community. Garner the right attention and build brand awareness simply by showing up in the right places. It's important to know where your audience is, who they are, and how you can serve them best.
Channel your reach
Check (and double check) that all your social channels are relevant and up to date. Your hours of operation, address, contact info, and any other key information should be easily accessible. Make sure all your channels are connected to your website, so people know where to find you.

Platforms for sharing photos, videos, and other inspirational content are great tools to utilize, because they offer tons of flexibility when it comes to online shopping. You can show off your products with images and videos, and tag them to make them shoppable right from your posts. This integration also enhances users' experience, who don't need to leave your feed to buy your products or services. With so many marketing channels available to choose from, you have the ability to reach a wide range of people. Remember to take advantage of hashtags to boost visibility and connect with your target audience based on specific topics.
Keep your connections tight
As a small business owner, any time spent nurturing the relationships you've built is priceless. It's hard to stand out in all the noise that is social media, but engaging with your existing customers not only reassures their brand loyalty, but keeps them excited and on their toes for what you may have in store.
Opt in to emails
Stay in touch (and top of mind) the old school way. Newsletters and email campaigns are a tried, tested, and true form of communication, and if your subscribers haven't opted out, then you're doing something right. Maintaining a solid email list will help keep your followers in the loop when updating your channels, creating new content, or offering discounts and promotions.
Go live
Offering live content is the way to go if you want to connect even deeper, while sharing a space of openness, curiosity, and learning. The same services your clients are accustomed to having in person, you can still provide online, and keep the conversation as private or as public as you like.

Share fun moments with your audience through your account: from HIIT classes, to webinars, to chef-led cooking lessons – whatever your audience is craving, there's a link for that. Give your viewers some behind-the-scenes action, a question and answer segment, or host a live shopping experience. All is welcome, and your customers will appreciate the opportunity to catch up with you, and may even request to join the conversation.
Market yourself on marketplaces
There are online business hubs galore on which you can be discovered by people looking to find new local (or even global) gems. The more eyes and ears on your business the better, so help spread awareness by listing your small business on online directories.

Canadian-based marketplaces like Not-Amazon and Make It can help you get more exposure and connect with your local community, and are also very popular amongst those looking to shop local. If you're a black-owned business, showcase your work through platforms such as Black Owned Canada, a national directory where the goal is make it easier for black business owners to get recognized and grow.

Taking advantage of the many directories and opportunities available can really help strengthen your online presence and drive up sales.
Build your online store
Providing your customers with a digital storefront to replicate the in-person familiarity (from the comfort of their home) is a huge convenience for them, and a major win for you. Give them a positive shopping experience using an ecommerce solution like Moneris Online. You'll get all the tools you need to build your website, manage your store, accept payments, and pick delivery options. For a complete step-by-step guide, take a look at our eBook on how to start selling online. It outlines all the essentials for getting your business up and running, with ease and success.
Deliver on the goods
Once your website is up, you'll need to wrap things up and decide on delivery, because shipping is a big deal. In fact, it could be a deal breaker if you miss the mark with high shipping costs, or limited options, which could ultimately leave you with a bunch of abandoned carts. Avoid customer disappointment by offering them what they want: easy and reliable delivery options.
Shipping
Shipping is a valuable service when it comes to closing a sale, so put time and consideration into this. Think about offering a flat rate, or even offering free or reduced shipping on minimum dollars spent. Customers are more likely to 'add to cart' just to get to that free shipping threshold. However, there are other variables to consider, and the little things – like packaging and carrier rates – add up quickly if you're not careful. Make sure shipping doesn't become more costly than you anticipated. Try solutions that offer extra perks (and help save on costs) like Moneris Online, which gives preferred shipping rates from UPS®.
Curbside pickup
Offering other solutions is also an attractive offer for many. Curbside pickup is a cost-saving growing trend, as it eliminates the delivery wait time for your customers. As stores open, there's also the potential to get people back in for some much appreciated face time. At the end of the day, giving your customers what they want is all that matters.
What will you do to thrive in 2021 and beyond?
In an ever-changing digital landscape, resilience and adaptability are synonymous to your business' success and growth. While building your online presence and securing your own piece of digital real estate are no-brainers, enabling the power of ecommerce with platforms like Moneris Online is what will help you get there. Plus, it may prove to be one of the most valuable decisions you'll ever make.
---
The information in this article is provided solely for informational purposes and is not intended to be legal, business or other professional advice or an endorsement of any of the websites or services listed.

1This promotional offer (the "Offer") is not transferable, cannot be combined with other promotional offers or discounts and is time limited. In order to take advantage of this Offer and receive certain UPS preferred rates, you must visit ups.com and create a UPS account or sign-in with your existing UPS account. The services provided by UPS are subject to the UPS Canada Terms and Conditions of Service and such terms and conditions are available at UPS.com/ca.