Running a restaurant can be a challenge, even on the easiest of days. The difference between making a profit and a loss can be a matter of a couple cancelled reservations, poor seating arrangements, or a menu that doesn't match your inventory. Therefore, restaurateurs look for as much certainty and predictability as they can get when it comes to simplifying their operations.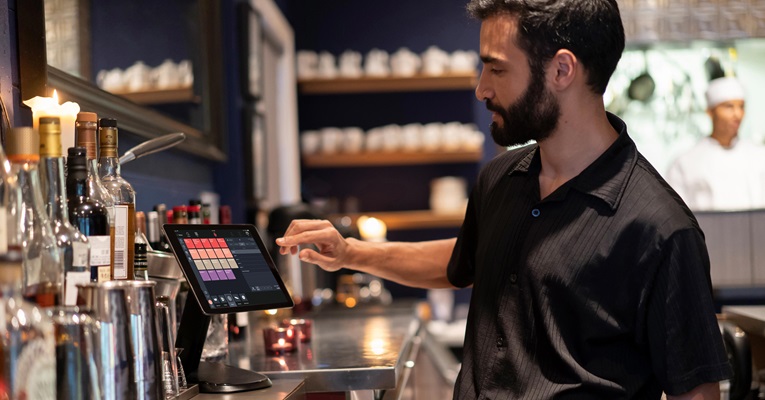 Statistics Canada has noted the average Canadian household is now spending close to $2,600 annually eating out at restaurants, an increase of 17% over the last four years. Although the opportunity for growth continues for restaurants of all shapes and sizes, any benefit from an increase in customers can quickly vanish if you aren't watching your costs. This is especially true when costs increase for items like labour, equipment and inventory, as you get busier.
Luckily, integrating technologies like Moneris' all-in-one iPad POS solution into your restaurant's operations can lead to all kinds of benefits, like improved efficiency and reduced costs. Whether you're in the front or back-of-house, the introduction of a point-of-sale solution would fit seamlessly into your operations and simplify much of the restaurant management you're already doing.
Restaurant POS solution makes life easier
Using a Moneris iPad POS solution enables managers to centralize information to a single cloud-based platform. Why be limited by location to access data on operations or reliant on a fixed-position terminal to enter orders when it can always be available at your fingertips?
Integrating a POS helps in many ways. It enables faster and more precise ordering by allowing orders to go straight from the table to the kitchen. It gives you quick insight into managing your seating plan and reservation systems, and helps you understand where things can be optimized for results that are more desirable.
It also enables you to make decisions faster because you can now easily anticipate staffing or food inventory needs. Restaurants are just as data-driven as any other business. When margins can be razor-thin, having a system and allows you to make informed decisions based on numbers in real-time can be the difference between a profitable operation and one struggling to contain costs.
Starting up with a Moneris iPad POS solution
With the purchase of every point-of-sale solution, Moneris offers award-winning customer service and end-to-end support. Time is always at a premium when you have food to get out to your customers. Restaurant managers don't have the luxury of sitting down with an instruction manual to install a new system because they have multiple responsibilities on the go at all times.
Easily manage your menu, tables, and staff with an iPad POS solution from Moneris. Learn more.

Getting the most out of your restaurant
Once you have a Moneris iPad POS solution in place for your restaurant, learning what works best for your business will happen over time.
---
The information in this article is provided solely for informational purposes and is not intended to be legal, business or other professional advice or an endorsement of any of the websites or services listed.