The Moneris® Merchant Scoop Series is dedicated to highlighting Canadian businesses thriving amidst an ever-changing landscape. Featuring exclusive interviews, learn more about the entrepreneurs behind the scenes, their stories of how they got their businesses off the ground, what it really takes to achieve success, and what the next steps could look like for a resilient future.
Robert (Rob) and Danielle Begin are a husband and wife team who are the owners of the restaurant and brewery nestled in Ontario wine country. A few years ago, Rob had passed by a barn in St. Davids (a small village in Niagara-On-The-Lake) many times and the infrastructure was striking to him. He could not stop imagining the possibilities for the property every time he saw it. After 17-hour days, working on their hands and knees and constant support from their daughters, their vision became a reality. Rob planned to bring back the pizza recipe he used years ago at his old restaurant, and his experience in sales with breweries and wineries allowed him the opportunity to combine his love for food and profound interest in beer. In addition to pizzas, up-scale pub food is on the menu.
"It was natural for me to use Moneris because there are so many Canadian companies using their solutions, which shows that they are very comfortable with services offered." The business is using countertop and wireless terminals. "Transactions are very complicated and difficult to manage. You need someone that you can trust is going to manage them in an efficient way. Moneris devices just work, remove complexity and make the payment experience easy," adds Rob.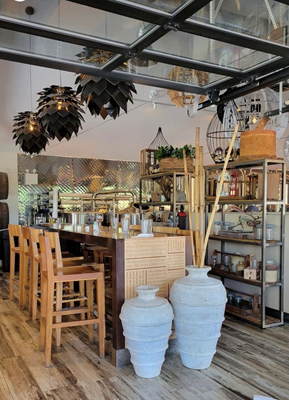 To learn more about the story of The Grist and their experience with Moneris, click here.
---
"The unexpected success of the business is because of my family and the staff who are committed to ensuring excellence each day when they come into The Grist. We support each other and we trust each other."
MONERIS and MONERIS & Design are registered trademarks of Moneris Solutions Corporation.