The Moneris® Merchant Scoop Series is dedicated to highlighting Canadian businesses thriving amidst an ever-changing landscape. Featuring exclusive interviews, learn more about the entrepreneurs behind the scenes, their stories of how they got their businesses off the ground, what it really takes to achieve success, and what the next steps could look like for a resilient future.
Bridget Churchill grew up taking care of animals like dogs, cats, and even horses. So, it came as no surprise when she decided to open Steel House Doggy Daycare - a canine daycare in Sturgeon County, Alberta, offering year-round kennel-free boarding and dog training.

Bridget opened the daycare in the fall of 2019, after making the difficult decision to shut down the stainless-steel welding shop she ran with her husband. "We built the facility from the ground up, but after so many recessions we just couldn't take it anymore. I needed to do something that I enjoyed." She thought, what better way to use the 4000 square foot space than to open a dog daycare for the community?
Once the couple renovated the facility into a fully functioning dog daycare and opened for business, they had dogs signed up for both their boarding services and daycare right away.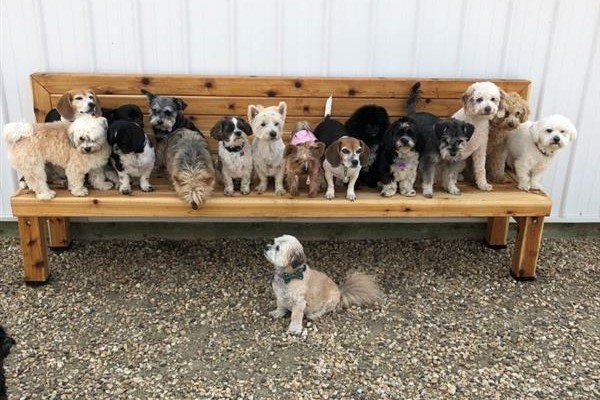 But in March 2020, like many business owners in Canada, Bridget prepared for the worst.
"People were really panicking about the pandemic. We didn't know what COVID was and if dogs could catch it. I remember around March 15th everyone came in, no talking, and just grabbed their dogs," she recalled.
The daycare was considered an essential service, so Bridget didn't shut down operations. But keeping their doors open was difficult and costly. Sometimes, she'd only have one or two dogs to watch over the entire day, which significantly impacted their income.
It took some time, but as more information about the pandemic was released and safety measures were implemented, the dogs started to come back. But Bridget noticed an interesting change in her returning clientele, "The dogs that came back to the facility were these little, tiny dogs. I couldn't really afford the staff to help me handle dogs of all sizes at the time, so I decided to turn Steel House into a daycare for small dog breeds only."
While it's been hard to turn those clients away, Bridget's received nothing but kindness and understanding from her community. "They all recognize and respect the commitment I made to changing our daycare policies, and they've been so supportive. I'm very, very lucky," she said.
Why Steel House Doggy Daycare chose Moneris as their preferred payment provider
Bridget remembers being introduced to Moneris while running her stainless-steel business, recounting how easy and smooth the experience was. She thought to give it a try once again for the daycare.
Right from the set-up and installation process, Bridget had a really good experience with her customer service representative. "I spoke to someone maybe once or twice during the entire process, and they were excellent. They helped us get everything set up. Then about a year in, when we ran into issues with our machine, a technician was at the daycare the next day after our initial call. They replaced the whole machine, and I haven't had to call since."
Bridget's favourite part about their terminal is the overall ease of use and flexibility for her clients. She appreciates that the machine accepts every card brand that her clients use to pay.
What's Next?
Today, the business is slowly building back its clientele. Bridget was able to hire another employee and the business continues to cater to the care and boarding of small dog breeds. On average the daycare will oversee about 15 dogs per day, with the maximum capacity being 30 dogs at the facility.
As pandemic restrictions eased over the last few years, people continue to bring their dogs into the daycare. Of course, Bridget is happy to have them.
To learn more about their journey, read the full story
here.