The Moneris® Merchant Scoop Series highlights Canadian businesses thriving amidst an ever-changing landscape. Featuring exclusive interviews, learn more about the entrepreneurs behind the scenes, their stories of how they got their businesses off the ground, what it really takes to achieve success, and what the next steps could look like for a resilient future.

Canada is often stereotyped as a land of hockey lovers and double-double drinkers. And while those statements may be true, as a country, we're so much more than that. We're a land of opportunity, home to immigrants, an empire for innovation, and a community for all cultures to co-exist and prosper. Canada offers a global village and promotes people coming together and creating a culturally beautiful mix. From butter chicken poutine to sushi tacos, Canada's superpower is embracing similarities in cultural differences. Let's explore the story of someone who added another piece of cloth to the Canadian fabric.

Meet Natalie Best, the Founder of Spoletto Design Inc. (Known as La Plantation in Canada), who brought Cambodian traditions and goods to Canada. She runs a Fair Trade business that sells pepper and spices, scarves and earrings made by artisans from Cambodia. La Plantation in Canada is the official distributor of Fair Trade spices from La Plantation in Cambodia.

What's a Fair Trade business you may ask? "The Fair Trade process means that we get gourmet spices and in exchange, the workers on the farm are getting living wages. In turn, Fair Trade guidelines have contributed to vast improvements to their everyday lives," explains Natalie. As a Fair Trade facility, La Plantation prioritizes the people, traditions and sustainability.
Background
In 2013, Natalie Best visited Cambodia and was amazed to see the culturally rich country. She explored local markets and that's when she thought it would be incredible to give artisans from Cambodia more exposure by selling their products in Canada. She began talking to local crafters during her visits to Cambodia to help build on her business ideas. She learned about one weaver named Sareouth and talked to her about her ideas to sell her products in Canada. Best officially started selling earrings and scarves in 2014. Later she discovered Kampot Pepper, a spice only grown in the Kampot region and used by gourmet chefs around the world. As of today, Best sells Kampot Pepper online and supplies it to gourmet culinary shops.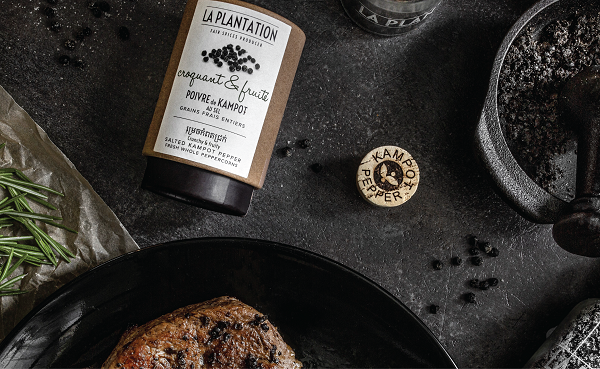 Why Moneris?
Natalie found us when she was in need of a payment solution that offered debit because it is important to her to provide flexible payment options to her customers. "Everything I need to process payments and understand how my business is doing at the markets is wrapped up in one device. On top of that, the all-day battery life gives me the peace of mind that I can do business on the go all day."
"Having comfort that the device has 4G connectivity no matter which market I attend, makes a huge difference as a small business owner who depends on every purchase made by each customer," she added.
Looking Ahead
Natalie continues to explore ideas to expand her business. At the same time, she is educating her customers about the lives of Cambodians and the products from this part of the world. Her overall mission is to spread awareness about the impact of supporting companies that produce Fair Trade products.
To know more about her journey, read her full story here.