The Moneris® Merchant Scoop Series is dedicated to highlighting Canadian businesses thriving amidst an ever-changing landscape. Featuring exclusive interviews, learn more about the entrepreneurs behind the scenes, their stories of how they got their businesses off the ground, what it really takes to achieve success, and what the next steps could look like for a resilient future.
Located in the beautiful northern city of Prince Albert, Saskatchewan, Saunders Electric is a business many locals have grown to know and love for over 66 years. This business is one that has been passed through generations and continues to thrive because family is at the heart of every decision made at Saunders Electric.
Brittany Saunders is one of three children of the current owners, Don and Delores Saunders. She tells the story of the business. Brittany's grandfather, Don Saunders Sr. founded Saunders Electric in 1956, after returning from WWII. His son Don Saunders Jr. found himself surrounded by his five sisters growing up. As the only boy, Don Jr. spent his youth observing at his father's electrical shop.
Don Jr. took over the business in the early 90's and operated the company with his wife, Delores. Until today, there has been success along with many challenges on their journey.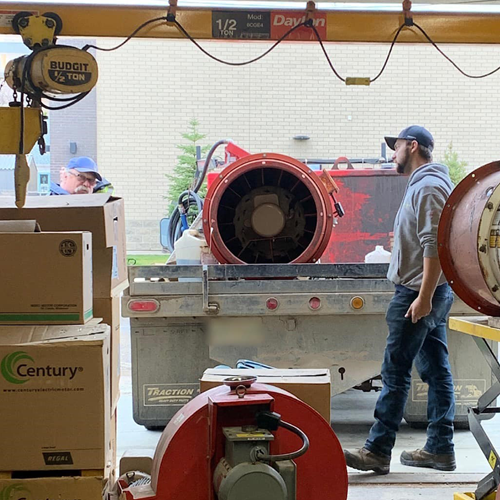 "A huge part of electrical work is taking time to understand the details of the project in order to give customers accurate quotes from the very beginning to achieve the desired result(s). The practice is a leading priority of the company," says Brittany. The company prioritizes and responds depending on how urgent the situation is. Sometimes there are delays because of product shortages, but the family focuses on ordering items far in advance, so they don't have to inconvenience their customers. Saunders Electric has many parts in stock that are in demand because of the company being in business for several years. "People come to us for all kinds of odds and ends just because we have built up our own unique inventory and knowledge over the years," says Brittany.
Saunders Electric chose Moneris® due to key solutions that interested them. Saunders noticed Moneris offered advanced technological solutions such as Moneris Gateway, which lined up with the business' goal of using advanced technology to make the customer experience as smooth as possible. "Moneris has been there to support us with ground-breaking technology available at competitive prices, which has allowed our business to excel," says Brittany. Using Moneris Gateway has made it possible to offer contactless payment options. It also made processing payments more efficient, especially for large items that can cost thousands of dollars.
All in all, two parts of the business that will not change is the family and the community in Prince Albert. These are the wheels that keeping the business moving forward each day.
To learn more about the Saunders Electric and their experience with Moneris, click here.