The Moneris® Merchant Scoop Series is dedicated to highlighting Canadian businesses thriving amidst an ever-changing landscape. Featuring exclusive interviews, learn more about the entrepreneurs behind the scenes, their stories of how they got their businesses off the ground, what it really takes to achieve success, and what the next steps could look like for a resilient future.
Background
When you think of restaurant success, a career in architecture is not where you'd expect it to begin, but that is where Rosemary Woods' story starts. Becoming the co-owner and co-founder of four restaurants including Funky Chow Kitchen in Windsor, ON has been driven by a passion discovered later in life.
While working as an architect, Woods enjoyed travelling and collecting cook books. One day she was looking at the cook books that accumulated over the years and decided to try making one of the recipes. Shortly after the cooking began, she felt a passion for it similar to when she pursued her career in architecture. Little did she know it would lead to a dramatic change in her career.
Woods met with a business partner to discuss her new passion for cooking and ideas for the restaurant industry. After some planning, they began with one restaurant and now manage four. They opened their first restaurant in 2018, followed by two more in 2020 and Funky Chow Kitchen opened their doors in May 2021.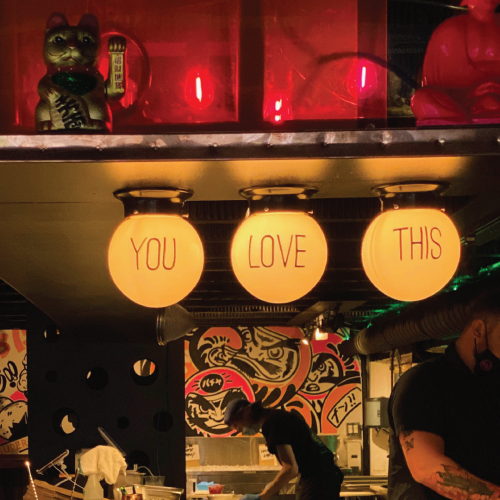 Purpose
The team strives to make it a place where guests enter and immediately forget about everything else in their lives and indulge in having a good time. "I want my customers to be captivated by the funky hot pink and bright orange designs on the walls of the restaurant and the delicious menu items. They should feel that the restaurant is not just loud with music, but loud with laughter," relates Woods.
Why Moneris
When looking at their payment solution for the restaurants, Woods and her partner selected Moneris Go. "Our decision to choose Moneris Go was motivated by our mission to offer a modern, flexible payment solution to our guests. Moneris Go has an intuitive interface for both customers and servers. The touchscreen interface and easy-to-use features make it simple for busy servers to work with when they are processing payments from customers."
Looking Forward
For now, Woods and her team are excited to continue serving customers, working together and having fun in between.
To learn more about the story of Funky Chow Kitchen and their experience with Moneris, click here.