The Moneris® Merchant Scoop Series takes a closer look at Canadian businesses who are thriving in an ever-changing business landscape. Learn about what it took to get their businesses off the ground and how they are maintaining their success. Guest post by Richard Reid, General Manager of White Oaks Resort & Spa.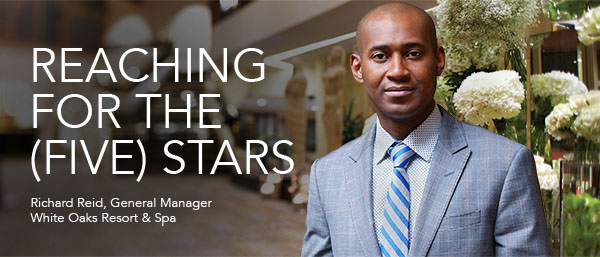 White Oaks Resort & Spa started as a small, family-run business, and has since grown into a first-class destination in the Niagara-on-the-Lake region. Our success has largely depended on steadfast values – a focus on quality and commitment to our guests' experience.
Humble beginnings.
White Oaks started in 1978, first opening as a small fitness centre with squash, tennis and racquetball courts and a small lounge. While hard work was part of it, I think a lot of the success White Oaks has seen comes from a genuine place of just wanting to provide an outstanding experience. This line of thinking snowballed taking us from adding 88 guestrooms right through to building out a full resort with restaurants, spa, fitness facilities and a full service conference centre.
Small investments. Big returns.
I have to thank the White Oaks team for also committing to our constant 'room for improvement' approach. We are a tight-knit community, with several experts from different fields coming together under one roof. Improvement does not always need a big financial investment, as often simple changes can make a difference.
From every corner of the hotel, guests interact with not just friendly faces, but with people who have a genuine smile. Guests can tell when your staff are excited to be there, and that helps to enhance a relaxing moment at the spa or a gourmet dinner in LIV Restaurant.
Making the right choices.
In the course of our 39 years in business, White Oaks has faced many of the challenges the hospitality industry has endured, from labour shortages to economic pressures. We have made the right business decisions by always following our guiding vision, "[w]e treat each individual guest and team member as though the success of our business depends on that individual alone" – and that has helped us navigate through change over the years.
It is more than just making good business decisions though. It is also about empowering our whole staff – from every department and level – to make good decisions. We have a policy at White Oaks that allows our entire team to do what may be necessary to make our guests' experience unforgettable without a lengthy approval process.
Our guests' experience is something that happens second-to-second, so every team member at White Oaks has to be able to respond just as quickly. We've focused on building a culture of decision making that has really helped push our ongoing commitment to crafting a better guest experience. It has also helped us bond as a team by setting a foundation of trust in our abilities to make the right decisions at the right time and circumstance.
Don't check-out on the payment experience.
The checkout process is another important touchpoint when ensuring that we provide our guests with a five-star stay. The payment experience needs to be just as stress free as the guests' stay at White Oaks. A poor online payment experience can dampen the guests stay before they arrive. If the checkout experience at the counter is cumbersome, it can bring a very negative end to what was an enjoyable weekend.
Our customers have come to expect excellence from our business. We put considerable thought into every part of the White Oaks experience, from the variety of wines we offer to the payment options we provide.
---
®MONERIS is a registered trade-mark of Moneris Solutions Corporation. All other trade-marks are the property of their respective owners.
Moneris is not responsible for the accuracy, reliability or currency of the information supplied in this article. Merchants wishing to rely upon this information should consult directly with White Oaks Resort & Spa. The information in this article is not intended to provide specific financial, investment, tax, legal, accounting or other advice to you, and should not be acted or relied upon in that regard without seeking the advice of a professional.