The Moneris Merchant Scoop Series takes a closer look at Canadian businesses that are thriving in an ever-changing business landscape. Learn about what it took to get their businesses off the ground, how they adapt to the 'new normal' and plans for the future!
Meet MOLLY MAID. The first home cleaned by MOLLY MAID was in Mississauga, Ontario, by founders Adrienne and Chris Stringer back in 1979. The Stringers believed that busy families and homeowners would rather spend their time focusing on the more important things in life rather than cleaning their homes.
It didn't take long for MOLLY MAID to become a household name in Mississauga and the surrounding area. Since 1979, MOLLY MAID has expanded not only across Canada but also into the United States, the United Kingdom, Japan and Portugal. Each year, MOLLY MAID Franchises perform more than 2 million cleans — all from the humble beginnings in Mississauga, Ontario.
We chatted with Aaron Abrams, the President and CEO of MOLLY MAID Canada to learn about their history, their success, and how they are adapting to the "new normal."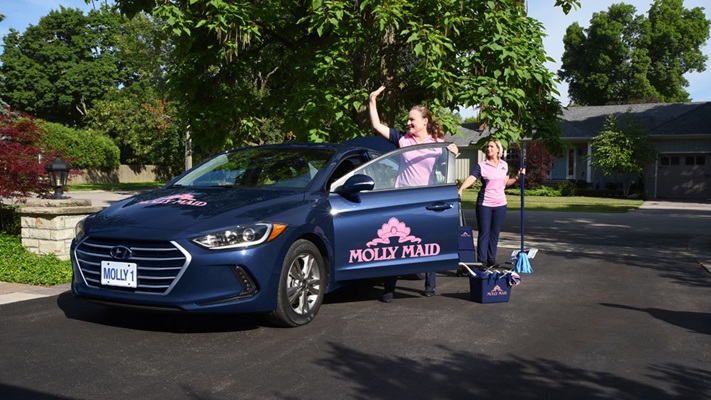 How is MOLLY MAID different from other businesses in the cleaning industry? Is this how it was envisioned from the beginning? How have you had to adapt the business due to the pandemic?
MOLLY MAID has been a trusted company in the cleaning industry for over 40 years, delivering a personalized service based on a free in-home estimate. Our cleaning teams are all professionally trained, bonded, insured and arrive at each clean in a MOLLY MAID vehicle. The cleaning supplies we use are environmentally preferable to ensure our customers' health and safety, families, our teams, and the environment. In addition to a clean home, MOLLY MAID service affords our customers free time to do the things they love.
At the start of the pandemic, we decided to suspend service to protect our teams, customers, and the greater community. To help stop the spread and keep the necessary personal protective equipment (PPE) in the healthcare professionals' hands, we knew we had to make this sacrifice.
During that time, we began weekly Zoom meetings with our Franchise Partners, along with daily email updates from our President and CEO. With input from our Franchisees, the CDC, and the WHO, we developed the Healthy Home Cleaning System. It's a set of protocols for our Franchise Partners and their teams when cleaning our customers' homes to keep both our customers and our team members safe.
Since returning to service in late May, we have reduced the communication frequency to our regular weekly communication. However, we continue to have monthly Zoom meetings with our Franchisees, enabling them to share their successes and challenges.
What is the biggest lesson you have learned as a business during a global pandemic?
Communication has been the key to our success. We have maintained frequent contact with each of our customers and our team members during service suspension and since returning to service. The efforts made to ensure our customers were safe and well informed about when we could return to their homes served to strengthen our relationships with them. Many of our customers came to look forward to and expect a check-in from our Franchise Partners. It became a comfort to many of them during a time of isolation.
Our weekly Zoom meetings provided unique insights from each of our Franchise Partners, which we used to help develop the Healthy Home Cleaning System. We use these meetings to get quick feedback on how things are going and make changes to how things are done, where necessary.
What can customers expect when requesting your services? How have you updated your safety protocol as we move into phase three across Canada? How is that different from before the pandemic?
We offer the same great clean, with a new peace of mind! As mentioned previously, the Healthy Home Cleaning System sets out protocols that our Home Service Professionals adhere to when cleaning a customer's home. These include the use of gloves and masks, the disinfecting of our equipment before entering a customer's house, among other things. While much of these systems were already in place before the pandemic, we have added the additional protection measures of wearing masks and gloves. We also use Green Housekeeping Program cleaning products, which includes one that is a cleaner/disinfectant combination that's effective against COVID-19 on all high touch point areas.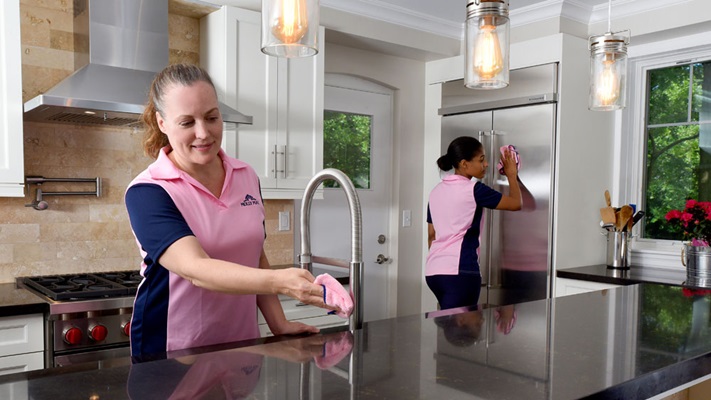 How important is it to have strong and reliable partners for continuing your businesses? How has Moneris been an ideal partner in helping you overcome challenges and grow your business?
Our partners are integral to the success of our business. We always believe that they are an extension of our team at MOLLY MAID. Through many of these partnerships, we have been able to make our systems and processes more effective and efficient.
Moneris has been a fantastic partner for our Franchisees. With the implementation of things like batch processing, our Franchisees save hours a week, allowing them to focus more on providing better service to our customers.
What is the most important thing to consider as a business owner to future-proof your business?
Create efficiencies where you can. Involve your team members and your partners where possible - the best ideas come from collaboration.
Additionally, it is vitally important to implement robust systems early and update them regularly where possible. It has been one of the fundamental driving forces of MOLLY MAID Canada's success.
One of the things that helped us throughout the pandemic was the relationships our Franchise Partners and Support Office had with partners. Calling on these people for support and input has been instrumental in us quickly making decisions and adjustments, as we've needed - pre-COVID and now.
---
Want your business to be featured in a future Merchant Scoop? Please contact us at socialmedia@moneris.com
The information in this article is provided solely for informational purposes and is not intended to be legal, business or other professional advice or an endorsement of any of the websites or services listed.