Valentine's Day isn't the only boon to business coming up. The All-Star Weekend is set for February 14-16, and some of the biggest names in basketball are bringing game to Chicago. Canadians showed what avid basketball fans they are during Toronto's 2019 championship run, with huge boosts to spending at bars and restaurants across the country.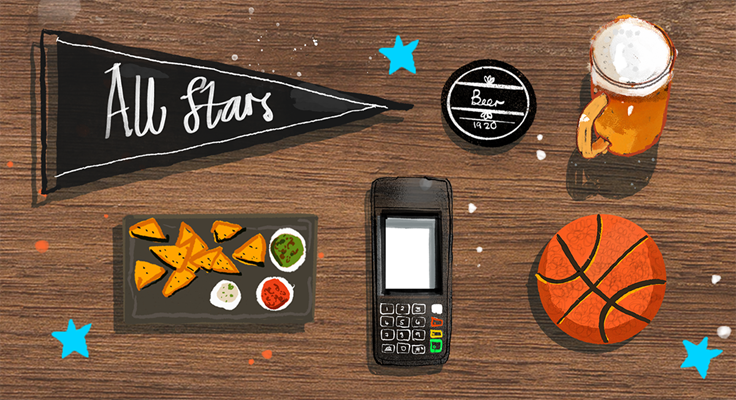 When we compared spending trends between the 2018 and 2019 finals, sports fans contributed as much as a 63% increase in spending at bars and restaurants from coast to coast. With Toronto's Pascal "Spicy P" Siakam in the starting lineup of the 2020 All-Star Game, there's extra incentive for Canadians to come out and cheer.
We've got some ideas to get your bar or restaurant ready for the big game. Here are some tips for providing a great experience to your customers, encouraging them to return again and again:
Give first time customers a reason to come in the door. Offer a limited time special on food or beverage items during the run of the event.
Create a special menu item related to the event. Or adapt something already on the menu. Do you usually serve onion rings? Now they're the hoops in a "Hoops & Hops" special.
Include a special event for sports fans and non-fans alike to widen your appeal during the big game – Tournament Bingo, Best Fan Flair contest, or set up a basketball net in the corner – and offer swag or a gift card to your restaurant as prizing.
Get local sports fans excited. Decorate your bar ahead of the big day with pennants, jerseys and posters advertising that you'll be showing the game.
At CRAFT Beer Market, Regional Marketing Manger, Joanna Britton, says they "always try to play to our positives. For example, CRAFT venues are very large and can easily accommodate big groups. We use this in a lot of our advertising for games especially: 'Book a table for you and all your friends!'"
Don't forget to utilize your social media channels to get fans hyped. For example, creating a Facebook event can help you gauge interest in the event, which you can use to ensure you have the right amount of staff scheduled.


You can also predict your inventory and staffing needs by reviewing the previous year's sales numbers, as well as data from other recent big game events. Moneris customers can do that easily by logging into your Merchant Direct account, or through your iPad POS system enabled with Lightspeed Restaurant.
---
The information in this article is provided solely for informational purposes and is not intended to be legal, business or other professional advice or an endorsement of any of the websites or services listed.