If you've ever listened to the podcasts "Yes, We Are Open" (YWAO) or "Just Good Business" (formerly known as ShopTalk), then you've likely heard the rich, soothing voice of Al Grego.
Al has always had a passion for podcasts and found unexpected success when he launched the Produce Stand, a Letterkenny and Shoresy podcast, during the pandemic. It prompted him to think about his role at Moneris, where he was working in human resources at the time building, leading and being the voice behind the company's online training modules.
When he was still on the training team, they were looking for ways to promote the development opportunities that were available for people at Moneris. That's when Al came up with the idea of a biweekly podcast called the Moneris Minute. It was on the company intranet and a new episode went out every two weeks for 100 episodes.
Fast forward to just before the pandemic hit, Al was recording a podcast called Career Stories with Duri Alajrami, our Chief Sales and Marketing Officer. The two talked about the need to have a podcast strategy for Moneris. Duri asked Al if he'd like to create that strategy, and Al jumped at the opportunity. So, Al moved from HR to marketing.
First Al launched "Yes, We Are Open" in October 2021, followed by the company's second podcast, "Just Good Business" in January 2022. Both the podcasts have been nominated for multiple awards with "Yes, We Are Open" winning the award for 'Outstanding Business Series' at the 2022 Canadian Podcast Awards.
We sat down with Al to learn more about the programs and what inspired him to become a professional podcaster.
What inspired you to start YWAO

and

Just Good Business

?

What's

the difference between the two

podcasts

?
I've always been a big fan of podcasts. I've been listening to podcasts for as long as they've been called podcasts, somewhere around 2003 or 2005. I was asked to come up with a podcasting strategy for Moneris and so I came up with ideas for two shows: YWAO and Just Good Business.
YWAO was going to be focused just on our merchants. I took inspiration from a CBC show called Still Standing. I wanted to visit small Canadian businesses across the country to tell their story, talk about their struggle, how they came out of that struggle, and their future outlook. We've successfully launched four seasons. Each season consists of 8 episodes released weekly.
Just Good Business is our thought leadership show. We put out an episode once a month. Each month, we pick a theme and then we have interviews with partners, industry experts, and Moneris experts. It's about a 25-minute digest of what's going on with Moneris, in the payment industry, fintech space, and in the small business world in general.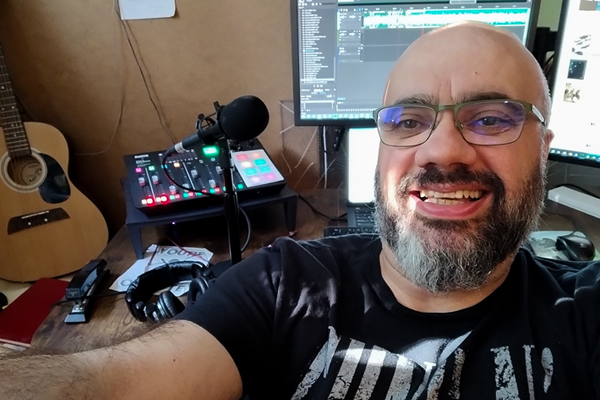 What challenges did you face when you started the two podcasts? And how did you overcome those challenges?
With Just Good Business, the challenge is knowing what to talk about and coming up with the monthly topics and themes. We want to ensure that we're topical and deliver information that's useful to the listeners while using the platform to position Moneris as a thought leader.
For YWAO, I was a little surprised at how difficult it was to find businesses willing to share their story. In hindsight, I should have realized business owners have extremely busy schedules managing multiple tasks and roles, so the idea of being on a podcast isn't really a priority. Despite this, I've had the great fortune of visiting small businesses across the country who have opened their doors to share their stories with me and allow me to then share those stories with our listeners.
What equipment do you use?
In my home studio, I have a RoadCaster Pro mixer. I use SM58 dynamic microphones and always start with analogue for that warm sound.
When I'm on the road, I use a Zoom H5 digital recorder. It is a handheld recorder with a couple of mics.
How do you prepare for these interviews?
Do you give the interviewees any scripts?
Specifically for Just Good Business, I meet with our Communications team, Partnerships team, Strategy team and Events team the month prior to plan for the upcoming episode. Often, I get our Partnership team to hook us up with one of our partners, one of the banks or credit cards or some of the other organizations we partner with to see if they want to come on the podcast. It's a great vehicle for them too and they love being on Just Good Business, so that's fun.
For the interviews, I send the interviewees a rough idea about the questions beforehand, but I don't like scripts. I also request them not to script their answers. It's about having a conversation and trying to make them comfortable to open up and share their stories. I remind them that I'll be able to edit it or re-record it if they didn't like the way they answer something. I encourage my interview subjects to own the segment. They're the experts, I'm just trying to learn from them. So, I'll ask the who, what, when, where, and why so that the listener can learn along with me.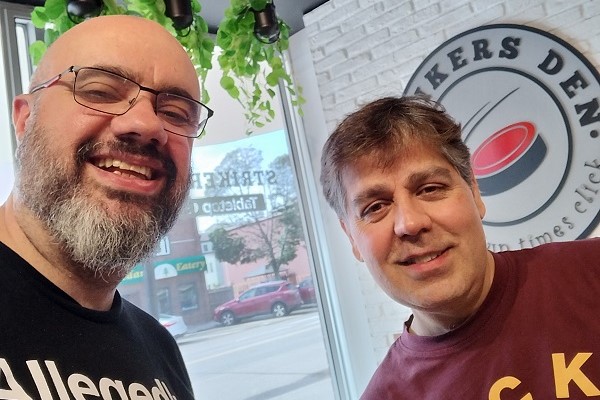 What have you learned about effective storytelling and how to engage your listeners?
One thing that I learned early on is to not go into an interview with a preconceived notion of the story. Reality is usually more interesting than anything you can come up with. For example, in February 2022, I visited an auction house in Saskatoon. I went in there thinking they were going to talk about how the pandemic affected their business, and how they can't wait to get back to in-person auctions when all the restrictions were lifted. But their response to my question was unexpected. When I asked them if they were looking forward to going back to in-person? They said, "Why would we do that? We're making way more money doing what we're doing now. We might do in-person auctions once in a while as a novelty, but now that they're fully online, they're going to stay that way."
How do you stay motivated to

maintain

the quality of your content?
I love podcasting. I love podcasts. I'm a listener. I've always been a listener. I listen to a lot of podcasts, and so I have a good idea of what works and what doesn't. And I have a background in audio engineering, so I know how to make things sound good. What keeps me motivated is that I just want to keep doing what I'm doing. I love talking to people and connecting with them. My motivation is always 'Where's my next trip?' 'Who am I going to speak to next?' And that keeps me going.
With everyone constantly scrolling through TikTok or Reels on Instagram, what role do you think podcasts play in the media landscape and how do you see their influence growing?
I think as traditional mainstream media like radio continues to struggle, podcasts will be one medium that will fill that void. Personally, I have completely replaced listening to the radio with podcasts because on the radio you're listening to a lot of ads. And while you're listening to a lot of stuff you're interested in; you're also listening to a lot of stuff you're not interested in. But with podcasts you can pick and choose. You can basically tailor the media that you want to consume. Sure, video has its place, but podcasts are a little easier to consume while you're on the go, doing mindless things, or even while working. You can't watch a video while you're driving, so there are still places for the consumption of audio-only.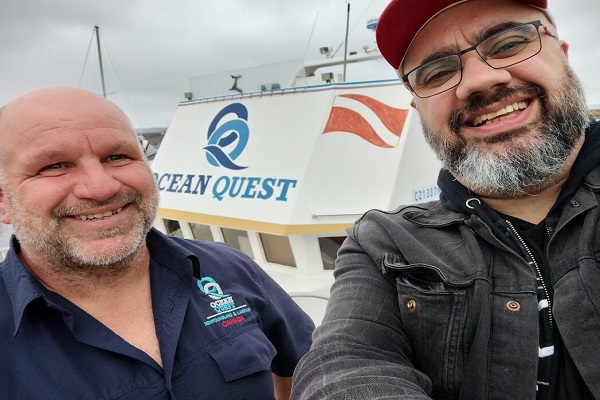 What advice do you have for any aspiring podcast owners?
Just start. You're not going to be great in the beginning, but every time you put something out, you'll get better. Don't expect a huge audience. Just pick your niche and be happy with that niche and that audience. You don't have to start with a lot of budget. You can just start with a microphone and a laptop.
And that's a wrap! We thank Al for speaking with us and sharing his journey. We're grateful to Al for delivering incredible content through both podcasts.
Al is currently working on YWAO Season 5 where he's planning to visit an indigenous shop, an art gallery, a scuba school and more. Stay tuned for the upcoming episodes available here on the Moneris blog.
Meanwhile, click here to listen to the previous seasons of YWAO and click here for Just Good Business episodes.
Thanks for listening. Happy Podcast Day to all creators and listeners!