Let customers pay their way: Interac® Debit, digital wallets, and Moneris Online
Accelerated by COVID-19, the shift to digital payments has been nothing short of drastic. The number of cash transactions at the point-of-sale in Canada, fell from 6.5 billion in 2014 to fewer than 4 billion in 2019.1 Considering the inevitable pivot to a digital-first world, Moneris Online is the perfect option for Canadian shoppers looking to make purchases using Interac Debit via their digital wallets, including Apple Pay or Google Pay™.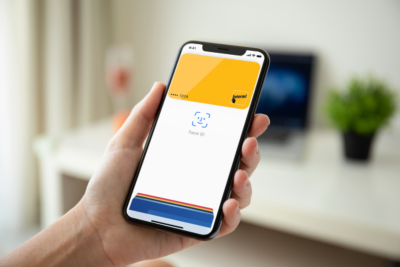 The impact of debit
Did you know 94% of Canadians have a debit card?1 In fact, Interac data shows there are more than 24 million active debit users per month across the country.1 By allowing shoppers to buy online with their Interac debit cards in their digital wallets, you're ensuring customers are paying the way they want to.
And although you may think credit is the more popular option online, you may want to think again. Debit actually reaches more Canadians than credit—including a growing number of younger consumers who are less likely to own credit cards.1 In fact, 7 in 10 millennials and nearly 2/3 of Gen-Zers, a debt-averse generation, believe they should have the option to use debit cards wherever they're making an online payment.2

Digital wallets and Moneris Online
By accepting digital wallet payments on Moneris Online, customers can make online purchases with their Interac debit cards using Apple Pay or Google Pay. This provides a convenient checkout experience that can lead to higher conversion rates, and can also help reduce risk and exposure to ecommerce fraud since payment requires authentication through passcodes, fingerprint, or facial recognition software.
The digital wallet phenomenon has taken off so rapidly that many millennials and Gen-Zers have stopped carrying around physical wallets in favour of the one on their phones. Tap into this growing market by accepting digital wallet payments on your online store. Need help building an ecommerce store?
Interac and the Interac logo are registered trademarks of Interac Corp. Used under licence. For a list of participating financial institutions, please visit https://www.interac.ca/en/ [interac.ca]
Apple Pay and the Apple logo are trademarks of Apple Inc., registered in the U.S. and other countries.
Google Pay and the Google logo are trademarks of Google LLC.
1https://www.interac.ca/en/content/business/interac-report-canadian-consumers-are-embracing-digital-wallets-and-debit-in-e-commerce/
2https://www.interac.ca/en/content/news/half-of-gen-z-and-millennial-canadians-are-more-concerned-about-managing-their-finances-amid-covid-19/