Restaurants, like many small businesses, are suffering from what the COVID-19 pandemic has wrought. Empty seats, diminished foot traffic, and a foggy future have made it hard for some to keep their doors open. As we all do our part to curb the spread of the virus, we also await the answer to that critical question: when can we return to business as usual?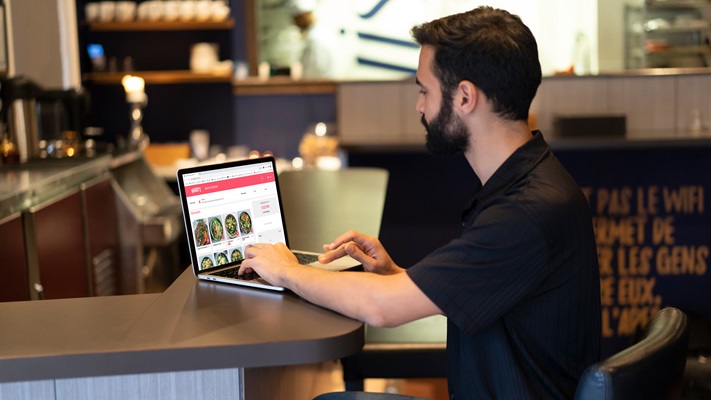 While the timetable to normalcy is ironed out, there are several actions restaurant owners can take to get cash into their pockets and food onto their customers' plates. All it takes is a willingness to adapt.
Make customer communications a priority
First, you must communicate to your customers how you're adjusting. Without their patronage, keeping the lights on becomes a near-impossible task. The good news is that keeping them informed is easier than it's ever been. Emails, newsletters and physical signs on the outside of your establishment are effective ways to keep your customers up-to-date, but to reach a broader audience in real-time, you should engage on social media.
With platforms like Facebook, Instagram and Twitter, you can communicate as frequently as you'd like on your:
Open hours
Food ordering options
Cleaning procedures and protective wear
Daily specials and adjusted menus
Efforts to retain front-end staff
Increased contactless payment limits
Community support and outreach
Ways customers can provide feedback
Ways customers can donate to COVID-19-inspired charities
Live videos are a useful tool to show your customers how you're safely preparing, cooking, and packaging their food.
But it's more than just keeping your customers up-to-date. Social media allows for dialogue, so take the time to answer questions and respond to comments in your feeds. This measure of customer service will enable you to understand their needs clearly, and in return, they can appreciate the efforts you're putting forth.
It takes a new level of commitment, not only to your business but also to the community you serve, to survive this pandemic.
Serve your customers where they're comfortable—online
While communicating is crucial, it's equally important to find new measures to get your food to your customers.
By introducing in-restaurant takeout, curbside pickup and home delivery, you'll provide options that can meet anyone's social distancing comfort level. Addressing this shift in your operations will require you to set up an online ordering system. Selecting one that's best suited to your needs will help you create a future-proof restaurant model that will carry on after the crisis is over—here's why:
Demand for online orders is only going to grow. Offering an online ordering system conveys to your customer that your restaurant is modern and accessible to all.
Online orders will boost revenue. With convenient and strategic upsell, the average online order is 40% higher, which means more money in your pocket. Since customers can take their time without any pressure to wrap up their orders quickly, they not only order more, they come back more often.
Improved order accuracy. Since customers can view and easily make changes to their orders, online ordering eliminates many opportunities for miscommunications. Plus, with direct integration with your POS system, orders reach your kitchen without any second input removing human error from the equation.
Customer insights. In business, restaurants that know the most about their customers are the most likely to succeed. Online ordering is a great way to get that information.
UEAT, for example, can help you provide a one-of-a-kind customer experience using digital ordering tools that are smart and intuitive. Their online ordering system allows you to customize your display to reflect your branding, offers fixed-fee delivery, can conveniently upsell combos or add-on items, and can help create the right promotions for your customers.
Once your new system is in place, work with your staff to adjust your workflow. You'll want to make each step from ordering to delivery as safe and efficient as possible to keep customers coming back.

Give the gift of gift cards
Once you're steadily communicating with your customers and have your new ordering operations underway, you can introduce another avenue to increase your cash flow.
By offering gift cards, you're giving customers the option to support a restaurant they know and love, while putting cash back into your business. For those who want to remain truly contactless, there are digital gift cards. These are perfect for paying online or even in-person as they integrate seamlessly with digital wallets.
Protect yourself from set-backs
The attention you give to your customers and your ordering practices is critical, but it's also vital to prepare for unforeseen events that can negatively affect your operations.
As social distancing and quarantines continue, we've seen an increase in break-ins and thefts at small businesses. To help avoid these events, you can take precautionary measures like removing items from outside displays, hiding or taking home valuables, removing cash from the premises, and installing a security system. Right now, the last thing you need is a single event that can disrupt your cash flow.
Keep moving forward
Keeping your restaurant afloat during these challenging times is no easy task, but if you follow these tips and stay on top of online resources for your small business, you can see the light at the end of the tunnel.
---
The information in this article is provided solely for informational purposes and is not intended to be legal, business or other professional advice or an endorsement of any of the websites or services listed.