What is a chargeback?
A chargeback can happen to any business that takes card payments and is essentially when authorization may have been provided but is now reversed. It may be caused by cardholder disputes, errors made by businesses in the submission of their credit card transactions or non-authorized transactions. 80% of chargebacks received are fraud-related disputes and 20% are consumer-related. Usually the cardholder contacts their bank, and the issuing bank determines if they have chargeback rights. Typically, they may credit most customers upfront pending the outcome of the case. Then the issuing bank initiates a chargeback (through the card brand association) to Moneris.
How to manage a chargeback?
As a Moneris merchant there are ways you can manage and dispute chargebacks. Tip: Did you know you can set up a triggered email alert for each chargeback? To view and manage chargebacks, log in to Merchant Direct. Once you log in, you can go to the tab "Disputes" and select which request you need. Also, by looking at the "Outstanding Chargebacks or Outstanding Copy Request Report" you can see the most current and outstanding chargeback requests that need your attention.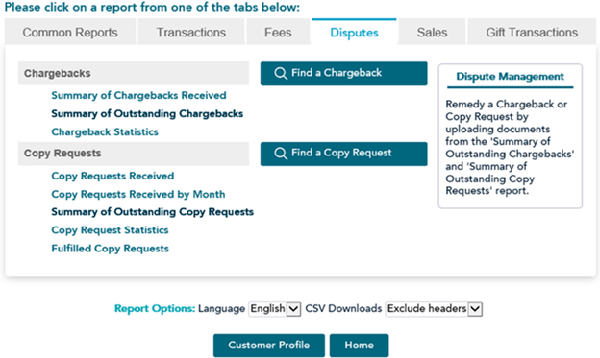 How to respond to a chargeback?
If you feel that the purchase was authorized by the cardholder and the sale follows the correct business terms and conditions, then you can dispute a chargeback. Remember to always respond on or before the response due date noted within the case details. If you have the proper documentation and receipts ready, follow these simple steps to dispute the chargeback in Merchant Direct.
Find the case which you want to counter.

Click on the Case ID and go into the Dispute Details.

Look for the Chargeback tab.

If you see the "Upload" tab is available, you can upload documents relevant to the case.

Click the "Upload Documents" button. Then click attach file button to add supporting documents, review the disclaimer, and then submit to upload the file.

As the file is uploaded, the status of the case will change to "Response Received, Pending Review".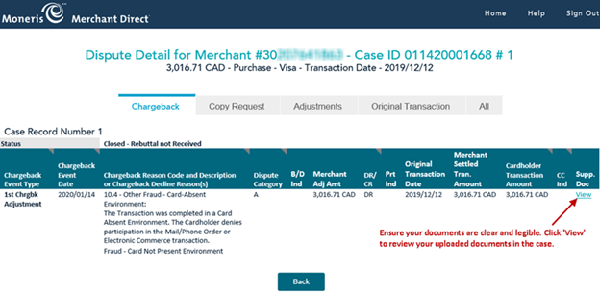 If you choose to accept a chargeback case, you are accepting responsibility for the chargeback as the customer will be favored and no further action will be taken in the case. To accept a case, follow these steps:
Find the case which you wish to accept.

Click on the Case ID to go into the Dispute Details.

Look for the Chargeback tab.

If you see the "Accept Case" button, the case is valid for you to accept.

Click the Accept Case button and note that once you accept, you cannot undo this action.
To learn more about chargebacks, watch our video and see how you can dispute them.
Different types of chargebacks:
Fraud-related dispute: The merchant processed a transaction that was identified as fraudulent; the cardholder claims that he or she did not authorize or engage in the transaction.
Authorization dispute – The merchant processes a transaction without first obtaining a correct and valid authorization approval from the issuer.
Processing error dispute – Usually starts with the merchant and can be prevented. These chargebacks come from mistakes made by the merchant at some point during the payment submission such as duplicate processing, late presentment when settling the transaction, incorrect amount or account number.
Service dispute – Customers start disputing merchandise or service issues. A few examples would be non-receipt of merchandise/services as agreed, defective merchandise, dissatisfaction with a product, credit not processed.
How to mitigate risk:
Making returns easy by refunding customers as quickly as possible and having clear return policies.

On-time delivery of goods to customers - Refund customers immediately if the goods/services cannot be delivered by the expected delivery date.

Avoid miscommunication - Alert customers if a product is out of stock as soon as possible

Layer your AVS and CVV authentication tools with ecommerce fraud tools, such as

3-D Secure,

which works to confirm validity of transactions in real-time and

Moneris Kount® Essential

, which uses AI to analyze transactions and reduce risk of chargebacks.
Overall, chargebacks can affect anyone, and knowing what they are, how they can affect you and your business, and how to respond to them can help avoid lost revenue. If you have a terminal with Moneris, be vigilant for potential red flags – visit our Protecting Against Fraud page for more info.