The Moneris® Merchant Scoop Series highlights Canadian businesses thriving amidst an ever-changing landscape. Featuring exclusive interviews, learn more about the entrepreneurs behind the scenes, their stories of how they got their businesses off the ground, what it really takes to achieve success, and what the next steps could look like for a resilient future.
Looking for a blowout, balayage, or bangs? Twin Image Hairdressing is here to make sure you have a good hair day. We all know that having a good hairdresser who is up-to-date with the latest trends and understands your needs is a boon. For a business that strives to build long-term relationships with its customers, Twin Image Hairdressing is a client-favourite.
Background
Founded by twin brothers, Nick and Terry Haros (hence the name), Twin Image Hairdressing opened its first Toronto location on Danforth Avenue in 1999 and a second location in the Upper Beaches area in 2010.
Like father, like sons they say, Nick and Terry followed their father's footsteps and got into the hairstyling industry. First-of-its-kind, their father's salon was a pioneer in offering hair cutting, styling, and coloring services to both men and women in Toronto. The two spent their early years learning from their father and refining their colouring, cutting, and styling skills. Hoping his sons would carry on the legacy, their father inspired them to go to Hair Styling School.
After gaining the education and experience required for cutting and coloring hair, the brothers opened Twin Image Hairdressing in 1999, on Danforth Avenue at the age of 21. They deliberately chose the space as they were seeking an 'odd' location within the GTA that would be more accessible to clients. They describe it as 'one of the more hidden spots in the Toronto area' as clients have to venture out beyond their regular paths to find the salon.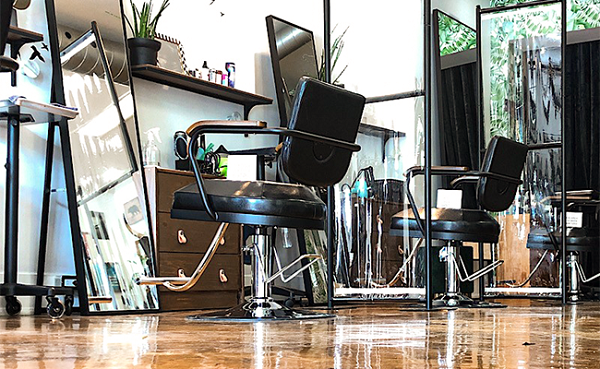 Why Moneris?
Twin Image Hairdressing became a part of the Moneris family back in 2011. They have upgraded to Moneris Go as their business continues to grow.
"The device has been life-changing for the business with several advanced features including remote access to reports. Being able to have insights at the tip of my fingers when I can't be at the salon allows me to not only be productive with my continuous business planning, but it puts me at ease as well," says co-founder Nick.
The pandemic hit their industry hard but Nick recalls how Moneris Go helped them serve their customers back then. "Moneris Go was especially handy when we had to close our doors due to the COVID-19 pandemic restrictions. We wanted to continue supporting our clients even though they could not come into the salon, so we started offering a curbside pickup option for hair products. Moneris Go made the process easy as we were able to bring the wireless terminal with 4G connectivity directly to our clients' cars," he said.
Looking ahead
The twin brothers plan to continue turning their passion into their profession styling hair and running their salon. They hope to expand their clientele and strengthen relationships with existing customers ensuring they achieve their #HairGoals.
To learn more about the story of Twin Image Hairdressing and their experience with Moneris, click here.