The Moneris® Merchant Scoop Series is dedicated to highlighting Canadian businesses thriving amidst an ever-changing landscape. Featuring exclusive interviews, learn more about the entrepreneurs behind the scenes, their stories of how they got their businesses off the ground, what it really takes to achieve success, and what the next steps could look like for a resilient future.
What comes to mind when you think about an artisan? You're likely imagining an individual designing a product because of their natural interest in creating. However, for artisans across the globe, it is much more than that. Many use their passion to simply survive. Jackee Kasandy aims to tell the stories of artisans through her business Kasandy | Locally Global.
Kasandy | Locally Global is a fair trade store founded in 2016, in Vancouver, BC, with the primary goal of building awareness about lives of artisans from East Africa and around the world. The fair trade process ensures makers in developing countries have sustainable and equitable employment opportunities. Additionally, the business is committed to giving artisans the opportunity to expand their reach and craft products tailored to the contemporary style of the store.
Growing up in Kenya exposed Kasandy to the lives of artisans. She was drawn to their love for creating colourful products and at the same time, watched them struggle to put food on the table for their families. She wanted their work to be seen and help them make a living off their effort and talent. Her goal was to do this while selling quality products that are not only ethically sourced, but also handmade, carefully crafted and designed to last.
The business journey began with Kasandy getting on a plane, going to East Africa and bringing home pieces to test her business concept. At that time, she knew she wanted her business to be more than just importing items to Canada and selling them. She wanted to personally get to know makers and work closely with them by designing the pieces that they would create for her store. "I work with artisans who share the same values as I do and work in a medium that aligns with the products I want to sell." When she travels and sees an artist's potential, Kasandy will have a conversation with them and most of the time, it results in new products added to the store.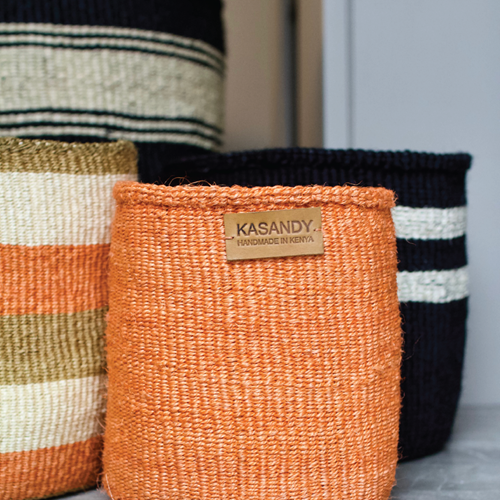 "Customers love hearing about the inspiring stories of the artisans as it adds that much more meaning to the items they purchase."
As the business continued to grow, Kasandy needed a reliable solution that allowed her to accept credit and debit from her customers. She had heard from other businesses that Moneris® was a good option and started looking into the various options for her business. She decided on a countertop terminal. The terminal allows her to offer her customers multiple payment options, be it chip & PIN or contactless, which allows her to be as accommodating as possible for her customers.
Since opening, the store has seen steady growth. The plan is to expand stores to Toronto, Montreal, Ottawa and Calgary. Kasandy is looking forward to expanding inventory and has aspirations of increasing her online sales. For now, she is grateful for the business journey she has been on. "When I look back, I am thankful each day that Kasandy | Locally Global empowers artisans to continue their work and provide for their families."
To learn more about the story of Kasandy and their experience with Moneris, click here.