The Moneris® Merchant Scoop Series takes a closer look at Canadian businesses who are thriving in an ever-changing business landscape. Learn about what it took to get their businesses off the ground and how they are maintaining their success. Guest Post by Stephen Miller, General Manager of Traxx Footwear.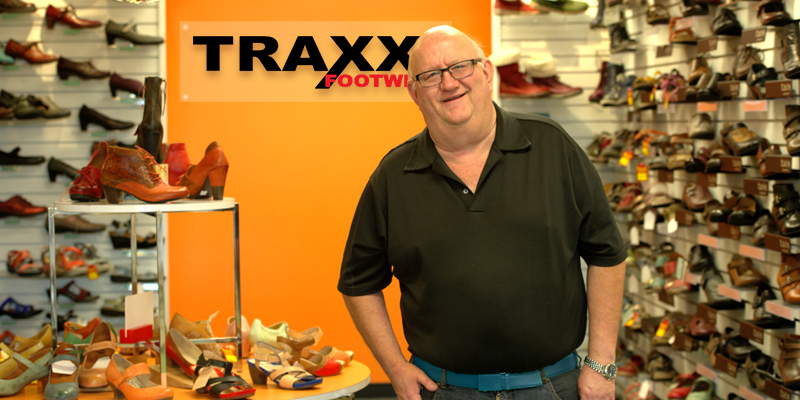 Traxx Footwear is a family owned and operated shoe store based in Saskatoon, Saskatchewan. The business has evolved from a men's work boot supplier to a community staple thanks to strong business acumen, our family's support and a supportive Moneris team encouraging our success from day one.
Family Beginnings
What happens when a lifelong footwear industry expert is in search of a new career opportunity?
For my father Bob Miller, he took advantage of his nearly 40 years of experience in the footwear industry to open Traxx Footwear. When we opened the doors August 2001, the store carried only men's work boots. However, we quickly noticed when a male customer came in to buy boots that a female companion joined him and the women had nothing of interest to purchase for themselves. A year later Traxx brought in four styles of women's boots to test consumers interest and the rest is history.
Traxx expanded to a 9000 square feet space, which houses handbags, wallets, socks and a variety of other accessories.
Partnering with The Right Support
Before Traxx opened its' doors, Bob knew that being able to take payments on cards would be an important step in business. Traxx sought the help of their Bank of Montreal (BMO) representative to find a payment processor that could handle the needs of their small business, and ensure that their service provider would be able to grow with their business.
Choosing Moneris to process our payments was a natural fit, that offered reliable and secure transactions we could count on. As Traxx expanded and required more advanced systems, Moneris brought in a more advanced POS offering that made our jobs much easier and made tracking much more simple.
Additional products have also been brought in that have made a significant difference. Gift cards were added to the product lineup to give customers more choice when looking for the perfect gift for a loved one. Not only are the cards simple to use given they work with the POS system in place, but they've also been immensely popular and even sold out at our stores during the 2016 holiday season.
The most beneficial part of the relationship between Traxx and Moneris is not just the products and additional services, but the communication between the two companies. When we had feedback or a concern, Moneris would listen to what we had to say, and find the solution that worked best to us. As our business was adapting, they were helping us grow, and it felt like we were helping Moneris grow too.
The Importance of Knowing Your Customer
No business is without its share of challenges, and Traxx had to learn and adapt quickly to a tricky customer service industry. Logistical hurdles will always exist in a retail business. Knowing what items to have in stock at what time comes from practice and consumer knowledge.
Traxx learned that in order to have a thriving business you need to spend time and energy learning who your target market is. Understanding the customer is integral to running a successful business. And thanks to Bob, we've built an incredible customer repertoire that keeps them coming back to Traxx Footwear.
Business Going Forward
With 16 years of business behind us, Traxx Footwear has figured out how to manage operations successfully. Going forward here at Traxx, we'll continue to build our online presence while staying true to our roots in Saskatoon. The opportunities that come with online shopping are too exciting to ignore and with a significant social media following Traxx knows the interest is already there.
---
®MONERIS is a registered trade-mark of Moneris Solutions Corporation. All other trade-marks are the property of their respective owners.
Moneris is not responsible for the accuracy, reliability or currency of the information supplied in this article. Merchants wishing to rely upon this information should consult directly with Traxx Footwear. The information in this article is not intended to provide specific financial, investment, tax, legal, accounting or other advice to you, and should not be acted or relied upon in that regard without seeking the advice of a professional.