The Moneris® Merchant Scoop Series takes a closer look at Canadian businesses who are thriving in an ever-changing business landscape. Learn what it took to get their businesses off the ground and how they are maintaining their success.
Opened in March 2008, Knifewear offers everything from handcrafted Japanese knives to workshops on how to use them. After getting a start on a bicycle, Kevin Kent grew the brand from a small section in a local grocery store to having four store locations. We had the opportunity to visit one of his locations in Ottawa, where store manager Chris "Lordy" welcomed us. From the time they opened at 9:00am, the shop was bustling with customers looking to have their knives sharpened or chefs looking for a new knife for their restaurant.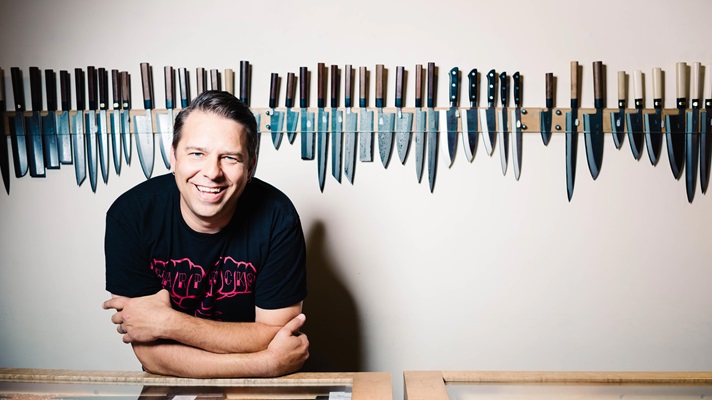 You started Knifewear by selling knives out of a backpack from the back of your bicycle. At the time, did you ever imagine that you would end up with four permanent stores?
As glamorous as it is to operate a knife shop from my backpack and bike, I dreamt of something more. I tried to make decisions that would lead us to growing the brand from the start, but I'm still blown away with our growth. Being an ex-chef, I aspired to own a group of restaurants but it changed to a group of shops. Now we have 10 brick-and-mortar stores and 2 online stores between Knifewear and Kent of Inglewood, with 2-3 new shops opening in 2020.
What's the biggest lesson you've learned as a business owner? What advice would you give new businesses starting up?
Hire good people, and give them permission to take ownership and push the business forward. Let them have the odd failure mixed with their huge successes. If you hire people that truly care and are hungry for growth, you will find success. I always say that I would rather pull my managers back at times than have to push them forward.
I would say hiring a great team and keeping them inspired is one of our strengths. Our diverse cast of creative, driven, ambitious people is what makes the Knifewear clock tick. The other key is holding ourselves to high standards. We set out to have the best knife-stores in the world, with the best products and excellent customer service to back it up. From the beginning, I dreamt big and set out to be the best.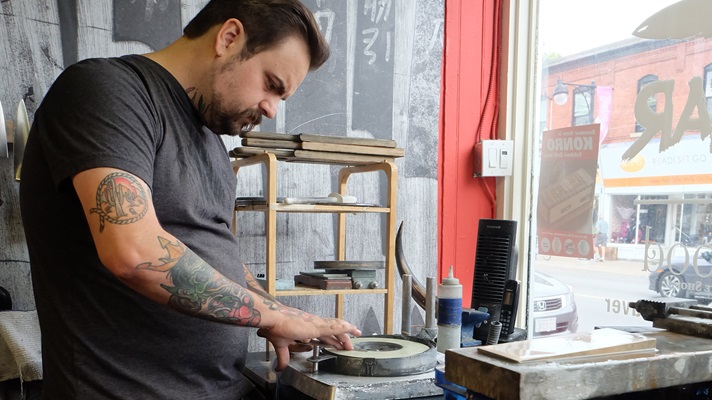 You work directly with blacksmiths from Japan. How do you manage those relationships? How important is it to have strong and reliable partners for growing businesses?
Our goal from the beginning was to pull the curtain back and shine light on the artisans who make our knives. To bring the blacksmiths and their craft to life with our customers was my passion, and it even drove me to produce award-winning films: Springhammer 1 and 2. Last year my book, The Knifenerd Guide to Japanese Knives hit shelves all over the world, again telling the story of handmade Japanese knives.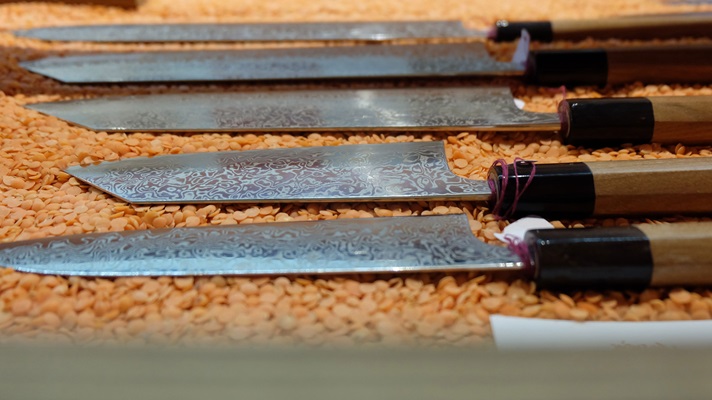 We help customers fall in love with the knives by showing them the faces of these artisans. This also made blacksmithing cool again, and as a result, a previously reluctant younger generation got excited to take the place of the older masters.
What was your favourite knife when you were working as sous-chef for Fergus Henderson? Which one is your current favourite?
Asking to pick my favourite knife is like asking to pick my favourite wine. It depends on the day and setting. My favourite knives change often, but luckily, I have a collection of knives to keep me interested. The first Japanese knife I ever bought is the Haruyuki Yukuma Santoku. I thought that my European knives were razor sharp. The first time I tried the Santoku, it stuck right into the cutting board because I used excessive force. I had never experienced anything that sharp and I was in love. That knife now hangs in a special show box in the Calgary shop.
You have another business called Kent of Inglewood. Tell us a little bit more about that. How did you prepare to open another business? Was that always the goal from the beginning?
Kent of Inglewood celebrates getting dirty and getting clean. We all know that the best shower you ever have is after a campfire adventure, whether in your own backyard or on a four day mountain hiking trip. We have the axes and campfire knives to get you dirty and the best curated grooming gear to get you squeaky clean.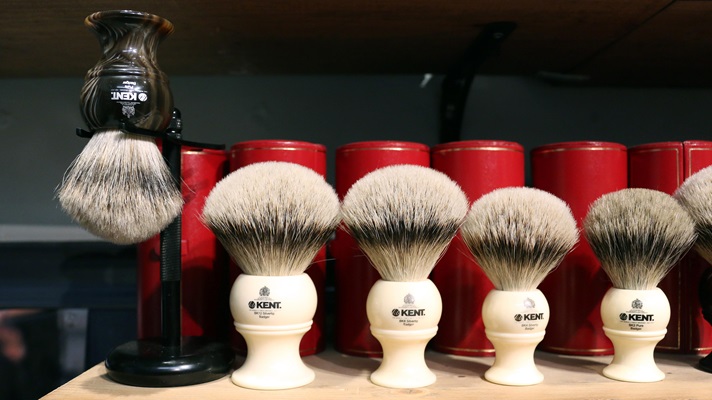 Kent of Inglewood was a very happy accident. One day a Knifewear customer asked for a straight razor. We sourced some simply because we hate saying "no". Four of us took shave brushes, soap, and safety razors home on the first day they arrived. The next morning we all agreed it was the best shave we had ever experienced. Kent of Inglewood was born from our enthusiasm. Our inventory quickly grew to shave creams, soaps, skin care, hair care products, straight razors, safety razors, axes, and campfire knives. We had no choice but to kick it out and make it a separate brand. It was never the plan from the start, but we have applied the same concepts to Kent of Inglewood: undeniably better products, deep product knowledge, and the absolute best customer service possible.
It says on your website that if we were to chat with you, we have to ask you about your Lou Reed story.
As I was finishing my glass of champagne on my last day of work at St. John Restaurant, Lou Reed and Laurie Anderson wandered in for their dinner reservation. My friend, who was working that night, knew I was a huge fan and asked Lou and Laurie to sign my St. John cookbook. He explained that I was a Velvet Underground fan from way back. Laurie thought a signature wasn't enough and asked for a kitchen knife to cut the tag from Lou's t-shirt. I still have that book (with signatures from coworkers), and stapled on the page with Lou and Laurie's autographs is the tag from Lou's shirt. Black Hanes, size small. RIP Lou.
If you're looking for a new knife, grill, cookbooks, or literally anything for your kitchen, check out one of Knifewear's locations in Calgary, Ottawa, Vancouver, and Edmonton. If you want to see their knives in action, watch our How To Carve A Thanksgiving Turkey video.
---
Want your business to be featured in a future Merchant Scoop? Please contact us at socialmedia@moneris.com
The information in this article is provided solely for informational purposes and is not intended to be legal, business or other professional advice or an endorsement of any of the websites or services listed.