Combining payment and loyalty programs into one seamless transaction was next to impossible in 2012. "We looked at the checkout counter and saw people use one card to pay and another card to collect loyalty points," says Brian Deck, one of the app's co-founders. "It was slow and didn't make sense."
Deck and fellow entrepreneur David Yellowlees (with successful careers and startups) had a solution. Build an app that made it easier for customers to pay and earn rewards. The app would allow businesses to engage with their customers and grow their sales. Using Moneris' ecommerce payment gateway and tokenization, the company's developers built SmoothPay, one of Canada's first mobile payments and loyalty apps. It launched in 2013.
Today more than 200 retail businesses use SmoothPay to "drive sales and profitability." Now with a team of close to 25 people, SmoothPay is expanding across the country.
The SmoothPay Evolution
"We're executing our original vision to provide custom-branded apps for businesses of all shapes and sizes," Deck said. "We want to help retail businesses learn more about their customers and engage with them in a meaningful way."
Customers use the app(s) to pay and earn loyalty rewards at participating locations where SmoothPay is accepted. Businesses can access SmoothPay's platform data analytics to discover "their customers, what they buy, how and when they shop and how the business can reach them with marketing."
Developing the technology wasn't easy, but SmoothPay is well versed in mobile technology, loyalty and customer engagement. "We're the experts in creating a simple user interface, a great smartphone app," Deck said, "but we needed to find the right partner to help deliver on our vision; Moneris was the answer."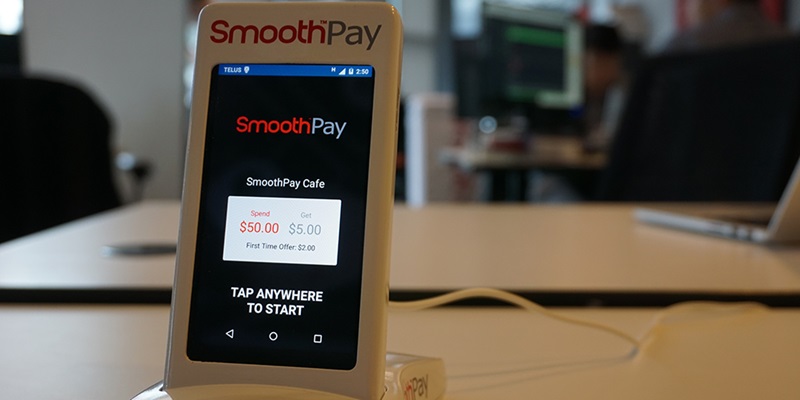 A partner in payments – with vision and flexibility
There were only a few mobile payments apps in the market in 2013 and most were unsophisticated pre-pay models. SmoothPay had a vision for a better and more flexible experience.
A lot of payment processors SmoothPay spoke to couldn't make it work. Then they found Moneris. "We needed their payment processing expertise, especially with tokenization, PCI compliance, security, privacy and fraud prevention," Deck says. "It was important to work with a platform that had flexibility for our specific needs and tokenization is a key component in our security protocols.
The flexibility of Moneris' ecommerce APIs helped make it possible for:
SmoothPay users to pay with their phone and instantly collect loyalty points and redeem offers;
Businesses to accept mobile payments with a SmoothPay terminal or integrated point of sale (POS);
SmoothPay to transfer funds between customers and businesses.
Innovation is the keyword
Everyone at SmoothPay believes in innovation, bold, capitalized and underlined. Innovation led to their big idea. The company's mission is to transform commerce and engagement, making the entire experience Smooth.
When asked how they came up with the name, Deck said, "The concept and the mission had already been decided and the name flowed from the concept. It came to me when I was sleeping," Deck says. "I kept thinking about what we wanted to accomplish, how the goal was to make things smoother for merchants and their customers. The domain name was available and away we went."