While an optimized ecommerce store is essential for selling your products, you still need a good marketing plan to get your online business off the ground.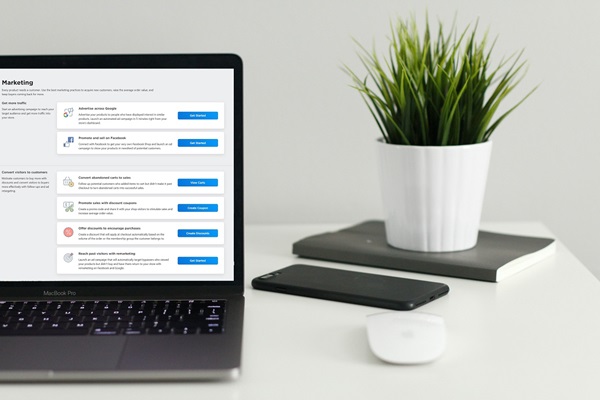 Marketing helps increase your brand awareness, attract your target customers to your website, and ultimately grow your online business. However, getting the word out can be challenging for a small business due to a lack of resources. Whether you have a limited budget or time constraints, a marketing strategy that's right for your small business can help you generate awareness and revenue.
Outline your marketing objectives
First, you need to assess the current situation of your business. Perhaps you're just starting a new business, or you have been in business for a few years and are transitioning to ecommerce for the first time. These factors will help determine the types of marketing activities that will be part of your strategy.

If you already have an established business that you're taking online for the first time, you may want to focus on activities that leverage your existing customer base instead. You also may have enough cash flow to invest in advertising on social media and Google to find new customers and grow your business. On the other hand, if you're just getting started, you may need to invest more time in some lower-cost marketing techniques.
Regardless of your situation, you should develop a reasonable marketing objective that is measurable, actionable and realistic. It may be tempting to do everything to cover all of your bases. Instead, you should identify an area that will have the biggest impact on your business and focus on that singular objective. Set a performance goal around that objective, and then concentrate your resources on the activities and tactics that will help you achieve it.
Know your audience
As a small business owner, you need to identify the people who want or need what you're offering. A critical mistake is to assume that anyone can be your customer. To find your target audience, you must create a buyer's persona that digs deeper to understand their pains, problems, triggering events and priorities.
Understand some important metrics
Before you begin to put together your plan, it's important to understand key performance indicators that help you measure your online success.
Reach is the total number of people who have seen your ad, content or marketing message. Your product could be the best in the market, but if only a few people ever hear about it, then you're not likely to see many new customers. On the other hand, if your content has a larger reach, it's making its way to potential new customers who are likely to share and engage with your business.
Engagement measures the quality of your content and its effectiveness in connecting with your audience. If your content is reaching people, but you do not see any engagement, you should revise it to ensure it's relevant to your audience. Measuring engagement is straightforward on social media based on likes, comments, and shares. For your website, the average time spent on the page and the bounce rate will indicate if you're connecting with your audience.
A conversion occurs when your engaged audience completes a desired action on your website, such as a purchase, booking an appointment or filling out a form.
Determine your budget and timelines
Regardless of the stage of your business, you must set a budget for both time and money. Write down the amount of money per month and the number of hours per week you can invest in marketing your business. When you're starting, you may not have the budget, so you'll have to rely on tactics that won't cost money but will require more of your time.
Choosing the right marketing channels
With so many social media platforms available to you for free, it can be tempting to use all of them. While it's a good idea to have an account on every platform to protect your brand name, you really should focus your efforts on one or two platforms that work for you.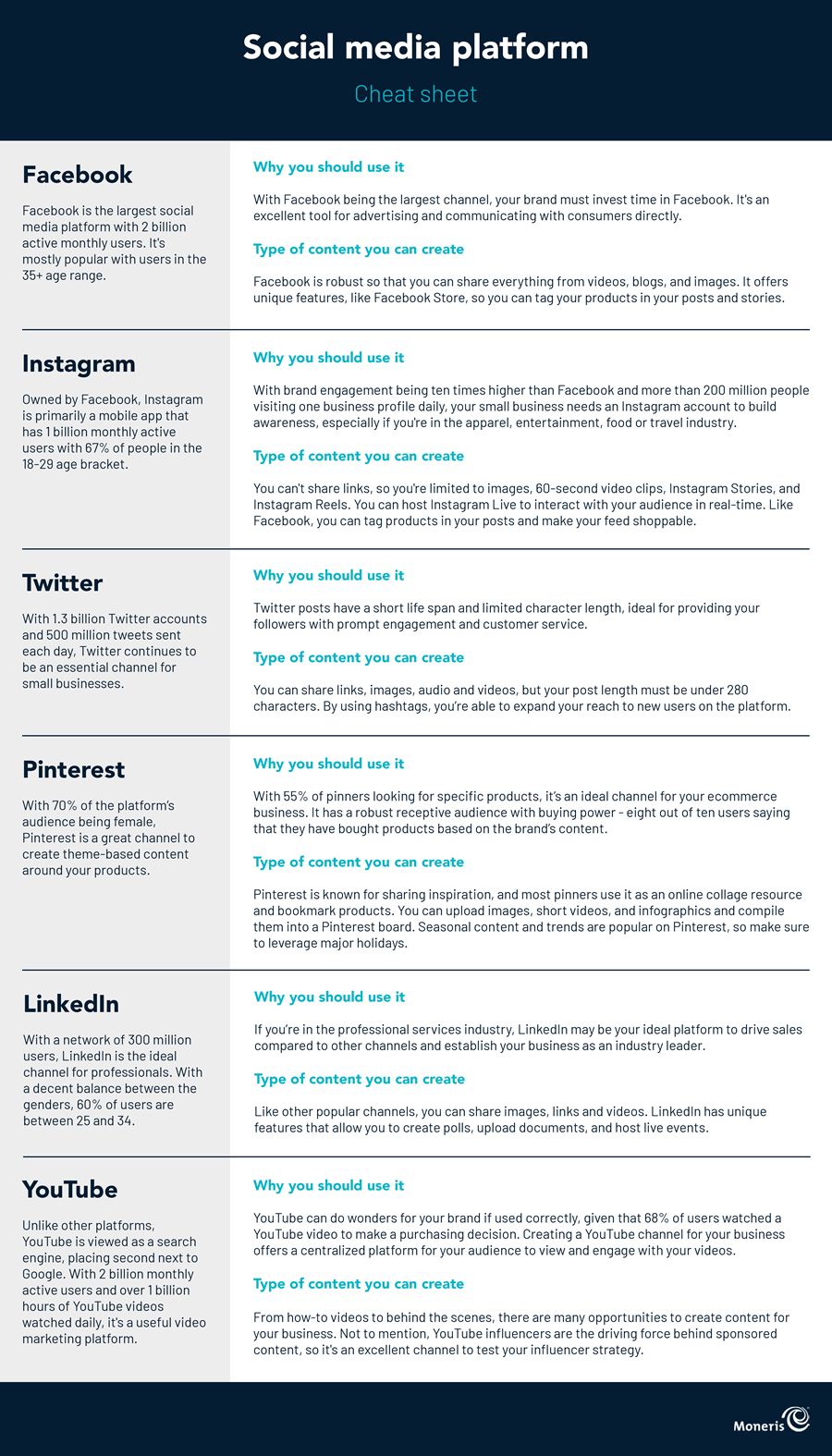 Other marketing channels to consider:
Snapchat, like WhatsApp, is a private messaging app that allows users to create and edit short videos and photos using filters, captions and drawings. These messages—known as snaps—are shared among users. As a brand, you can create a business account to produce engaging content for your followers. Snapchat could be an ideal platform for your business if most of your customers are under 25 years old.
TikTok is quickly becoming an emerging social media channel for brands to generate awareness. Unlike other channels, it focuses on authenticity and creativity rather than curated experience. Users create short, looping videos focusing on skits, memes, and catchy choreography. Many businesses are using this type of content to engage with younger audiences and build brand awareness.
Reddit is an online community where users can submit content such as links, text posts, and images, which are then discussed and voted up or down by other users. You can join conversations related to your business and engage with your target audience. However, make sure you understand the culture of this online community before you start using it.
Like Reddit, Quora is an online community where questions are asked, answered, followed, and edited by users, either factually or in the form of opinions. There is an opportunity for you to find your niche audience and answer their questions, helping you generate awareness and becoming an industry thought-leader.
Capitalize on short-term marketing tactics
Instead of putting your time and money towards tactics that may take too long to work for your business, start with initiatives that are quick and easy. There is no need to inflate your overhead costs with tools. Use free marketing tools where possible and only commit to paid tactics if you know they will help improve your existing operations.
We'll explore different ways to drive traffic to your website, but you can start by revisiting some of your unused marketing assets:
List your small business in online directories such as Not Amazon and Make It! to get more exposure in your local city.
If you're a Black-owned business, register your business on websites such as Black Owned Toronto. You can also be featured on Black-Owned Ottawa – an Instagram channel dedicated to featuring BIPOC businesses in Ottawa. It's easy to find a community that's local to you.
Perhaps you already have your social media channels set-up, but never really got it off the ground. Start posting regularly on channels that are popular with your target audience to reach new people.
To magnify your online presence, start engaging with your community. Regularly posting and engaging with your target audience on channels, such as Reddit and Quora, can help you gain popularity without the need to dip into your pockets.
Put together an action plan and double-down on what works
Now that you have all the pieces together, the next step is to write down the tasks you want to accomplish. Ensure that you prioritize them so that you can reference your to-do list any time you have a moment to work on marketing.
Once you have your tactics running and you've experimented with a few things, pay attention to the metrics we discussed before. The data can inform you of what's working, so you can allocate your time and budget accordingly.
---
The information in this article is provided solely for informational purposes and is not intended to be legal, business or other professional advice or an endorsement of any of the websites or services listed.
1This promotional offer (the "Offer") is not transferable, cannot be combined with other promotional offers or discounts and is time limited. In order to take advantage of this Offer and receive certain UPS preferred rates, you must visit ups.com and create a UPS account or sign-in with your existing UPS account. The services provided by UPS are subject to the UPS Canada Terms and Conditions of Service and such terms and conditions are available at UPS.com/ca.
2This promotional offer (the "Offer") is not transferable. In order to take advantage of this Offer and receive 3 months of Bookmark Business Plan fees waived when you sign up with Moneris Solutions Corporation ("Moneris"), you must complete your application for the Bookmark Business Plan and Moneris Online between June 1, 2020 and April 30, 2021 ("Offer Period").