Entrepreneurs like you are passionate about helping their customers. That gives you a lot to think about, and even if you aren't an expert (yet), the right support will help you gain the skills and experience you need to be successful wherever your business takes you. In today's digital economy, protecting your customers as well as your business from fraud should be at the top of your priority list, because a good customer experience is a secure customer experience.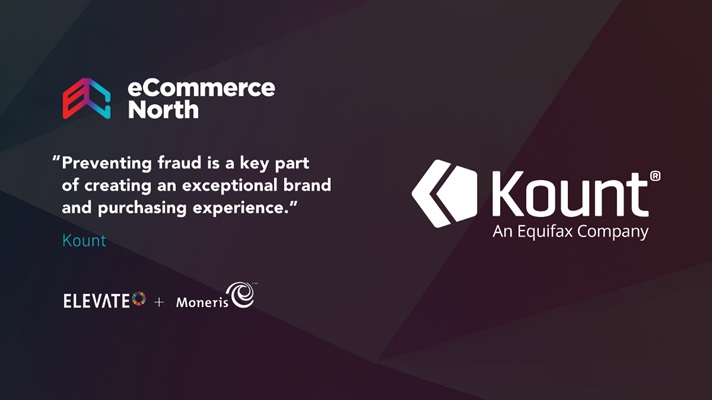 As leaders in fraud prevention and protection, Kount is focused on providing businesses with the confidence and peace of mind they need to stay a step ahead of online fraudsters. As a Partner-in-Residence for eCommerce North, Kount will connect directly with the founders participating in the program to make sure they're prepared for nearly every fraud scenario their new business might face. We connected with the experts at Kount to learn more about what they will be bringing to the program and what advice they will share at eCommerce North.
Can you provide us with a bit of background on Kount?
The idea for Kount was created in 2006 on the back of a napkin over a sushi lunch. Innovation has driven Kount's success ever since, becoming an industry leader in digital fraud and account protection. Kount's Identity Trust Platform is trusted by more than 9,000 leading brands and payment providers to personalize customer experiences and deliver real-time digital fraud and account protection.
Kount's advanced AI combines supervised and unsupervised machine learning to analyze past events as well as emerging fraud. Advanced AI links data from Kount's Identity Trust Global Network™, which analyzes signals from 32 billion annual interactions. Advanced AI and a global network of fraud and trust-related signals help businesses establish identity trust in milliseconds. Quick and accurate identity trust decisions help deliver safe account creation, login, and payment events while reducing digital fraud, chargebacks, false positives, and manual reviews. In 2021, Kount became an Equifax company.
Can you tell us how Kount will be supporting eCommerce North as a Partner-in-Residence?
At Kount, we understand that small businesses and entrepreneurs are focused on providing the best possible products and experiences for their customers. Preventing fraud is a key part of creating an exceptional brand and purchasing experience. E-commerce fraud has evolved and increased with the rise in online commerce. By 2024, e-commerce businesses may lose an estimated $24 billion to online payments fraud. We want to help businesses succeed by providing essential insights on e-commerce fraud trends and best practices to mitigate losses from existing and emerging fraud types. As an eCommerce North Partner-in-Residence, Kount's fraud experts will host frequent office hours for the founders to discuss fraud prevention strategies and best practices.
What would you say are the most common types of fraud small businesses experience today? What are the easiest things startups and entrepreneurs can do to protect themselves online?
Today, bad actors have adapted to the widespread adoption of e-commerce and are attacking many points in the customer journey. In addition to digital payments fraud, small businesses commonly experience new account fraud, account takeover fraud, intentional or accidental friendly fraud, loyalty fraud, eGift card fraud, promo abuse fraud, and refund fraud. And each of these types of fraud can tarnish brand reputations and costs businesses thousands in inventory loss and chargebacks.
The best things startups can do to protect themselves online are to implement proactive fraud strategies and not think about fraud in terms of "if" it will happen but "when" it will happen. Implementing a proactive fraud prevention strategy from day one can keep bad actors out and good customers coming back. It is not enough to combat fraud after is has affected the business. Proactive fraud prevention means detecting, challenging, and blocking high-risk activity long before checkout.
What valuable tools and experiences will you bring to the founders of this first cohort?
Kount's industry-leading Identity Trust Platform has the advantage of being built on the largest global network of fraud and trust-related signals. Kount's advanced AI uses supervised and unsupervised machine learning to analyze billions of transactions from over 75 industries, 50 payment providers and card networks, and 250 countries and territories over 13 years. Kount helps businesses access payments data that can help them create and test fraud policies unique to their needs and goals, in addition to location ID and digital identifier data.
All of this data helps businesses build complete digital identities for every customer who interacts with them online. Additionally, Kount's solutions were purpose-built with global network data to protect against criminal fraud and account takeover proactively. Businesses can help stop fraud long before checkout. And they can manage disputes and chargebacks and mitigate losses from friendly fraud and merchant errors after they have authorized transactions.
What is one piece of advice that you have for the founders joining this first cohort?
If we could give one piece of advice for founders, business owners, and entrepreneurs, it would be to take a proactive approach to fraud prevention. Proactive strategies and technologies need to be part of the organizational business plan from the beginning. For example, businesses cannot rely on human decisions alone to prevent fraud. AI-driven fraud prevention simulates the work of experienced fraud analysts but without human error. It weighs the risk of fraud against a customer's value on a faster and more scalable basis than a human. And being able to test and customize fraud policies based on changing business goals and objectives eliminates reliance on arbitrary fraud rules.
Conclusion
There you have it! We are so excited that Kount has joined eCommerce North as a Partner-in-Residence, and we cannot wait to see how they will help our founders protect their businesses against fraud.
Make sure to keep checking us out on Insights as we share more updates and exclusives from the program. If you or someone you know is interested in learning more about eCommerce North, you can sign up to get the latest details sent right to your inbox here.
---
The information in this article is provided solely for informational purposes and is not intended to be legal, business or other professional advice or an endorsement of any of the websites or services listed.