The launch of Canada's first ecommerce accelerator couldn't have come at a better time. Ecommerce was already a hot topic well before the pandemic, but now the push to get online has become more important than ever for businesses across Canada.

eCommerce North is set to change the face of entrepreneurship in Canada.

With Moneris and Elevate at the helm of this highly specialized program that grows ecommerce startups into high-potential titans, you can bet that we're about to see some exciting new innovators in the ecommerce space very soon. In addition, eCommerce North is committed to the federal government's 50-30 initiative to emphasize both equity and wellbeing as important pillars of success for those in the program.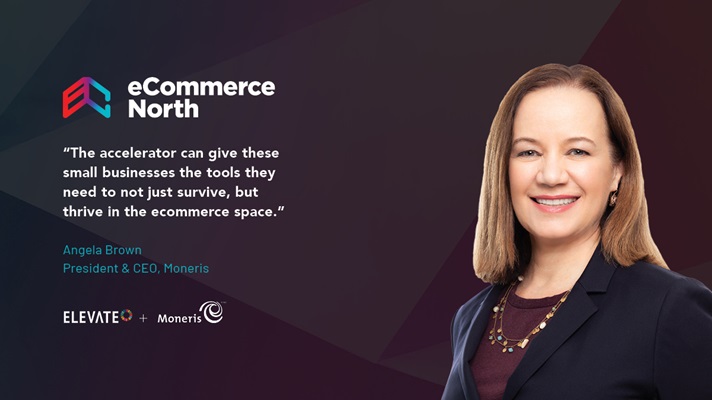 We connected with Angela Brown, President and CEO at Moneris, about taking on the role of Program Champion for eCommerce North and what inspired Moneris and Elevate to team up and create the program in the first place.
What sparked the partnership between Elevate and Moneris that lead to creating Canada's first ecommerce accelerator?
Moneris has been involved with supporting small businesses across Canada for the past twenty years. We've been able to see how rich our country is when it comes to innovation and entrepreneurial talent, but we've also seen how hard it is for small businesses to get the unique resources they need to be successful.

Partnering with Elevate meant we could draw on our own knowledge and resources for small businesses and combine it with their mission to unite Canadian innovators to solve society's biggest challenges. The result is a unique program offering that is going to help some pretty incredible people bring their businesses to the next level.
Why do you think it is important to launch an accelerator now?
The business landscape is changing, and that was true even before the pandemic. We were talking about ecommerce and being wherever your customers are well before the world shut down, but now we're seeing how investing in a digital-first approach can really pay off when the unexpected happens. The accelerator can give these small businesses the tools they need to not just survive, but thrive in the ecommerce space.

This accelerator is also a great way to lift up small businesses that don't just want to be profitable, but want the world to be a better place. It's these innovators that could help provide answers for some of our greatest challenges here at home or across the globe. I think now it's more important than ever that these founders have all the support they need to make an impact.
Why is it important that eCommerce North commit to the Government of Canada's 50-30 initiative?
We want our cohort to represent the true diversity of Canada, with 50% of our founders identifying as female and 30% of our founders coming from underrepresented communities, including racialized persons, people living with disabilities and members of the LGBTQ2 community. This will not only add a new set of diverse voices to the ecommerce space, but we hope this will directly impact the communities of our founders as they pass along what they've learned.

Being an entrepreneur already comes with challenges, but when you add the unique experiences of underrepresented groups into the equation, it can be even more of an uphill battle. By having access to a wide program offering, one-on-one coaching, and networking opportunities, we hope that the custom approach to the accelerator will help create solutions that are unique to them and their experiences.
What are you most looking forward to as Program Champion for eCommerce North?
First, I'm excited to hear all of the creative entrepreneurial ideas straight from the source. These founders all have unique perspectives that have influenced the amazing work they do, and amplifying that with the support they need to be successful is what makes this program so special.

Showcasing Canadian talent is something I'm also really looking forward to. We have this global wave of ecommerce opportunity taking place, and we have a chance to help our Canadian innovators rise to the occasion.
What is one piece of advice that you have for the founders joining this first cohort?
My biggest piece of advice to our founders would be to challenge your assumptions about where your business can go. Sometimes in Canada, we avoid going big or making a splash when it comes to our business plans. So take in all of the advice and get all the support you can to manage your business growth, but keep asking yourself "Am I thinking big enough?" throughout the whole process.
Conclusion
We're going to keep you updated with more stories from the eCommerce North program, so be sure to keep an eye out on Insights. If you or someone you know is interested in participating in the program next year, you can sign up here for the latest updates.
---
The information in this article is provided solely for informational purposes and is not intended to be legal, business or other professional advice or an endorsement of any of the websites or services listed.