If you own a business, chances are you've considered gift cards as a way to add new revenue and provide your customers with a more flexible way to shop. At Moneris, three different gift card options are available for merchants.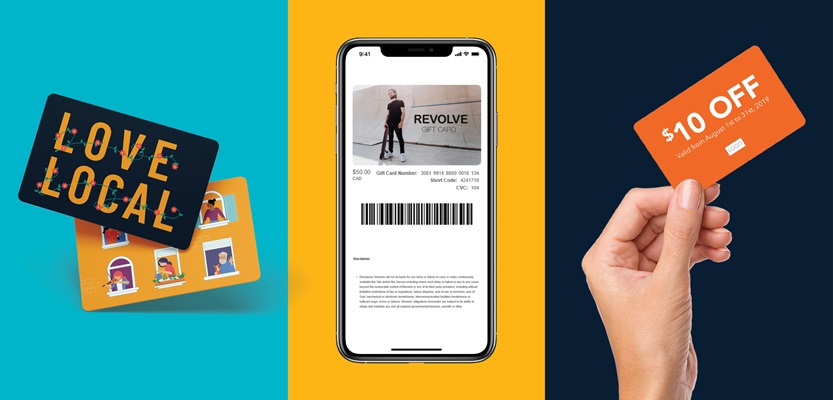 If you're curious about how each one varies, you've come to the right place. Let's go over the unique benefits of each type of Moneris gift card, right down to a side-by-side feature comparison.
Standard gift cards: Great for bricks-and-mortar merchants
When you think of a traditional gift card, this is the format you're thinking of. This gift card is available as a physical card, (think a debit or credit card), and is a great offering for merchants that operate largely from bricks-and-mortar locations. This includes merchants in the restaurant and fast food industry, retail, or salon locations.
Standard gift cards come with a number of unique benefits, including:
Compatibility with your existing Moneris POS terminal, meaning no additional equipment is required
Convenience for in-store customers looking to provide a physical gift to loved ones
Flexibility to use gift cards in-store or online, provided the merchant has an online store
Standard reporting is included with the cost of this gift card offering in Merchant Direct. This includes transaction history and liability reports. Some merchants add enhanced reporting as well, which includes multi-location breakdowns, KPI reports, activity details and summaries, and access to administrative tools that allow gift card management.
eGift cards: A flexible option for your online store
If the standard gift card is your traditional option, eGift cards are their online alternative. In a nutshell, eGift is a web-based solution that allows merchants to sell gift cards in a digital format through their website. Merchants who operate a website often opt to offer eGift cards as they can be integrated into your site.
As with the standard gift card, eGift comes with its own benefits, both for merchants and customers:
A great solution for online customers who can't visit your bricks-and-mortar location, or are looking for a last minute gift
Provides a new way to earn revenue through your online channel
Fraud prevention is built-in, keeping your business protected
Gift card funds have the flexibility to be used in-store or online
To access eGift sales reports, merchants do need the enhanced reporting platform that's available through their Web Portal. The cost of reporting is only applicable to gift card redemption locations. This also includes administrative tools to manage eGift cards.
Promo Cards: A reward for loyal customers
Promo Cards turn the concept of gift cards on its head yet again to provide something new: a coupon-like offering that both attracts new customers and engages current ones. Promo cards offer a discount on future purchases and therefore build brand loyalty and increase future spending.
By offering a Promo Card program, merchants can enjoy:
Custom start and end dates for associated promotions
An order quantity that suits your business, with a minimum order quantity of 50
A unique perk to hand out at events or along with in-store purchases to build loyalty with repeat purchases
Satisfying customers' affinity for gift cards as opposed to discount sale promotions
Like eGift, merchants can access enhanced reporting. This reporting provides dedicated promotion reports that will break down the activity of Promo Cards with insights and analytics required to execute effective marketing promotions.
Moneris Gift Cards: A side-by-side comparison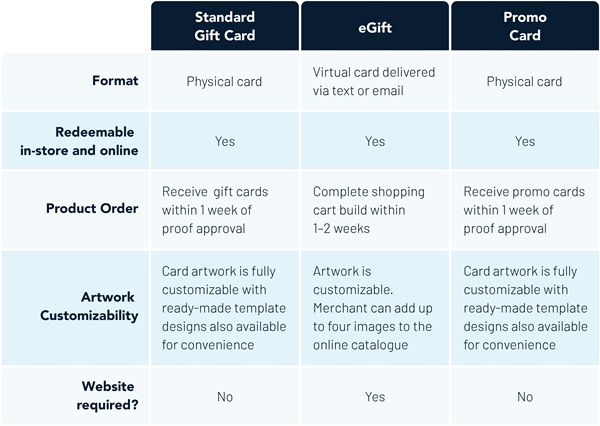 There are distinct uses and benefits for each gift card option we offer. Many merchants choose to employ all three to provide customers with a flexible and convenient way to shop. You can learn more about each of our gift card offerings here.
---
The information in this article is provided solely for informational purposes and is not intended to be legal, business or other professional advice or an endorsement of any of the websites or services listed.
1 Fee for Enhanced Reporting applies only once per redemption MID.