You've probably seen a mobile point-of-sale (POS) solution in action at a store: staff carrying their iPad around the floor, checking inventory for customers, or processing payments on the spot. It's a thoroughly modern, flexible and convenient way of doing business that's helping retailers improve their customer experience. Rather than a patchwork of services, complete end-to-end solutions are the way of the future, as customers expect touch-free, contactless payments.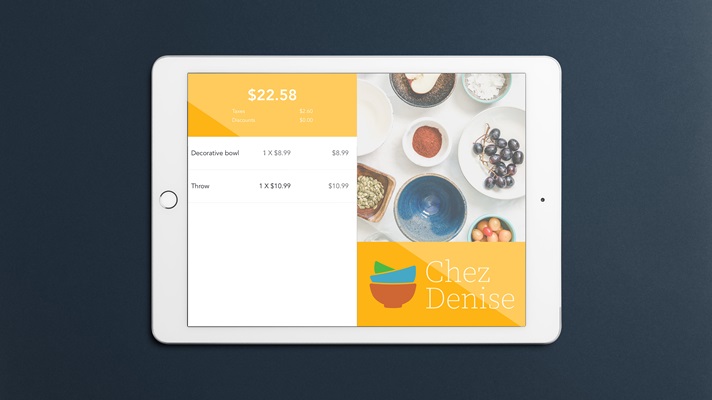 Mobile POS solutions aren't just for big companies – they're an option for businesses of any size. Meet your perfect business companion, the powerful, versatile iPad with the Moneris Retail Bundle. You'll get everything you need to run your business from anywhere, process customer transactions, and optimize your operations.
Manage your business in-store or on the go, all from your iPad
Cut the cord from your checkout counter. Make the most of your portable iPad when you combine it with our powerful retail software that gives you the freedom to move seamlessly inside and outside your store. The flexibility allows you to reduce checkout friction, answer customer questions, check real time inventory right on your iPad without a physical check, and process payments directly on the spot. iPad combines tremendous capability and value with unmatched ease of use, mobility and versatility. The added bonus of all-day battery life1 on iPad coupled with Moneris' mobile POS solution lets you take your small business everywhere.
Powerful software to take your business to the next level
Accepting payments, however, is just the first step in making your mark as a successful business. From overall management solutions to assist with staffing and inventory, to built-in reporting, there are many unique features available on PAYD, our mobile point-of-sale solution to fit your business needs:
Manage inventory levels. Monitor product levels and transfer inventory between stores in-app so you're never low on stock.
Track sales. Understand your ongoing sales performance when you track by payment type, product, and more.
Simplified scheduling. Easily schedule and manage your staff with reports on peak hours and employee sales.
Flexible payment options. Accept payment by credit, debit, gift cards and Apple Pay®.
Real-time reports. Understand your business with payment, inventory and transactions reports, available 24/7.
Customer management. Gather customer insights to offer personalized experiences and build customer loyalty.
Future-proof your hardware. Stay current with an iPad refresh every 24 months and AppleCare+® support.
Durable hardware to improve customer experience
The right set of tools is important when it comes to capturing every sale, whether that's in-store or anywhere else. With the Moneris Retail Bundle, get a cash drawer, iPad and iPad stand, payment terminal and more to optimize your operations and accept payments safely.

Reducing physical contact with surfaces is vital in today's environment. Protective PIN Pad and iPad covers are included in the bundle to help limit contact, creating a safe payment experience for your customers.

Pop-up shops, sidewalk sales, or events–turn any area into your checkout with the pocket-sized, wireless PIN pad. Connect to WiFi or Bluetooth and begin accepting various payments, including Apple Pay®, credit and Interac® debit cards, just about anywhere

Prefer to keep everything at your counter for a fast-paced checkout? We also offer a wired terminal and iPad stand to secure your hardware in one place. With the Moneris Retail Bundles listed below, you can easily set-up your entire storefront with one inclusive package.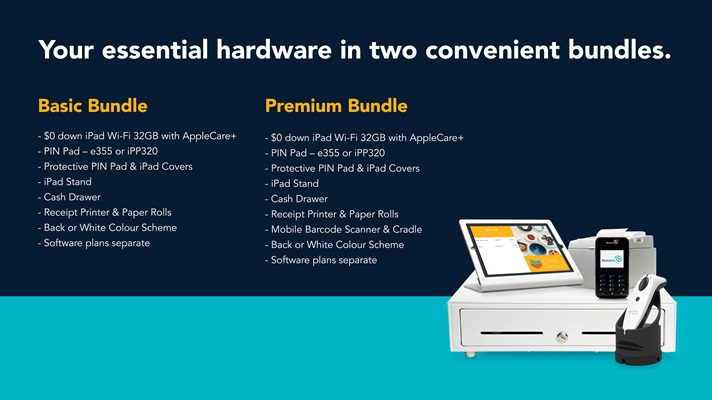 There's lots to love and less to spend for your small business. Get your iPad for $0 down with the Moneris Retail Bundle2.
Moneris Makes Installation Easy
We understand that upgrading to new technology can seem daunting! To make the transition easy for businesses, we offer installation and training support for the Moneris Retail Bundle. From the set-up and configuration of your solution to post-installation support, Moneris will be there every step along the way to make the upgrade as simple and seamless as possible.
Concierge Services
Your end-to-end support starts the minute you get your mobile POS solution. With our Concierge Services, you have free access to a dedicated, single point of contact to ensure an easy transition to your new solution. Let us book your installation appointment for you, walk you through anything you need in advance to get set up and answer any questions you have prior to our arrival.
On-site Hardware and Software Installation
We know there are rarely enough hours in the day to get your job done, and your time as a business owner is valuable. One of our highly trained technicians will take care of installing your point-of-sale solution so you can focus on your day-to-day work instead.

A Moneris Field Service technician will come to your business to get your hardware and software set up and running correctly. Once they have set up your iPad, PIN Pad, and other accessories, the technician will connect you to the mobile app, PAYD, and you will be up and running.
PAYD Training
We offer e-training for the PAYD app and support on the features and capabilities that will help you maximize your Moneris Retail Bundle. A member of our e-training group will speak with you over the phone to provide the guidance you need and answer any software questions you may have. Whether you need help managing users, uploading the inventory, or navigating the robust reporting tools available, we're here to help.


Get started and receive iPad for $0 down with the all-new Moneris Retail Bundle
Get the built-in tools you need to collaborate with your staff, stay on top of your inventory, and promote your business with Moneris' mobile POS solution, all from your iPad. You'll be able to provide your customers with contactless payment options, all while managing your day-to-day operations with ease.

In addition to these features, you're able to customize your plan as your business grows. Our adaptable and scalable solution prevents the need to overhaul your system as you scale up.
---
The information in this article is provided solely for informational purposes and is not intended to be legal, business or other professional advice or an endorsement of any of the websites or services listed.
1Battery life varies by use and configuration. See apple.com/ca/batteries for more information.
224 months term, subject to terms and conditions, approvals and applicable fees.