If you're a restaurant owner, retail worker, delivery service, or taxi merchant, you're likely processing transactions on the go. Having a reliable, secure, and easy-to-use payment terminal is crucial if you want to keep your customers happy and your business operating at full capacity.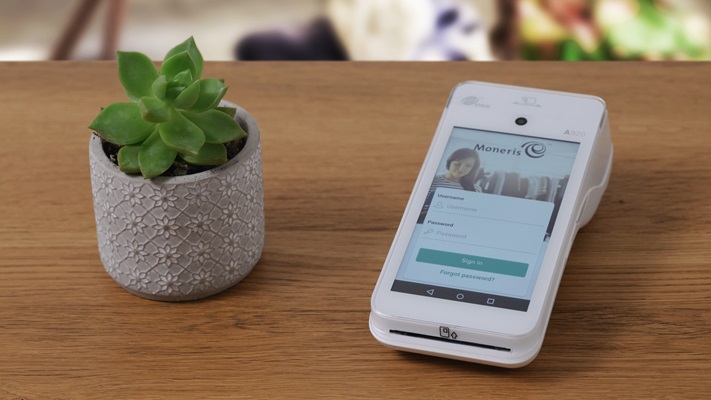 As businesses continue to adapt to the growing need for contactless, long-range payment processing, we're introducing the ultimate, all-in-one wireless solution, Moneris Go. It's never been easier – or faster – to get your business up and running.
Moneris Go offers a frictionless payment experience for your customers who will appreciate how fast and easy it is to pay for their purchase. The sleek, ergonomic terminal design feels comfortable in your hand and looks even better with its full colour 5" LED touch screen that helps to highlight a clean and comprehensive interface. Plus, a front and rear-facing camera makes scanning barcodes and QR codes faster and easier than ever before.
How Can Your Business Benefit from Moneris Go Payment Processing?
Setup is simple.
To deliver a quick setup experience out of the box, Moneris pre-configures each device before shipping. Registration is done online, so you're payment ready within minutes of powering Moneris Go on.
Digital wallet enabled.
Moneris Go makes contactless payment as easy as possible with support for Apple Pay, Google Pay, and other digital tap options.
Use the Moneris Go terminal just about anywhere.
Moneris Go features wireless 4G connectivity and all-day battery life so you can accept payments anytime, anywhere.
Accept the cards your customers carry.
Be prepared for every potential sale by letting your customers pay with debit and credit card of their choice.
Manage users for today and tomorrow.
Organize, delegate, and give your staff increased responsibility as they grow.
Get reporting to go.
Have business insights at your fingertips with online and in-store reporting on your Moneris Go terminal.
Harness the power of Android™.
You can feel comfortable knowing your device is powered by one of the world's leading mobile operating systems.
How Can Your Business Benefit from Moneris Go?
Connectivity and accessibility have increasingly become top-of-mind for businesses in all sectors due to the pandemic. Customers expect safer and more convenient access to the goods and services they need and the power to pay for those items while practicing social distancing. So, how can your business benefit from Moneris Go?
Patio and Outdoor Dining
As Canada moves forward with phased re-opening, outdoor dining and patios have presented significant opportunities for restaurants. With Moneris Go, you can offer your customers touch-free, contactless payments outside, or just about anywhere.
Sidewalk Sales
Since you can only have a certain number of people inside your store, a sidewalk sale can be a great way to offer your products to your customer and generate sales. Having a wireless terminal that can be brought out of the retail store and onto the sidewalk is a great way to ensure you're meeting customers' payment needs in and outside your doors.
Delivery Services
With the recent surge in ecommerce and online shopping, home delivery services have quickly become a standard in many consumers' lives. However, there's a split in the marketplace to pay for these goods. While some businesses prefer to use ecommerce solutions to ensure customers pay for their products ahead of time, others offer pay-on-the-spot services after making a delivery. For those in the second category, the 4G wireless terminal with long-lasting battery can be the perfect solution that works wherever their business takes them.
Taxis
It's hard to think of an industry where wireless terminals with contactless payment capabilities are more of a necessity than the taxi industry. For drivers picking up passengers from one neighbourhood and dropping them off in another, reliable connectivity and safety are especially important. Moneris Go offers just that, keeping both drivers and customers happy. With the all-day battery life, the terminal can last the entire shift.
Outdoor Markets
Pop-up markets, farmers markets, and craft fairs continue to grow in popularity. They are a great way for small or independent business owners to diversify their customer base. With multiple safety precautions in place, making sure that customers can pay with a convenient method while minimizing contact is a must. A secure, long-range wireless terminal that can handle a high volume of transactions could be just what your business needs for outdoor markets. So whether you're selling locally farmed produce or hand-beaded jewelry, Moneris Go will work for you.
Are you ready to Moneris Go? Contact a Moneris Sales Representative or visit Moneris Go for more details!
---
The information in this article is provided solely for informational purposes and is not intended to be legal, business or other professional advice or an endorsement of any of the websites or services listed.