As businesses start to reopen, governments are implementing various guidelines to ensure safe and healthy business interactions across Canada. Included in these recommendations is the push for business owners to accept contactless payments.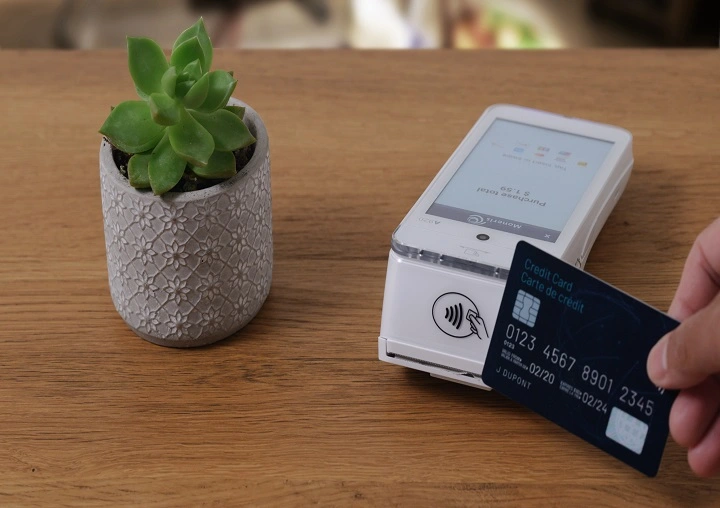 Contactless payments have the potential to increase physical safety by reducing exposure to germs. However, how can you decide which contactless point of sale terminal is right for you? There are a few key features to look for, all of which are all available with Moneris Go, the newest addition to our point of sale terminal lineup.
Easy, fast setup
What good is a solution if it takes forever to set up? With Moneris Go, you can be up and running the day you receive your terminal.
4G connectivity and long-lasting battery life
Our terminals use wireless 4G connectivity and boast an all-day battery life, giving you the ability to accept payments whenever and wherever. This is perfect for businesses pivoting to delivery or curbside pickups, as well as taxi merchants.
Ease of use
Moneris Go features an LED touchscreen that helps to highlight a clean and comprehensive interface. It also includes an auto-focus rear camera that can scan QR codes.
Manage and customize user permissions
Organize, delegate and give your staff increased responsibility through our user management system. It's especially useful for businesses with a large team that all have separate responsibilities.
Reporting on-the-go
Having a robust reporting feature within your POS system can help you analyze your data and make smarter decisions about your business. These cloud reports include valuable insights like sales reports, product reports, and labour reports – all sortable by date, user, and terminal. Having 12 months of reporting history at your fingertips makes decisions about expenses, profitability, products and employees easier to make. It takes the guesswork out of your business operations and benefits your inventory and employee management.
Rogers & Telus SIM support added
Moneris Go now supports Rogers and Telus SIM cards, allowing you to process transactions anywhere at 4G speeds (with 3G backup). Faster speeds, extra flexibility, and more ways to get paid.
Card-not-present transactions
Increase customer convenience with card-not-present payment acceptance. With this option, you can process payments when a credit card is not physically present at the time of payment, including over-the-phone or email transactions.
Independent refunds
Moneris Go features independent refunds, allowing you to process refunds without the original purchase receipt or cardholder present. This can be especially helpful if you've switched or upgraded to Moneris Go from another product or company.
Credit card pre-authorization
With Moneris Go, you can take advantage of credit card pre-authorization, which may help reduce the chance of fraud processing costs, while improving customer satisfaction. A credit card pre-authorization is much like any other charge to a credit card, but instead of debiting funds from the cardholder, you just put a temporary "hold" on them.
Customizable receipt text
Enjoy personalization of your receipts, which allows you to add social media tags, website URLs, or other creative messages.
With Moneris Go, you get all of these features, backed by Canada's #1 payment processor, all wrapped in a sleek, stylish package.
The importance of using a reliable, bank-backed payment processor
In such a complicated and delicate procedure, payment processors are responsible for securely handling your funds from start to finish. Payment processors are responsible for safely withdrawing funds from a customer's account and accurately depositing them into yours. A proven and reliable payment processor can help protect both your business and your customers from fraud and hacking instances. Whether the transactions occur in your store or on-the-go, the importance of a secure transfer of funds is all the same.
Payment security and PCI compliance
Here at Moneris, we understand the importance of keeping your business and your customer's payment information secure. To ensure that we provide you with the most secure solution, all of our payment solutions are PCI compliant. Being PCI compliant means that we take all measures necessary to meet the Payment Card Industry Data Security Standards' security standards. It keeps payment information secure from the first step of payment to the last.
Moneris Go features cloud-based security, which means every user is authenticated at the time of login. You can delegate your staff the way you see fit, granting specific permissions on an as-needed basis. This can help prevent employee-related fraud or access to terminals that may have been mistakenly left unattended.
Moneris Go also features all of the latest card brand requirements reducing fraud and card testing. All of our card-present transactions are EMV, and for card-not-present transactions, we validate the CVV with the issuer in real-time.
Processing with transparent pricing
There is no activation, cancellation, or connection fee. Moneris Go users pay 2.55% + 10 cents per tap, insert, or swipe, no matter the credit card.
Reliability when it comes to cash flow
One great benefit of working with a bank-backed payment processor is the ability to have quicker deposits into your business account. Since the same company operates your end-of-day revenues and bank account, it may diminish the delay you may experience in having funds deposited into your account. It allows you to have the funds you rely on upon quickly and helps to ensure that you're not waiting on systems out of your control to process transfers behind the scenes.
Moneris is Canada's largest payment processor, providing innovative solutions for mobile, online and in-store payments, processing more than one in three transactions. Backed by two of Canada's largest banks, BMO and RBC, we help transform the way businesses grow and operate in payments and beyond. Read our article to see why more and more Canadian business owners choose Moneris as their payment-processing partner.
---
The information in this article is provided solely for informational purposes and is not intended to be legal, business or other professional advice or an endorsement of any of the websites or services listed.