Moneris has been closely monitoring the developments around COVID-19 and the potential impact on Canadians and Canadian businesses. Our top priority is our employees, merchants, and our partners.
We have undertaken several actions to ensure their health and safety, as well as the continued availability of our products and services, including our core processing services.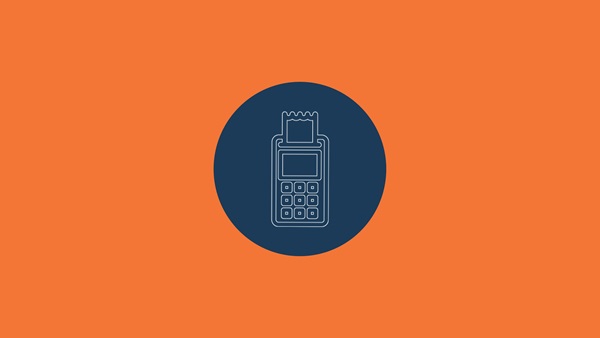 As part of this, device sanitation is critically vital for your business to protect your staff and your customers. We have therefore provided some guidance to help you to sanitize your payment terminal correctly.
While you ensure that your terminal is clean, we strongly encourage you to suggest contactless transactions to your customers, as this payment process minimizes actual contact with the device. And for further protection, you can install PIN pad covers and plexiglass shields. They require minimal set up and will help keep your staff and customers safe from the spread of germs.
Cleaning, disinfecting and protecting your terminal
There are a few simple steps to clean, disinfect and protect your terminal. To prevent the possibility of damage to your terminal, follow these instructions.
Clean
Turn off and disconnect the terminal from power. Clean the terminal using water and microfiber cloth. Do not apply water directly to the terminal. Slightly dampen the microfiber cloth with water and wipe down the terminal.
Disinfect
After cleaning the terminal with a slightly damp cloth, disinfect by using a suitable disinfectant applied to a microfiber cloth. Do not spray or apply alcohol or disinfectant directly to the device.
Don't use solvents, detergents or abrasive cleaners on your device as they can deteriorate the rubber and plastic parts of your system. Don't spray any disinfectants directly on the display or the pin pad. Instead, apply it to a microfiber cloth.
Protect
Also, you can install PIN pad covers and plexiglass shields to further protect your checkout experience. PIN pad covers safeguard devices from cleaning sprays and chemicals, making it easier to sanitize them between uses.
And remember, these covers should be treated as a temporary solution during the COVID-19 pandemic, as use of any cover can lead to additional risks of fraud. To reduce the risk, make sure to use a completely transparent cover that fits securely with no gaps between the device. Check the terminal frequently, and be sure to limit and monitor customer interactions.

Give your terminal some company with an external PIN pad
An external PIN pad can help keep your staff and customers safe from cross‑contamination. With the P400 external PIN pad bundled with a standalone V400c terminal powered by Moneris Core, you can have one terminal facing you or your staff and the external PIN pad solution facing your customers.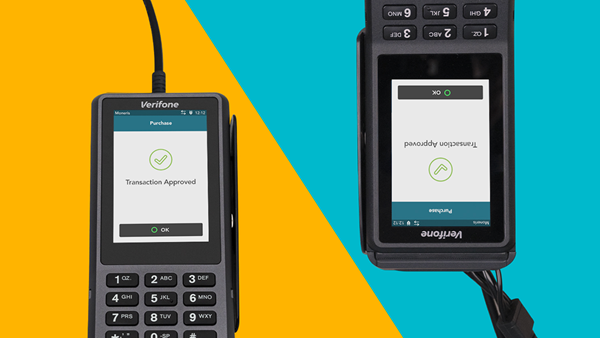 By having an additional PIN pad, not only can you easily maintain physical distancing but you get additional benefits:
Prevent cross-contamination. Customer-facing terminal helps keep you and your employees safe from cross‑contamination by minimizing shared physical touchpoints
User friendly design. Elevated EMV® slot, angled display, and domed keypad ensure optimal viewing and customer input.
Enhanced experience. Vibrant colour touchscreen with built‑in audio to help increase customer engagement.
Payment flexibility. Supports debit and credit payment, including Chip and PIN swipe, and contactless.
Reliable and secure. PCI PTS 5.X approved, aligning with payment card industry standards for secure transactions.
Helpful tips for your customers from Mastercard
Reducing physical contact with surfaces is important in today's environment. These tips from Mastercard can help limit contact and create a cleaner payment experience for your customers.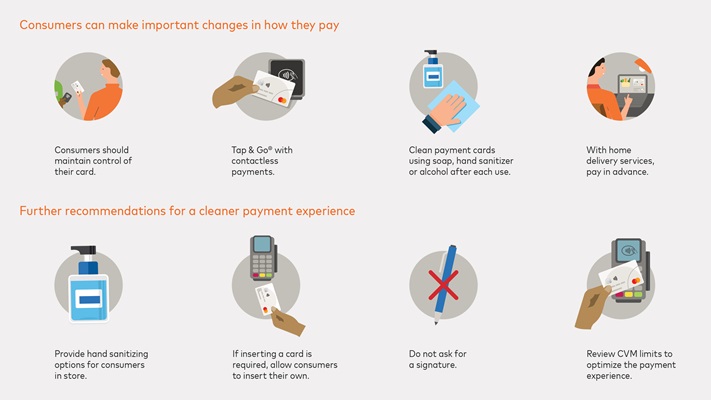 ---
The information in this article is provided solely for informational purposes and is not intended to be legal, business or other professional advice or an endorsement of
any of the websites or services listed.