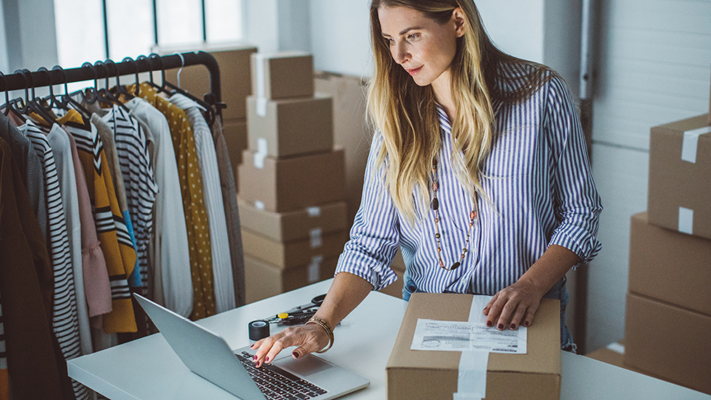 As published on The Globe and Mail

For Canadians who are blind or have substantial vision loss, a simple digital payment can pose problems such as verifying a bill total, adding a tip and choosing the right bank account.

"If you're not impacted by sight loss, or you don't have a close family member or a friend who has sight loss, it's not something you'd think about," says Thomas Simpson, director of public affairs and advocacy for the Canadian National Institute for the Blind (CNIB).

Most payment terminals are now touchscreens, Mr. Simpson points out, and even those with keypads have few tactile cues for sight-impaired users. Many have to rely on a friend, a cashier or even a stranger to complete a digital transaction.

"We've heard of instances of folks who put their PIN in instead of tip amount and come close to paying thousands of dollars for something that was only $20," Mr. Simpson says.

The CNIB is working with Moneris, the largest payment technology provider in Canada, to redesign core payment solutions to ensure vision-impaired users have equal access to secure payment tools.

With the aid of funding from the Accessible Technology Program of the Department of Innovation, Science and Economic Development, Moneris and CNIB hope to launch the upgraded software for National AccessAbility Week at the end of May.

The initiative will help consumers like Ricky Serkowney of Toronto, who is blind and unable to make in-person payments using his credit card without sighted assistance.

"I have no way to verify, finalize or adjust the amount of payment by myself," Mr. Serkowney says.

He still uses cash on occasion but says that "as more businesses are going contact-free, I am increasingly faced with having to give up my privacy and independence because of the inaccessibility of existing payment terminals."

The CNIB partnership is one of many Moneris is working on that aligns with its values to support diversity and inclusion as well as startups across Canada, says Simon Yep, the company's vice president of partner management and corporate development.

Another example is eCommerce North, an e-commerce accelerator program for startups launched by Moneris and Toronto-based technology hub Elevate to help more small businesses go online. It's the first e-commerce accelerator program in Canada, Mr. Yep says.

"We thought it was a very cool program and one that was definitely needed in the Canadian market," he says.

Applications are open until March 31 for an inaugural cohort that will begin working with mentors from Moneris and Elevate in May. Over the next three years, eCommerce North will provide professional development, support and coaching for 50 digital-first companies to help them expand. The startups will also have the option to join the Elevate platform and have access to the Moneris partner network. At least half of participating founders will be female and 30 per cent from other traditionally underrepresented groups.

"We definitely bring to the table very seasoned executives from our ecosystem that can coach and mentor these startups to help them succeed," Mr. Yep says.

It is not the company's first business incubator. Last year, the company partnered with Ownr by RBC Ventures, Staples and Shopify to launch Canada Starts, offering $5,000 grants to up to 40 aspiring entrepreneurs.

Mr. Yep says a big focus for Moneris is helping small- and medium-sized businesses to get online, especially now that the pandemic has made e-commerce critical for survival.

"COVID did essentially in five months what the entire Canadian payment industry has been trying to do for 10-plus years, which is really drive e-commerce mainstream," he says. "In a post-COVID world, the need to get online has been amplified and become more acute."

Over the past year, Moneris has put additional resources into meeting the sudden urgent need for businesses to enter into e-commerce, including providing entrepreneurs with solutions beyond payment processing. An example is Moneris Online, a partnership with website builder Bookmark Your Life Inc. and shipping giant UPS to help businesses get their websites up and running.

"Our aspiration is to offer a full value chain of services from that very first thought of wanting to start a business, all the way to actually starting that business and getting that online presence, creating your website with Moneris Online or a point-of-sale in-store," Mr. Yep says.
---
The information in this article is provided solely for informational purposes and is not intended to be legal, business or other professional advice or an endorsement of any of the websites or services listed.

1 This promotional offer (the "Offer") is not transferable, cannot be combined with other promotional offers or discounts and is time limited. In order to take advantage of this Offer and receive certain UPS preferred rates, you must visit ups.com and create a UPS account or sign-in with your existing UPS account. The services provided by UPS are subject to the UPS Canada Terms and Conditions of Service and such terms and conditions are available at UPS.com/ca.
2 This promotional offer (the "Offer") is not transferable. In order to take advantage of this Offer and receive 3 months of Bookmark Business Plan fees waived when you sign up with Moneris Solutions Corporation ("Moneris"), you must complete your application for the Bookmark Business Plan and Moneris Online between June 1, 2020 and April 30, 2021 ("Offer Period").