Personalized gift cards are a great way to draw in new customers and introduce them to your brand, products, and services. Gaining that interest and turning it into sales means letting as many people as possible know you sell gift cards. So, roll up your sleeves, put on your thinking cap, and get creative!
Check out some of our tips and tricks to get the word out about your gift cards, bring in new customers, and work towards growing your business.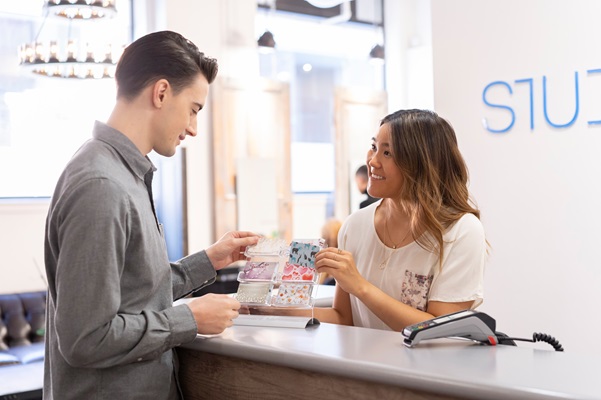 Create Artistic Displays At Checkout
Displaying your personalized gift cards in key areas within your store or restaurant, such as at the checkout line, register counter, or host stand are a great way to draw attention. These are the locations where customers find themselves standing and waiting, and are therefore most likely to be upsold with an impulse purchase. An eye-catching display can also serve as a visual reminder for a gift they might have forgotten, or if they're stuck on a gift for the person "who has everything". Make sure your personalized gift cards take advantage of engaging designs, bright colours, and clear font choices that would immediately draw the attention of the customer. Find unique and creative ways to display the gift cards even within the checkout line or register, such as arranged like a bouquet in a basket at a flower shop. Make gift cards top of mind for customers as they move throughout your store.
Train Staff to Prompt Customers About Gift Cards
You can drive further attention and awareness to your personalized gift cards by training your staff to specifically mention and recommend gift cards. This approach is particularly effective during the busy holiday shopping season. Letting customers know about gift cards is a great way to make a meaningful connection with the customer, offer excellent service, and drive sales for your business. As a further prompt, add a fun sign at the register prompting customers to grab a gift card to add to their purchase.
Create Fun Social Media Posts And Contests
Social media platforms such as Facebook, Instagram, and Twitter are increasingly becoming one of the most popular ways for businesses of all sizes to promote their products and services. Business owners can develop creative content to promote their personalized gift cards either through paid advertisements on social media platforms, or simply through free posts.
Draw even more attention to your business by promoting your gift cards with a contest. Perhaps do a giveaway of a gift card with a specific dollar amount, or a buy one get one free offer, or engage your social media followers to share your post on their feeds for a chance to win a gift card for your business. The opportunities are endless.
Send A Promotional Email
Email is an excellent and effective way to attract new customers and grow your business. Your promotional content goes directly to the potential or repeat customers' inbox, and is more likely to convert to sales. Developing a creative campaign for people already on your email list, or those who have consented to opt-in to your list, is an excellent way to let them know about your personalized gift cards.
Use short, straightforward copy and some fun imagery to let them know you're selling gift cards. Offer some suggestions about occasions when to use gift cards, and put in a call-to-action for the customer to come in and make a purchase.
---
The information in this article is provided solely for informational purposes and is not intended to be legal, business or other professional advice or an endorsement of any of the websites or services listed.