The 2020 global pandemic has introduced significant shifts in the online buying behaviours of billions of people. As consumers practice social distancing, the retail industry is seeing increases in ecommerce activity on everything from supplies to entertainment. According to Kount's latest ecommerce data trends, there is a 210% increase in arts and crafts purchases online as families spend more time together in isolation.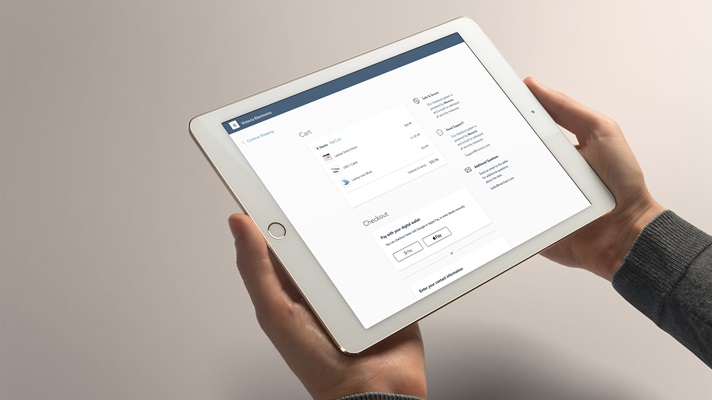 Investing in an online store can be a valuable addition to your revenue stream. The strength of ecommerce lies in its convenience as potential customers can find your business from anywhere with an internet connection. As more and more Canadians turn to online shopping, you can get your business in front of shoppers who are currently browsing online.
In the first part, we laid the groundwork with some pre-launch preparation, so the next step is to choose the right ecommerce solution for your business. Every small business has specific needs, while different platforms have their strengths and weaknesses. The most important factor in choosing the best ecommerce solution is whether it offers the right features for your business.
Factors to consider when choosing an ecommerce platform
Every business has unique needs, and your ecommerce platform should reflect them. Here are some of the factors to consider when making a decision about which platform to use:
Web hosting and custom domain. These are two different services, but you need both so consumers can find and view your website online.
Website builder with responsive themes. There are many services offering easy website development, including Bookmark, which uses AI to build your custom site in a matter of minutes. A good website builder should have drag-and-drop functionality with user-friendly themes that easily translate to a mobile device or tablet.
Built-in ecommerce features. To be competitive in the market, make sure the platform includes features like an integrated shopping cart, SEO optimization, analytics, management tools, and a blog (if you have one).
Integrations and add-ons. These give you the ability to sell products across multiple sales channels like Google Shopping, Facebook, Instagram or any other social media channel.
PCI compliant payment solution. Payment Card Industry Data Security Standard (PCI DSS) sets the requirements for businesses to accept, store and process cardholder information to prevent fraud and security breaches. Any seller that accepts payment cards online or in-person must follow these rules. At Moneris, all of our payment solutions are PCI compliant.
Secure checkout. Payment gateways are an essential tool in the payment processing world. They handle the transfer of payment information between your website and the acquiring bank through secure channels.

Tips to help you choose an ecommerce solution
Accepting online payments can seem like a daunting business decision if you're not fully up to date on the steps involved. However, for retailers, there's no time like the present to open your business to online customers.
Many payment processors mention having payment solutions that are web developer-friendly. But what about business owners that don't have the money to hire additional help? Perhaps you don't have a website yet and want an all-in-one ecommerce solution.
Moneris can help. We have end-to-end solutions specifically designed to make your business digitally available—whatever option you choose.
Building a website for your business
The reach of online shopping is unmatched, provided you have a user-friendly website. You can choose three ways to build a website, each one varying in price and required expertise.
Building your online store yourself
While this might sound like the most appealing option to some hands-on entrepreneurs, it's not nearly as simple as it sounds. Building your website requires experience in coding and can cost you a lot in terms of time.
Hiring a web developer to build your website
If you don't have the knowledge and skill to build your website, then the logical conclusion would be to hire someone who does. However, this might not be the most viable option, as hiring a high-quality web developer can eat into your budget.

The going rate for a web developer can range from a few hundred to a few thousand dollars, so you are truly paying for what you get. If you want a stunning site that offers a seamless shopping experience, then cutting costs with an inexperienced developer is not the way to go.
Creating a website in minutes using Bookmark
For many small business owners, using a website builder is the perfect compromise. Website builders, like Bookmark, are low cost, don't require any coding skills, and will leave you with a professional-looking website in a short amount of time. With the support of Bookmark's Artificial Intelligence Design Assistant (AiDA), you can create a high-quality site in a matter of minutes. See what AiDA can do for you:
One of the most important factors to consider when selecting a website builder are built-in ecommerce features and integrations. These robust features help transform your website from a basic source of information to a competitive destination with a seamless shopping experience.
Bookmark has all the features you need to sell online and across multiple channels with confidence. With their powerful integrations, you can easily add your online store to Google Shopping, eBay, Amazon, Facebook, Instagram, and any other social media site. In the same vein, it offers you access to analytics with detailed information and insights on your website visitors and performance.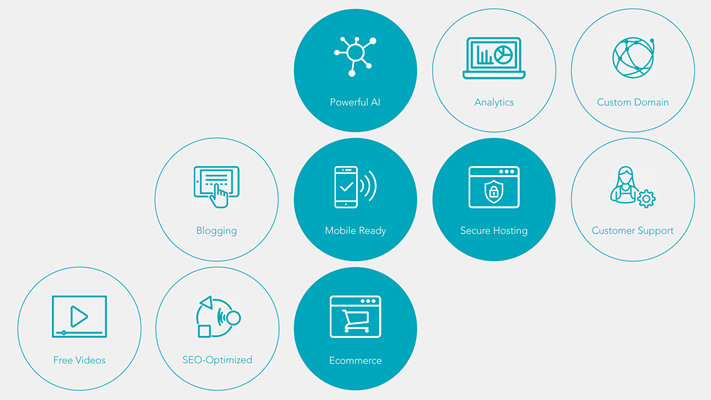 With Moneris' robust payment platform, combined with Bookmark's simplified approach to website building, you can get a complete ecommerce solution that helps you succeed online. It encompasses everything from website creation to processing payments, so you focus on running your business while we take care of everything else.
Build a site that fits your needs
Your ecommerce website might be another point of contact that loyal customers have with your brand, but it can also help you reach new customers. You want to make sure it represents your business and highlights everything you have to offer.
Ultimately, you need to choose a method that suits you and your business. If you can dedicate a little more time to your website, you may want to consider building it yourself or hiring a website developer. Otherwise, the easiest way to set up an online store is through a website builder so that you can get back to business. From design templates to add-on features and ecommerce integration, Moneris Online has everything you need to expand online today.
How to accept online payments
While having a mobile-friendly website is a big part of a seamless ecommerce experience, you also have to offer a smooth checkout experience. Fifty-three percent of Canadian consumers have abandoned an online purchase due to an inconvenience at checkout, and one-in-ten have done this more than once.

To meet the changing needs of customers, upgrading to a modern ecommerce solution, like Moneris Checkout, can provide a better shopping experience while protecting your business from fraud.
What is Moneris Checkout?
Moneris Checkout is a comprehensive, hosted payment solution that allows you to accept online payments securely. You can design your own payment experience that fits seamlessly into your website. From customizing your checkout form to payment processing, Moneris Checkout can handle it all and supports major credit cards, digital wallets, and eGift cards. Along with being PCI compliant, our additional fraud-protection features add security protocols to the payment stage to help you prevent chargebacks.
The process is seamless for your customers as they remain on your website:
Customer adds items to their shopping cart from your store and proceeds to checkout.
When they are ready to pay, the system redirects the customer to a secure payment page where they enter their credit card information. Depending on how you tailored the checkout form, the customer could add their details, select shipping, or pay with digital wallets.
Once the transaction is complete, a transaction receipt is generated.
You can also offer a better shopping experience by embedding Moneris Checkout into your website using an "iFrame." Moneris still manages the payment processing, while your customers stay within your checkout flow for the entire transaction. However, embedding the payment form may require working with your development team or website host to install correctly.
Accept all online payment methods
Canadian consumers value hassle-free checkout and need alternative payment methods that fit their lifestyle. So what does this mean for you? It means you should consider offering different payment options to your customers upon checkout, including digital wallet payments.
Besides providing a convenient checkout experience, digital wallets help reduce risks and exposure to fraud. By giving customers the choice of paying with Apple Pay or Google Pay, including Interac® Debit for In-App and In-Browser Payments, you can enable a faster shopping experience across devices they already use. You reap the benefits of increased conversion and earn customer loyalty.
Take the effort out of the checkout experience
Your customers are already browsing your online business from their smartphone or tablet. Make their shopping experience more comfortable, as complicated checkout processes are one of the main reasons customers abandon their carts.

If you manage your website, Moneris Checkout is a simple payment solution activated within our Merchant Resource Center. You can develop checkout forms, customize your fields, and enable digital wallets and other payment methods. Given that it requires some technical knowledge to implement, the Moneris Developer Portal has the tools your team needs to get started.

Processing payments online without a website
With the general population practicing social distancing and avoiding touching surfaces, small businesses must find creative new ways to keep their customers engaged, while their brick and mortar location is unavailable. Perhaps building an online store is not a feasible option for your business right now. But that shouldn't stop you from accepting payments—virtually.
Whether you pivoted to being a delivery-only business or are offering curbside pickup, taking payments over the phone can save you time without ever making contact with customers or a terminal. Taking payments over the phone can be simple and secure. If you follow the right process, you can be sure to accept credit cards over the phone with ease.
Accepting remote payments requires a virtual terminal. This feature allows businesses to process online payments, even when customers and cards are not present. If you want to accept payments online, but don't want to manage an online store, a virtual terminal might be what you need.
What is a virtual terminal?
Simply put, a virtual terminal is a solution that turns your computer into a payment terminal, as long as it has internet access. You can use this feature to process a transaction once you've collected customer's information over the phone, web, or even by mail. Given that virtual terminals process payments directly online, your customer and their card don't need to be present for a successful transaction to take place.
How does a virtual terminal work?
A virtual terminal uses a payment gateway–a solution that provides payment processing and authorization services through an online platform. We call ours the Moneris Gateway. The virtual terminal creates a landing page so you can manually input a customer's payment information and complete the payment through the gateway. Based on your configuration settings, you can send e-receipts directly to the customer after the transaction is complete with the option to download and save them for future reference.
Best practices for accepting payments over the phone
Business owners must be attentive and have safeguards in place to ensure they're accepting payments safely. Given that over-the-phone payments inherently have the challenge that the card and the cardholder are not present, you may want to consider implementing your own evaluation rules.
You can base these rules on the nature of your business and the types of transactions you usually process. If something sounds "too good to be true," it may be just that. When processing payments over the phone, it's essential to use the few security measures available.
Address Verification Service

AVS, or Address Verification Service, will check to see if the address associated with the credit card is identical to the address given to you for payment. It adds a layer of confirmation that the cardholder data matches what's on record with the issuing card bank, which helps to lower the risk of fraudulent transactions. When processing the payment through a virtual terminal, AVS is an option as you follow along with the form.
Card Verification Value
CVV, or Card Verification Value, is another simple solution that can help business owners feel comfortable processing over-the-phone payments. It validates the 3-4 digit code on the customer's credit card with the issuing card bank, confirming that the card is truly in the hands of the person using it. Remember not to write down or retain the CVV digits in any way. These codes act as security keys for transactions. If you leave them together with credit card numbers, it makes it that much easier for fraudsters to exploit the information.
Keep your computer secure
Make sure that firewalls and virus protection on your computer is up to date. Ensure that your customers' card data is not accessible from the internet on your network.
Refrain from writing down customer information
If you're extremely busy, you may be tempted to jot down a number on a post-it while you're on the phone and then process the order later on. These notes are not secure and can expose you to the risk of data loss. Instead, always enter credit card information directly into the Moneris' PCI compliant Virtual Terminal, especially the CVV.
Use a PCI-compliant phone system
Under the rules from the PCI Security Standards Council, recorded phone calls are subject to the same standards as all other types of records that store customer data. If your business records phone calls, make sure that there is a way to redact credit card information.

To learn more about accepting telephone payments securely, the PCI Security Standards Council published an industry guide that explores the potential risks associated with telephone-based card payment environments and how to overcome them.
Accept payments from virtually anywhere
Secure payments and on-the-go flexibility are great reasons to accept over-the-phone payments from your customers. Accessible through the Merchant Resource Center, the Virtual Terminal can be an ideal solution if you still want to process payments without building an online store. Though it may feel a little unnatural, the more flexible you can be as a business at this time, the better.
Be online, sell online and get paid online
With an already established business, it's easier to start accepting payments online. You already have the inventory, a customer base, and you know what it takes to run a business. You just have to choose an ecommerce solution that offers the right features for your business.
Transitioning your physical store into an online store requires a website. Not only will you be better equipped to accommodate your existing customers, but you'll also open your business up to an entirely new world of customers. Building a website doesn't need to be a daunting task. With Bookmark's ecommerce website builder, you can create your online store in a matter of minutes, with secure payments powered by Moneris.
If you have a website, your customers are already browsing your business on their phone or laptop. Offer them a better shopping experience with Moneris Checkout—a simple payment solution that allows you to accept all forms of payments online securely. It offers a ready-to-use checkout page with customizable features, built-in support for fraud prevention tools, and accepts all major credit cards, digital wallet payments and eGift cards.
When neither options are feasible for your business, you can still process payments online with a virtual terminal. Even if orders are received by mail or phone, this secure, web-based solution offers transaction processing when customers and their cards are not present.
---
The information in this article is provided solely for informational purposes and is not intended to be legal, business or other professional advice or an endorsement of any of the websites or services listed.