If 2020 has taught us anything so far, it's that uncertainty is the only thing we can be certain of. It's tough to navigate these times as a merchant—how do you plan for a future that feels like it could change on a dime?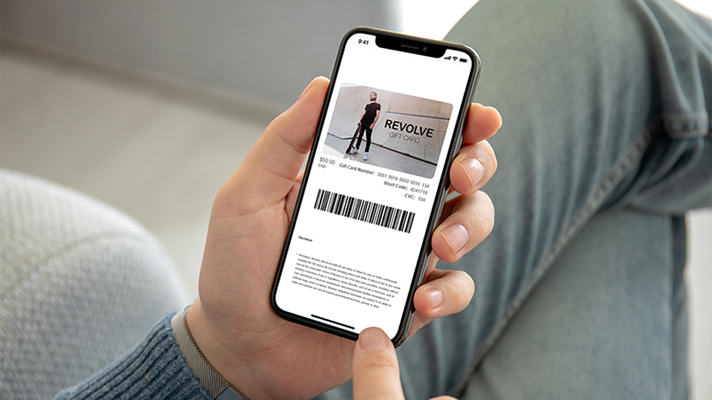 Introducing eGift: Customizable convenience for merchants and customers
Consider eGift Cards, a new tool to help inject stability and certainty into your business model. Adding this feature to your website allows you to secure new revenue. You'll also be offering your customers more ease and flexibility, as they can purchase an eGift Card on your website and send it through email or text message to friends and loved ones (or keep it for themselves for later use).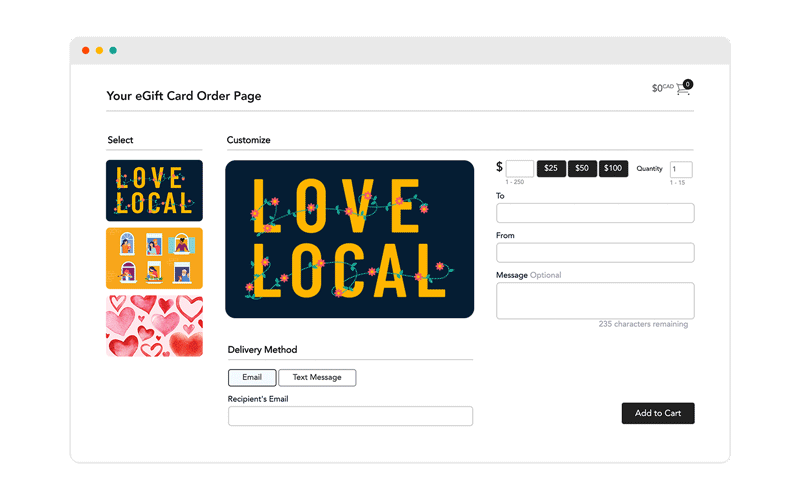 Let's look a little more closely at the benefits of eGift Cards for both merchants and customers.
How eGift benefits your business
Enabling this feature means choosing a service that is:
Easy to implement: You don't need a costly ecommerce platform to run this feature. It can be added as a simple i-frame to a dedicated Gift Card page on your website.
Cost-effective: Set-up for this feature is $200, and $50 monthly thereafter, plus a $0.60 delivery fee per transaction.
Customizable: You can add your brand to the gift card artwork easily with up to four different images.
Secure: Fraud prevention is built-in, ensuring card purchases are legitimate. Real-time risk assessment and cardholder authentication is also offered.
Easily measured: Enhanced reporting and insights are available so that you can see exactly how well your eGift Card program is performing.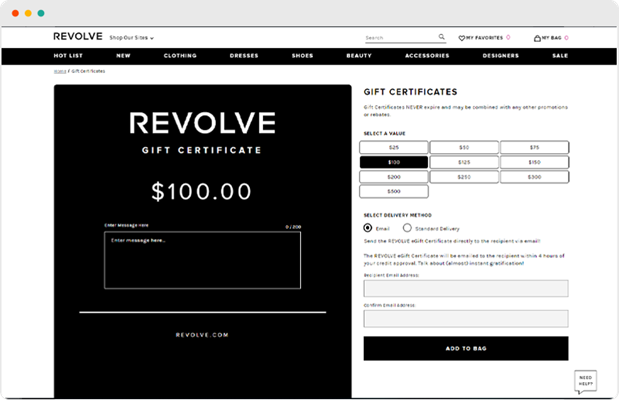 eGift adds customer value, too
For customers, the eGift Card feature enhances the online shopping experience through:
Customizability: Customers can choose between several card artwork options and add a message for a personal touch.
Convenience: The customer can choose between email or text delivery, and the eGift Card can be stored by the recipient in Apple Wallet and taken anywhere. Customers can also include multiple cards for multiple recipients in one purchase (perfect for the Holidays).
Flexibility: Fixed dollar amounts are available, but the customer can also choose their own value to add to the eGift Card. This makes it easy to tailor the amount purchased for any occasion, big or small.
How to set up eGift in your online store
Once you're ready to build eGift into your site, you can set it up in a few steps. Here's how it works:
Your Moneris support rep will provide an i-frame URL to incorporate into your website.
From there, you'll be able to integrate the i-frame into the body of your Gift Card sub page. The i-frame URL will be in this format: https://vgdelivery.com/VirtualGiftCard?ProgramId=[PID]&currentCulture=[Language]
When your eGift feature is up and running you can log into your Moneris Web Portal any time to view detailed reports and access administrative functions.

How eGift works for customers
The eGift feature was built to be intuitive and easy for customers to navigate. To purchase an eGift Card, your customers will:
Click on the gift card option available on your eGift page and select a card design.
Select their card design and choose their preferred delivery method (email or text message).
Enter the recipient details, delivery date, total dollar amount, and an optional personalized message.
Add the eGift to their cart and proceed to checkout as usual.
Ready for eGift? Enable it today!
Adding the eGift feature to your online store is a great way to add revenue to your operations and add value for your online customers. If you still have questions about how to get started, you can contact us any time. You can also read more about how to set up gift cards here, and you can read about the other gift card and promo card options available to you as a Moneris merchant here. Interested in seeing how this works? Check out the eGift Card store demo.
---
The information in this article is provided solely for informational purposes and is not intended to be legal, business or other professional advice or an endorsement of any of the websites or services listed.