The Moneris® Merchant Scoop Series highlights Canadian businesses thriving amidst an ever-changing landscape. Featuring exclusive interviews, learn more about the entrepreneurs behind the scenes, their stories of how they got their businesses off the ground, what it really takes to achieve success, and what the next steps could look like for a resilient future.
_______________________________________________________________________
As we know, cancer affects us all. Not only the ones battling it but also their loved ones. Seeing someone you love, suffer, can be the hardest thing. Beyond that, chemotherapy, medicines, and routine check-ups can be costly. Not all affected can afford the treatment.
The Canadian Cancer Society (CCS) is a national charity with over 80 years of commitment to improving and saving the lives of people affected by cancer by easing the financial burden of the disease. Through its national fundraising efforts, the organization funds world-class research to help better detect and treat cancer and provides support for Canadians affected by the disease.
The Daffodil Campaign
The Daffodil Campaign is an initiative launched by CCS to help Canadians live full lives beyond the disease. It is a traditional volunteer-based campaign, which runs during cancer awareness month in April, and is one of the charity's largest fundraising efforts to help those battling the illness. Named after the flower daffodil, which is a symbol of strength and resilience, the campaign invites people across Canada to come together in support of cancer patients.
Back in 2019, the pandemic brought the world to a halt and conducting in-person events became challenging. CCS saw this as an opportunity to take their Daffodil campaign online.
Partnership with tiptap

®
During COVID-19, the charity adopted a no-touch donation technology from tiptap with backend processing performed by Moneris® so that supporters could safely and effortlessly provide the much-needed funds and make a difference.
"When the opportunity to partner with tiptap emerged, we were quite excited because Canada and the provinces were all promoting their reopening plans, and we knew that we could actually be in a position to safely plan to have a face-to-face presence," says Lina Mohamed, Vice-President of Direct Marketing and Third-Party Fundraising at Canadian Cancer Society.
The tiptap devices allow donors to give specific pre-set dollar amounts with a tap of their credit or debit card, while transactions are securely completed by Moneris on the backend.
CCS created a variety of different installations using the tiptap devices, creating a unique experience for donors at some of its corporate-partner hosted locations. In one location, whenever a donor tapped to contribute, a daffodil garden lit up; another was designed to replicate the traditional design of an actual fair flower cart full of fresh daffodils.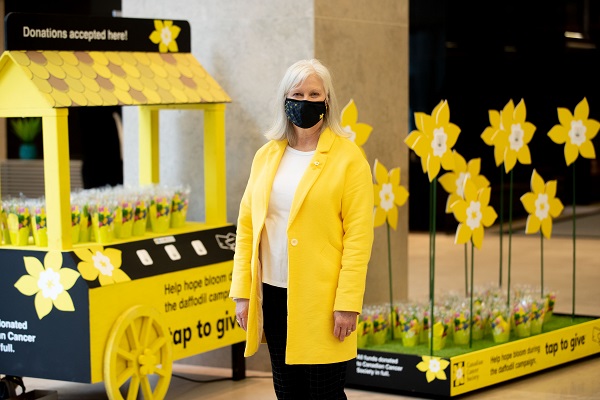 Looking Ahead
Lina and her team have begun to plan for the 2023 Daffodil Campaign and beyond. They are considering how they might scale, innovate, and use their technology partnership with Moneris and tiptap to allow for even greater visibility in high-performing geographical locations.
To know more about CCS and its efforts, click here.