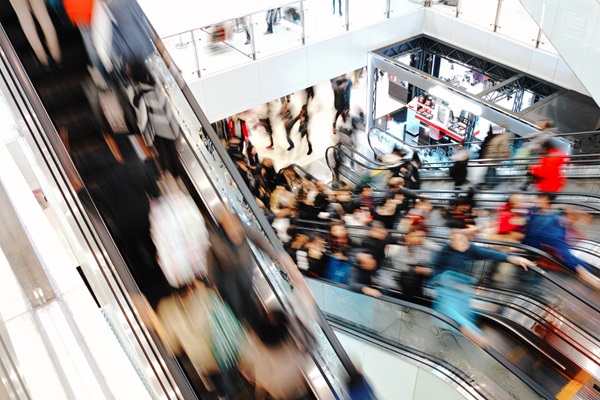 The holidays are an exciting time for merchants to not only bring in new customers, but provide an exceptional retail experience during the busiest time of the year. Being prepared for the rush of shoppers, and paying attention to spending trends from the year before is key to having a successful holiday season.

To help get ready for the influx of holiday business, learn more about what to expect from shoppers this year and how you can accommodate their shopping preferences.
Year over Year (YoY) Shoppers Spend More
Following in the footsteps of previous years, and according to Moneris data we've gathered, it's likely that 2017 will be a busier shopping year than the one before it. Year over year, shoppers are spending more throughout the holiday season in nearly all retail environments, from department stores for gift purchases to hotels for overnight stays.

According to Moneris data, during the 2016 holiday season the last two months of the year saw an increase in YOY spending, with 5.34% in November and 4.24% in December. Shopping-centric days also saw YOY growth, with 5.91% growth on Black Friday, and 10.73% growth on December 23rd. This holiday season it is likely this growth will continue.
The Three Busiest Shopping Days
Every year, there are three standout days that prove to be busier than the rest– Black Friday, December 23rd and Boxing Day – and this year, it's likely to be the same. Ever since Black Friday arrived on the Canadian scene in 2010, retailers have questioned just how popular the borrowed U.S. shopping day has become. When comparing the amount of dollars spent on Black Friday to Boxing Day, Black Friday has beaten out Boxing Day for the last three years. In terms of what this means for your business, you might want to consider tailoring your holiday marketing efforts and sales promos to more closely align with the timing of Black Friday this year.

When it comes to peak transaction times, Moneris recorded the busiest shopping hours between 2pm and 3pm on both Black Friday and December 23rd, 2016. It's in the interests of your business to have all hands on deck during this hour!
Busy Shoppers Prefer "Tap-to-Pay"
Contactless-enabled cards, or "tap" cards, are not unusual in today's marketplace, but continue to grow in popularity as consumers recognize the added convenience and speed of this technology. On Black Friday 2016, nearly half (47%) of all transactions Moneris processed were made by tapping cards versus other methods, and this trend is likely to continue during the 2017 holiday season.
Foreign Holiday Shoppers Expected to Spend More
Don't forget foreign shoppers this holiday season, as the low Canadian dollar tends to attract shoppers from south of the border to make their way to Canadian shopping centres. Foreign spending processed by Moneris was up 10.25% on Black Friday 2016, and with the exchange rate still favoring the American dollar, it's likely spending will increase in 2017 as well.