Retail Council of Canada (RCC) and Moneris® Data Services have teamed up to provide the retail industry with Canadian credit and debit spending data and consumer insights that will help the industry more easily identify consumer behaviour and spending trends at the national and provincial levels.
Each quarter, the Retail Council of Canada surveys executive members from mid-large-sized retailers from coast to coast to obtain an insider's perspective on retail performance for the past quarter. RCC does not present the results as a statistically representative analysis but rather a retail pulse to help provide context around trends impacting the industry. Respondents from the gas, motor vehicles or grocery sectors are not included in the survey.
The following commentary is an excerpt of the report covering the period of March-May 2023
Overview:
The summer was a mixed bag of results for retailers as many of the products purchased during the two-year pandemic lockdowns for home entertainment, working or learning at home have not worn out, priorities shifted to experiences and or travel, and (an amplifier of the first two) ten consecutive interest rate increases plus food inflation had consumers reeling.
Retailers reported their customers shifting to basics, focusing on weekly budgets versus buying for value.
Customers made clear trade-offs to meet their escalating (or escalating in the future) mortgage payments and higher rents. Ontario stands out as a market that is underperforming, Alberta and the Atlantic provinces are performing well. The overall economic picture has bright spots, with near full employment, millions of new Canadian shoppers, and a pretty big segment of the population continuing to do well, benefitting from increased interest rates and strong home valuations. It is also the case that there is some dispersal of sales from several notable exits from the Canadian retail landscape in the spring. So far, back-to-school gets only a C+ from retailers, as consumers focus on essentials and remain pretty stocked up on technology.
Most retailers expect a good Black Friday/Cyber Monday as consumers shift to gift-giving. Those retailers recognize that a discounted price is table stakes and that consumers are now trained to load up for the Black Friday/Cyber Monday events, creating a significant lull in early December.
Watch for special buys and clear-outs to get consumers shopping online and into the stores.
Highlights from June 2023 through September 2023:
50% of respondents reported summer sales were down vs. last year
Web sales were down for 65% of respondents
58% of respondents saw margin rates go up
58% saw inventory levels go down
19% anticipated ending 2023 over budget
45% anticipated ending 2023 up from 2019
Sales:
The Retail Conditions survey is akin to a quarterly roundtable with retail executives from categories other than grocery, gas and auto, conducted in one-on-one confidential conversations, which are reflected anonymously in the Retail Conditions report.
Summer sales results were mixed across respondents, with 50% reporting lower sales compared to 2022, 40% reporting higher and 10% reporting the same.
Retailers spoke about mid-to-lower income consumer preferences shifting toward discounted, high-value products as the effect of higher interest rates on household budgets began to be felt more widely, yet with higher-income consumers still spending at high levels, i.e., a bifurcation in sales patterns.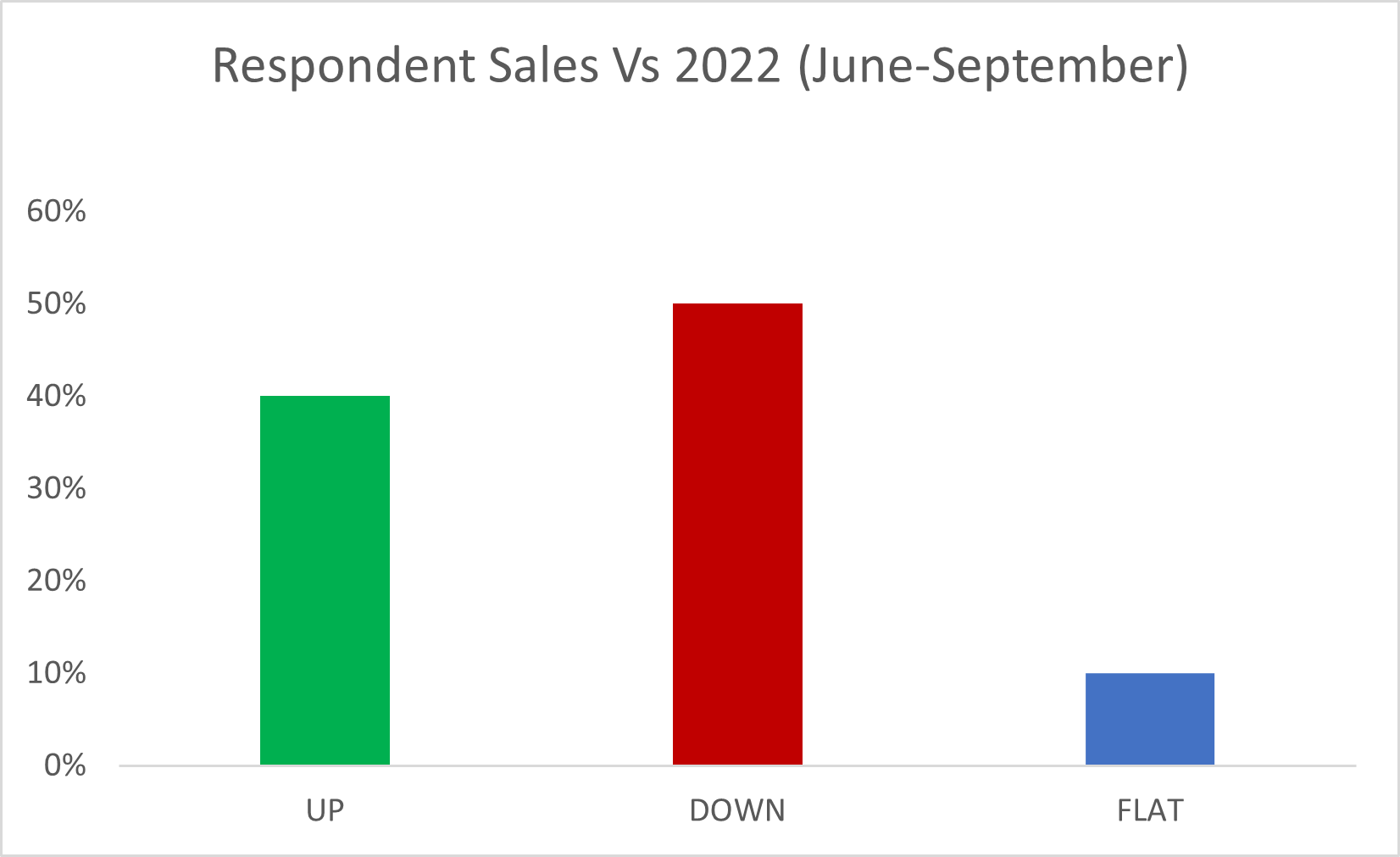 Forecast
Most respondents anticipated being either flat or down for 2023 sales. Expectations varied for holiday spending, but a common theme for sales overall, not just holiday spending, was concern about consumer budgets in the context of high-interest rates and prices.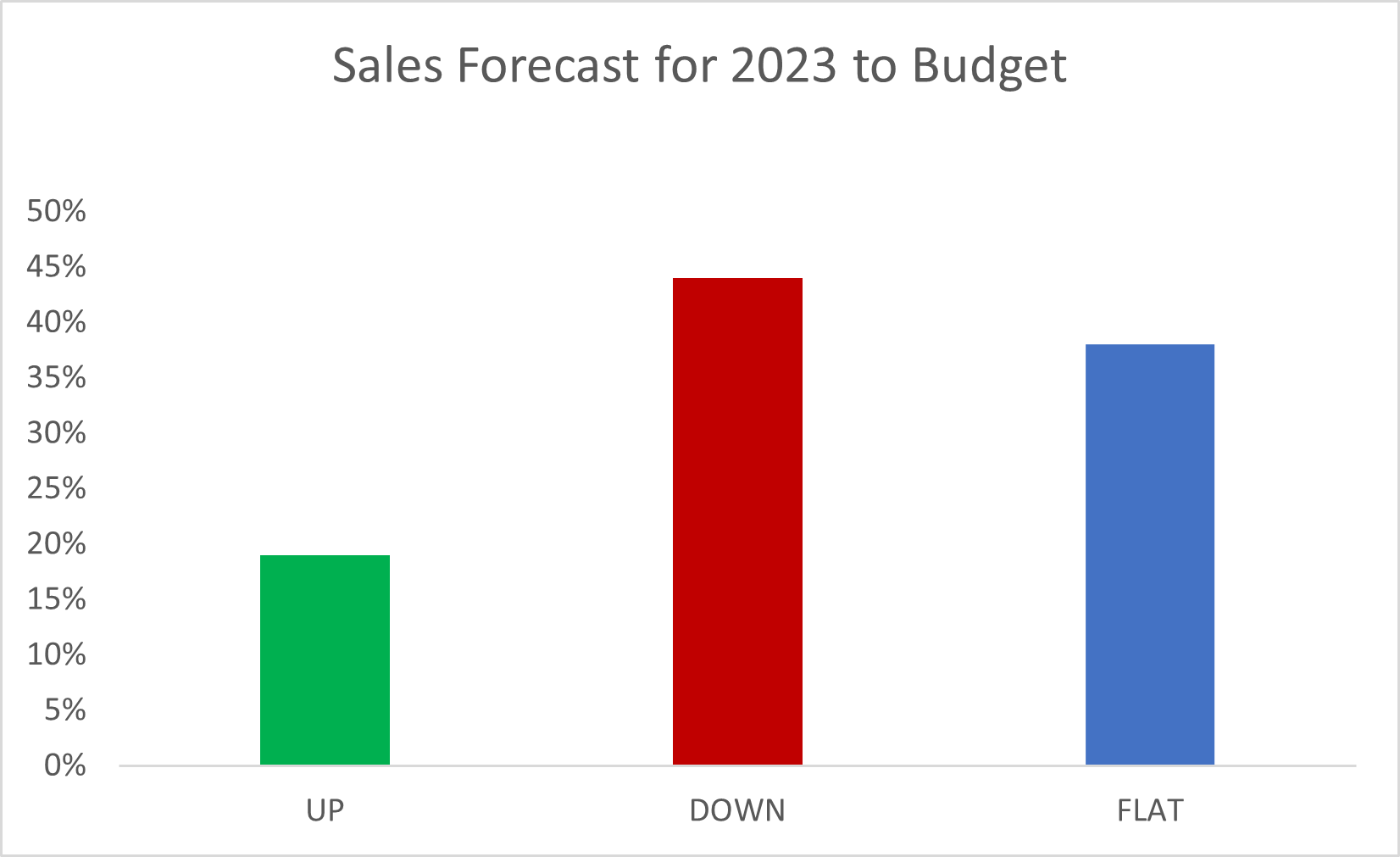 Back to School Report Card
For those that participated/where the back-to-school selling season matters, the general report card was a C+; for a few retailers who treat the event as a seasonal opportunity, it was fine, maybe a B+, but for those few counting on strong sales, they have yet to show up early September.
Breaking down the sales performance by category, there is a sluggish demand for electronics, what was needed for apparel, and a focus on the basics and the budget. The overall sentiment was a retail event that started later and might not finish strong - a season that met modest expectations or fell short.
Customer Behaviour
The current state of retail in Canada is best understood through the prism of three consumer realities: The Great Buy-Forward, The Great Take-Off and the (not-so-great) interest rate acceleration of the past 18 months.
For those retailers who sell popular goods during the pandemic with customers, they face lacklustre consumer demand. Products like BBQs, televisions, computers, patio heaters, and some ticket furniture have not worn out yet, and vendors have not brought forward product innovation strong enough to spur new sales to consumers with what is likely an excellent working product whose welcome isn't worn out yet.
For their consumers, they have shifted to basics or replenishment-type products rather than doubling down on discretionary purchases. The second is vacation travel. It felt to retailers that half of Canada was in Europe or elsewhere at some point this summer, or at least significantly shifting their priorities away from (discretionary) goods and into experiences. The third factor, ten (thankfully not eleven) consecutive interest rate increases, amplifies the first two. This report and author have been discussing the inevitable slowdown in consumer goods sales and the shift to post-pandemic experiences. Still, several retailers were surprised at how pronounced and sudden the transition was.
Several retailers commented that as vendors ramped up production to meet COVID-era demand, many "overshot the runway" and are jammed with products. The ongoing exception to this increased supply remains photographic equipment, which is still catching up to demand (that hopefully will still be there when the inventory is available). The story is better for apparel retailers who suffered from a lack of demand during the pandemic. In absolute terms, they are coming off some big months during 2022 when Canadians resumed their everyday lives. Sales in some categories are stronger than others, driven by wardrobe refreshes for travel, work and socializing.
E-commerce Growth Prospects
3 year after the pandemic began, e-commerce has seen a slowdown in growth , better integration into the core business, and the overall share of retail sold online in Canada move to approximately 12% by best estimates.
That being said, 65% of retailers we spoke to report their online sales down year-over-year. Retailers reported growth in their eCommerce business, report that they recently brought in new talent to run their line of business and are experiencing the benefits of fresh, modern platforms.
When asked about the future growth trajectory in three years, most retailers reported relatively modest growth expressed as a share of overall sales but were optimistic about overall sales growth for the enterprise. Merchants commented on the (somewhat surprising) strength of consumer appetite for their "traditional" retail stores.
Those winning now and in the future in any channel will need to be very thoughtful about their customer value proposition and very aware of the new and evolving online retail landscape with fast-moving international competitors shipping to Canada factory directly, leveraging international postage regimes for low-cost shipping, and even hosting retail store pop-ups in major cities in North America.
About Retail Council of Canada
Retail is Canada's largest private-sector employer with over 2 million Canadians working in our industry. The sector annually generates over $78 billion in total compensation. Core retail sales (excluding vehicles and gasoline) were over $433B in 2021. Retail Council of Canada (RCC) members represent more than two-thirds of core retail sales in the country. RCC is a not-for-profit industry-funded association that represents small, medium, and large retail businesses in every community across the country. As the Voice of Retail™ in Canada, we proudly represent more than 52,000 storefronts in all retail formats, including department, grocery, specialty, discount, quick service, independent retailers, and online merchants. www.retailcouncil.org.
Contact: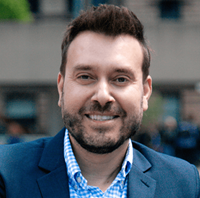 Santo Ligotti
Vice President, Marketing and Member Services
RETAIL COUNCIL OF CANADA | CONSEIL CANADIEN DU COMMERCE DE DÉTAIL
sligotti@retailcouncil.org
Interested in membership, then please visit retailcouncil.org or contact membership@retailcouncil.org
Visit Moneris Data Services for more insights.