Black Friday and Cyber Monday are the most awaited shopping days of the holiday season. But have you heard of Small Business Saturday? If yes, you already know what to do. If not, read on to learn about its origin.
Small Business Saturday started as a campaign launched by American Express in 2010 but became official in 2011 when Washington State mayors, senators and President Obama came in support of Small Business Saturday. The wave spread to Canada too. The Canadian Federation of Independent Business (CFIB) and American Express have recognized Small Business Saturday (November 26th) on the Saturday following Black Friday.
It is celebrated annually to encourage shoppers to shop at and support local businesses. The main purpose of this day is to highlight small businesses that otherwise get overshadowed by big brands during the holiday sale season.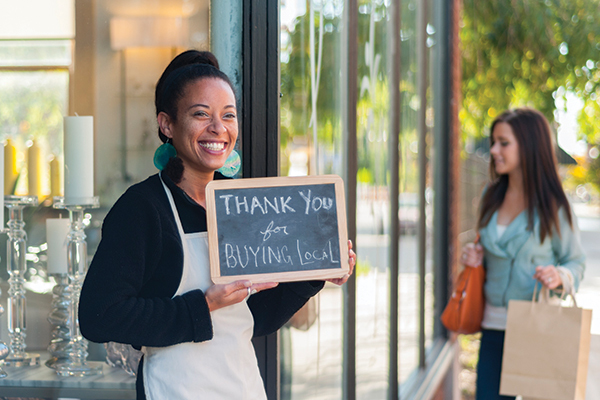 Why Shop Local?
Local businesses are the backbone of Canadian communities and culture. From generating employment to serving as social spots for locals- small businesses create a sense of feeling at home.
Every time you sip a latte at a local coffee shop, buy soaps and body lotions at the nearby apothecary or shop at a boutique or neighbourhood store, you support someone's dreams, help keep their businesses alive and ultimately keep the local economy thriving.
We all know the amount of hard work and effort that goes into starting and running a business. With big giants dominating the markets and also the eCommerce space, small businesses often don't receive the recognition they deserve. By shopping at locally owned businesses, you not only help them get a wider reach but also keep the communities they serve flourishing.
We at Moneris® support our local merchants by helping them set up, run and grow their businesses. From launching campaigns that can win them grants to highlighting their stories throughout the year and especially during Small Business Month in October, we love our local businesses as much as the big corporations.
This time around, make some room for Small Business Saturday. Kick off the holiday season by shopping at your local stores. Get personalized gifts for friends and family and help your community prosper.