Some exciting news for Torontonians and visitors to Toronto this week.
Starting August 15, you can tap your credit cards, debit cards, or digital wallets to access the TTC (Toronto Transit Commission). Yes, you heard that right!
Gone are the days of searching your bags for exact change or waiting in line to purchase transit cards. Moneris and Metrolinx have partnered to create a more convenient and seamless transit experience for riders. Riders can now access the city's subway, buses, and streetcars simply by tapping their credit or debit cards on the fare machines.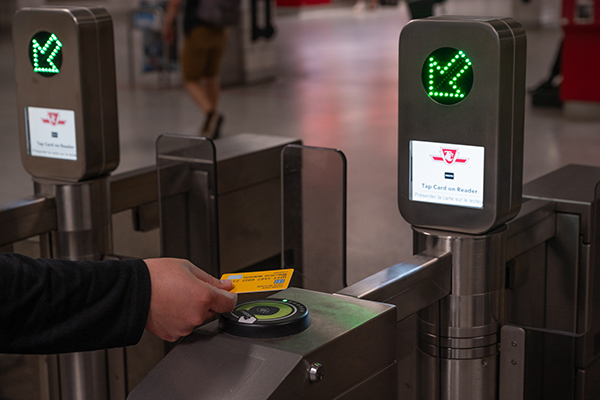 This provision was introduced for GO, Brampton, MiWay, Oakville Transit and UP Express last May, with the TTC being the latest to offer passengers this easy way to ride the rocket.
A few things to keep in mind:
Remember to remove your credit/debit card from your wallet, purse or phone case to tap on the fare machine to ensure you are paying with your preferred card.

A standard fare of $ 3.35 will be deducted from your card.

Students and seniors are recommended to use their PRESTO card to maintain their discounted rates.
You don't need paper transfers when using your debit or credit card to pay your fare. Tap with the same card using the same method when transferring across the TTC within a two-hour period.

You can now create an account on the PRESTO App or website and register your credit/debit card. You must tap your card on the TTC at least once before you can add it to your account.

You can view your transaction history on the PRESTO App or website if you've tapped with a credit card or debit card.

If you've tapped with a debit card in a mobile wallet, you can check your bank account to see your charges. Your transaction history is not available on the PRESTO App or website.
What are the key benefits of contactless TTC payments?
Ease of use: You no longer need to carry a separate transit card or buy a ticket in advance. You can use your everyday credit or debit cards, reducing the number of items you need to carry.

No need for top-ups: Unlike traditional transit cards that need to be loaded with funds, your cards are linked directly to your bank accounts. This eliminates the need for constant top-ups and ensures a seamless travel experience.

Faster boarding: The process of entering transit will become significantly faster. This will reduce wait times and create more efficient boarding for both riders and operators.

Flexibility: You have the freedom to use the payment method you prefer. Whether it's a credit card, debit card, digital wallet, or smartwatch, the options are diverse.

Ease for tourists: Visitors to Toronto won't need to buy a transit card for the duration of their stay. They can simply tap their personal cards on the transit and explore the city.
As Toronto continues to evolve and grow, so does its public transportation system. The TTC's decision to offer convenient payment options to its riders marks a significant step towards making the lives of its commuters easier and more convenient.