Home to people of different nations, races, and religions, Canada is a multicultural country. A hub of international students and a dream destination for many tourists—people come to Canada from across the world. Our stats suggest that Canada's tourism industry contributed approximately 19.96 billion Canadian dollars to the country's economy in 2020.1
The pandemic did slow things down initially, but with travel restrictions lifting and in-campus sessions starting, Canada has opened its doors to the world again.
If you're a merchant who is heavily dependent on tourism and foreign spending, here are some positive trends we're seeing across different industries.
Travellers who have been restricted to their homes for almost two years now are excited to start travelling again. This has resulted in volume growth of 550% in March 2022, as opposed to 163% in September 2021.2
Hotels that were empty during the pandemic are getting sold out in minutes. With the increased number of foreign travelers in the country, hotels saw volume growth of over 100% in March 2022.
After two years of staying in, people were excited to travel, go watch movies, and explore other recreational activities such as concerts, bowling, and more. This resulted in an over 400% increase in consumer spending in the entertainment sector.
Foreign tourists love to explore new restaurants and bars when they travel. This has resulted in an increase of over 206% in consumer spending at restaurants and bars.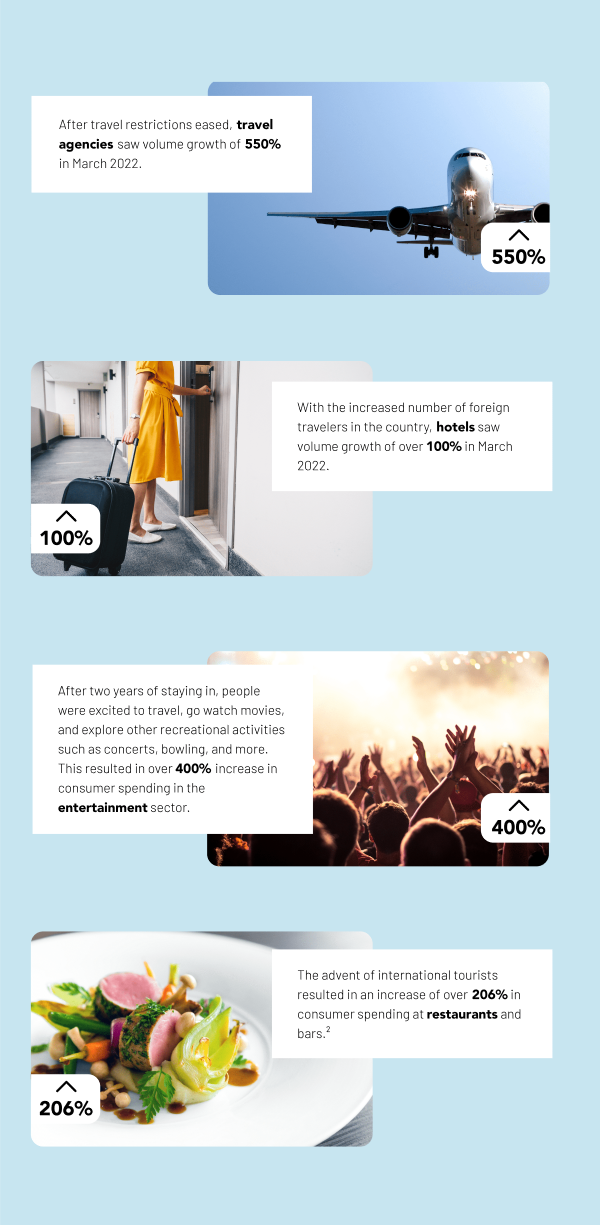 Foreign spending data shows that people are traveling to Canada and supporting Canadian businesses. How can merchants take advantage of international travelers flocking to Canada? We may have a solution for you. Moneris® Dynamic Currency Conversion (DCC) tool offers customers ability to see the cost of a transaction in both Canadian dollars and a foreign currency when they pay with a foreign Visa or MasterCard credit or debit card. DCC adds value to each transaction by displaying real-time, on-the-spot currency conversions.
Interested in knowing more about DCC? Click
here
.
---
2 Based on a Moneris foreign spend report conducted April 2022.