As part of our latest partnership with the Conference Board of Canada we are pleased to present the following authoritative insights from their Index of Consumer Spending (ICS) which has been Powered by Moneris® Data Services. Our industry-leading consumer spending data and insights from point-of-sale activity combined with The Conference Board of Canada's expertise provides a coast-to-coast perspective on how the economy is trending.
• Growth in consumer spending saw incremental growth month-to-month in Q3 2023 but remains 0.7 points lower than its Q2 average of 88.9. The Index of Consumer Spending (ICS) averaged 87.9 points in July (up from 86.5 in June), 88.2 points in August, and 88.4 points in September.

• In July, the Bank of Canada rose interest rates another 25 basis points, bringing the overnight rate to 5.0 per cent where it stayed for the rest of Q3.

• CPI inflation reversed its trend in Q3 following consecutive quarters of decline. From 2.8 per cent in June, year-over-year inflation rose to 3.3 per cent in July, and to 4.0 per cent in August, before dropping to 3.8 per cent in September.

• Gasoline prices saw their first increase since January of this year in August. After dropping by 12.9 per cent year-over-year in July, prices jumped 0.8 per cent year-over-year (4.6 per cent month-over-month) in August largely due to production cuts from big oil-producing countries.

• On a year-over-year basis, average hourly wages in Canada saw pronounced increases with an increase of 5.0 per cent in July, 4.9 per cent in August, and another 5.0 per cent in September. This brought the average hourly wage to $34.01 in September.

Gain actionable insights with access to real-time Canadian consumer spending and location data with Moneris Data Services. Learn more.
Key Insights
Strong population and employment growth is helping maintain consumer spending.
Canada saw sizable gains in population and employment this quarter. From Q2 2023 to Q3 2023, Canada's population increased by another 358,128, its largest quarter-to-quarter increase this year. This increase was largely due to temporary immigrants who account for most of the growth. As well in Q3, Canada had strong employment gains. While July was stagnated with -6,000 employment (an effective change of -0.0 per cent), the months of August and September made up for this with employment gains of 40,000 and 64,000, respectively. During this time, Canada's unemployment rate also held at 5.5 per cent. Despite challenges to spending such as heightened interest rates and environmental disasters, the population and employment gains have helped offset these impacts and maintain spending growth throughout the quarter.
The full effect of the interest rate hikes are still unfolding.
Interest rates can take up to 18 months for their full impact to materialize. This delay is often attributed to the transmission lags in monetary policy, driven by factors such as renewal of fixed-rate loans created prior to hikes. The first interest rate increase by the Bank took place 19 months ago in March 2022. Correspondingly, in the third quarter, average consumer spending growth in Canada – as indicated by The Conference Board of Canada's Index of Consumer Spending – reached a score of 88.2, marking a 0.7-point decrease from the previous quarter and a 14.1-point decrease from its peak in Q2 2022. With the complete maturation of the Bank's subsequent rate hikes over the next few quarters, we expect further softening in consumer spending growth.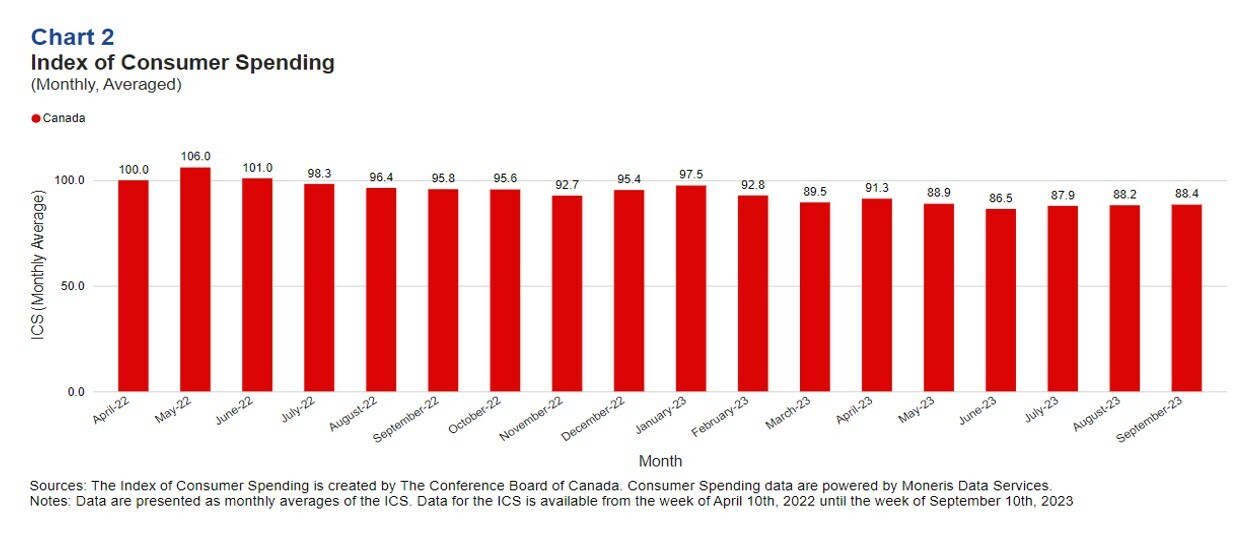 About The Conference Board of Canada:
The Conference Board of Canada is the country's leading independent research organization. Our mission is to empower and inspire leaders to build a stronger future for all Canadians through our trusted research and unparalleled connections. Index of Consumer Spending | The Conference Board of Canada.

Media Contacts:
The Conference Board of Canada
media@conferenceboard.ca / 613-526-3090 ext. 224
media@moneris.com / 416-734-1442
Walter Bolduc
Economist
bolduc@conferenceboard.ca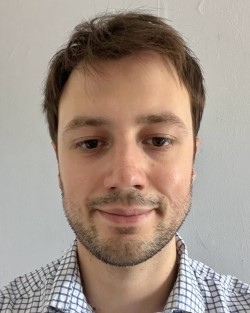 ---
MONERIS and MONERIS & Design are registered trademarks of Moneris Solutions Corporation. All other marks or registered trademarks appearing on this page are the property of their respective owners.