As part of our latest partnership with the Conference Board of Canada we are pleased to present the following authoritative insights from their Index of Consumer Spending (ICS) which has been Powered by Moneris® Data Services. Our industry-leading consumer spending data and insights from point-of-sale activity combined with The Conference Board of Canada's expertise provides a coast-to-coast perspective on how the economy is trending.
• Growth in consumer spending saw back-to-back months of deceleration in Q2 2023. The Index of Consumer Spending (ICS) averaged 91.3 points in April, 88.9 points in May, and 86.5 points in June.

• The Bank of Canada resumed interest rate hikes again, raising the rates by 25 basis points in June. Despite this, in June, the Bank continued to expect that rates will fall to around 3 per cent in the summer.

• Grocery prices remain burdensome on consumers' finances as they continued rising through Q2 while presenting no signs of coming down.

• The mortgage interest cost index continued rising by double-digit percentages in Q2, reflecting the increased interest rates and fluctuating home prices.

• Canada's labour market delivered some surprising results throughout Q2 2023. April's employment level rose by 41,000, followed by May's drop of 17,000, and ended with another increase as June delivered 60,000 jobs.

Gain actionable insights with access to real-time Canadian consumer spending and location data with Moneris Data Services. Learn more.
Key Insights
Q2 Inflation eased to 3.5 per cent year-over-year due to lower energy prices but increasing grocery prices remain concerning.
Inflation is continuing its downward trend, albeit slower than hoped, easing some pressures on consumer purchasing behaviours. Although moving towards its target range, the Bank of Canada noted that underlying inflation has remained stubbornly high. Staying true to the course the Bank determined that a June rate hike of 25-basis point was warranted. In May, Canada's CPI came in at 3.4 per cent year-over-year, just shy of the Bank's target. Significant to the improvements in inflation was energy prices, which receded 12.4 per cent in May compared to the same month last year. Noteworthy from this is natural gas prices which decreased by 3.5 per cent in May, its first year-over-year decline since August 2020. Despite these positive shifts, household spending in Canada is still pinched by elevated grocery prices, with the price of groceries up 9.1 per cent in April and 9.0 per cent in May year-over-year.
Consumer spending trended downwards in Q2 2023 as the labour market shows signs of loosening.
The labour market continues to be a shining light in the Canadian economy as it managed to add even more jobs this quarter. In total, Q2 2023 saw 84,000 jobs added, demonstrating consumer trends of continued excess demand, translating to job growth. Much of this excess demand can be attributed to the continued growth in Canada's population, which passed the 40 million population milestone this quarter. However, despite these gains, we are seeing some hints of a slowdown in the labour market. In June, the hourly wage growth was 4.2 per cent (not seasonally adjusted), its slowest year-over-year growth since May last year. Additionally, the unemployment rate rose from 5.0 to 5.4 per cent over the quarter as more people searched for jobs. If this continues, we may see further reductions in the coming months in consumer buying behaviours.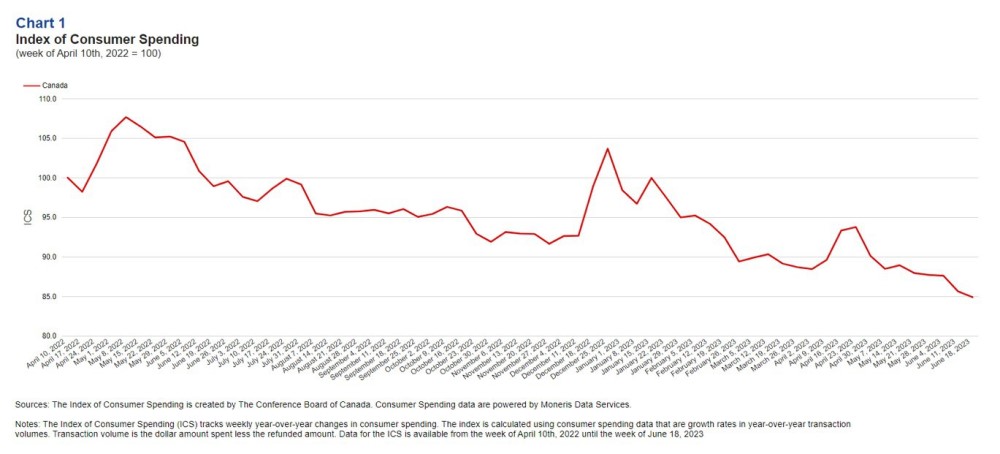 About The Conference Board of Canada:
The Conference Board of Canada is the country's leading independent research organization. Our mission is to empower and inspire leaders to build a stronger future for all Canadians through our trusted research and unparalleled connections. Index of Consumer Spending | The Conference Board of Canada.

Media Contacts:
The Conference Board of Canada
media@conferenceboard.ca / 613-526-3090 ext. 224
media@moneris.com / 416-734-1442
Walter Bolduc
Economist
bolduc@conferenceboard.ca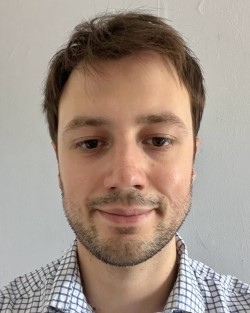 ---
MONERIS and MONERIS & Design are registered trademarks of Moneris Solutions Corporation. All other marks or registered trademarks appearing on this page are the property of their respective owners.