Father's Day is coming up on June 20th: set your calendars. In 2020, Canadians planned on spending in excess of $1.5 billion1 for dad's special day, and this number only seems to increase year after year. Align your business to meet the demand and be well-prepared to take advantage of this lucrative time.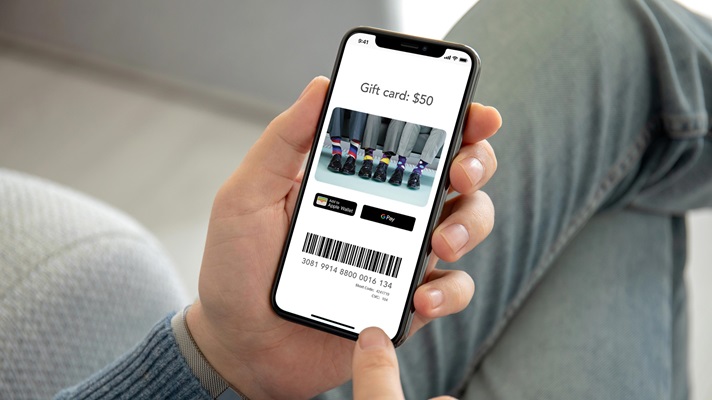 We've rounded up 10 ways to increase your online sales and celebrate dad in 2021.
Start early and create a sense of urgency
It's easy to have Father's Day on the back burner (sorry, dads), so remind people the day is fast approaching. Start promoting early to encourage new and existing shoppers to get into the mindset and start preparing their orders. Getting them to think about what to buy could also act as a gentle reminder that your store should be their go-to.
Optimize your website
Using SEO best practices, focus your website and keyword messaging around Father's Day. Make it a prominent part of your homepage and create a landing page devoted to dad's big day for a better customer experience. This is an opportunity to drive more traffic to your website, which could mean added revenue and repeat clients in the long run.

Keep your business open and running 24/7 with our all-in-one ecommerce solution–Moneris Online. You'll get everything you need to easily build your website, accept online payments and deliver your products.
Get ahead with promotions
Run special offers throughout the weeks leading up to Father's Day, and announce them everywhere: post on your social media channels, send emails, and update your site. This gives people ample time to shop so their orders are in early enough. Use informative and creative ways to promote how your products and services benefit dad (more than that tie they would otherwise get).
Create gift guides
Decisions, decisions. It's not always easy to find the perfect gift. Create a guide to help buyers narrow in on ideas and find gifts based on their budget and dad's personality. Not only are gift guides an excellent marketing tool and an aesthetically pleasing way to showcase your brand, they can highlight the value of your products and services too. Guides make navigating through your site much easier for those who simply don't want to browse through the multitude of options. Use this as an opportunity to upsell and cross-sell, and display your gift packages.
Make gift-worthy bundles
Sometimes the perfect gift needs a couple extras. For the ideal package, put together a selection of (physical or digital) products and services, and offer a special discount. Or, let customers get creative and allow them to customize their own bundles. Give discounts based on how much they spend or how many products and services they buy. You decide how it all works, and set it up in your Moneris Online shop.
Host contests and giveaways
Giveaways are exciting. Not only that, but they are the perfect way to up your engagement levels, to attract new followers, and showcase everything you have to offer. Plus, a contest can drive a significant amount of traffic to your online store and create brand awareness. Host a contest and give away a Father's Day package. Better yet, host a number of giveaways leading up to the day and build more excitement over a longer period of time. Stir up some emotions: ask your followers for fun facts about dad, their favourite memories, silliest moments, or the best piece of advice they ever got, and get people talking.
Give extra incentives
Self-giving is a big thing these days, so encourage people to shop for themselves, too. Think of who your target audience is – mainly moms and kids – and offer a little something special for them. It could be a buy-one-get-one type of deal, a discount code for the next time they shop, extra loyalty rewards, free upgrades with a purchase. Anything goes, as long as they're getting an incentive for being such a thoughtful gift-giver for dad.
Include gift cards
There's no denying the value of a gift card. And for those last minute shoppers, the socially-distanced celebrators, and those who just can't decide, an eGift card is flexible, digitally available, and gives dad exactly what dad wants. And, people using gift cards are likely to spend more than what's on there, so add them to gift bundles, give them away as contest prizes, or double them as an experience-type gift. They're easy to promote, easy to buy, and easy to give. Join the Moneris Gift Card Program, and get fully-customizable eGift cards for every occasion. Tailor them with your business in mind – use your logo, choose your design, and add them to your website.
Offer delivery and pickup options
Expect last-minute and out-of-time shoppers. Be flexible and offer other ways to shop so you don't miss out on making profits. While it's ideal to offer preferred shipping rates through a trusted carrier as well as expedited delivery, some people may still miss the deadline. Give them the convenient option of curbside pickup. Add the Moneris Online Reservation Module to your site and simplify how pickups are made. Let customers skip the wait by booking time slots directly on your website so they can get their presents on time.
Offer digital products and services
There's more to give than just the physical. Digital products and services deserve an honourable mention when it comes to the ultimate gift. With the ease of a click and almost limitless accessibility, customers may opt to give dad something a little more imaginative this year. The nature of digital products make them infinitely scalable, while virtual services make for a more convenient (and commute-free) way to offer your expertise. Plus this makes them a major (and easy) source of revenue for you.
Use these hacks to grow your sales in time for Father's Day and gain recurring business. With the ability to do it all in one shop – from setting up your site right, to scheduling pickups, to bundling gifts, and everything in between – with a Moneris Online website, you can continue to boost sales long after Father's Day has come and gone.
---
1 https://www.castanet.net/news/Canada/302429/Canadians-will-spend-an-estimated-1-5-billion-this-Father-s-Day
The information in this article is provided solely for informational purposes and is not intended to be legal, business or other professional advice or an endorsement of any of the websites or services listed.