Co-op placements and internships are a great way for young professionals to learn more about their future careers. We talked to former Moneris developer intern, Rath Kuganesan, about his experience working for one of Canada's largest payment processors and how it helped prepare him for the world of full-time employment.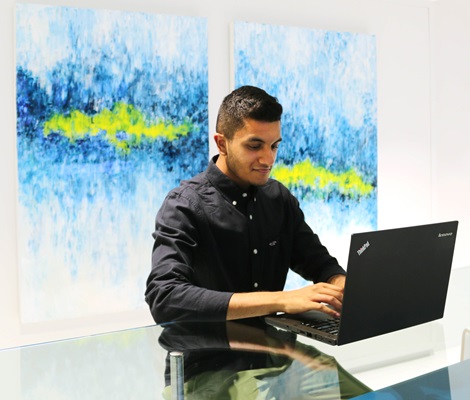 To start, tell us a bit about yourself and how you developed an interest in computers?
My name is Rath Kuganesan and I'm entering my fourth year of study in computer science at the University of Toronto. My passion for tech and computers started when I was a kid. My dad worked in the tech field, so he spent a lot of time teaching me how to use basic programs like Microsoft Paint and taking apart and rebuilding computers so that I could learn all of the different parts. After taking a few computer science classes in high school, I knew it was something I wanted to pursue as a career.
How did you get the opportunity to intern with Moneris?
I first found out about doing an internship with Moneris through U of T's online job posting portal. After submitting my resume online, I attended a winter job fair on campus where I completed interviews with a few different companies. What separated Moneris from the other companies I spoke to, was the team I interviewed with. They were very open and friendly and really emphasized from the start that I would get exposure to a cross-section of the business and not just be stuck in a small, niche position.
What types of projects did you work on during your internship?
During my first few months at Moneris, I worked on client-facing software projects, like updating the Merchant Resource Centre for Moneris Gateway merchants. I also assisted on the front-end design of the website rebranding project, which was a great experience because I got to work closely with the Moneris marketing team.
The largest part of my internship was spent building a live web chat client from the ground up. My role on the project was to design the functionality behind how messages were passed between the Moneris website and the chat server customer support agents would use to answer questions. The great thing about this project, and almost everything I worked on at Moneris, was that I could assume a fair degree of responsibility for the project. A more senior team member could have easily built the chat tool themselves, but they trusted me to take the lead and figure things out on my own, and provided mentorship when I needed it.
What's the number one thing you took away from the experience?
I was fortunate enough to be exposed to many different parts of the business beyond IT. I wasn't ever pigeon-holed as a 'tech guy,' but had the chance to collaborate with marketing, customer support and sales teams. As a developer, it really helped me learn the value of being able to translate what I do into ordinary language for people who might not have the same background. By understanding what I was working on, they were able to better execute in their positions, and drive more successful outcomes for the company.
Finally, how would you describe the culture at Moneris?
As a developer, you want to work in an environment where you feel like your ideas can flourish and new ways of doing things are explored. You want to feel like you're working on something that's advancing the current state of things. The culture at Moneris really aligns with these aspirations. Employees are constantly looking for ways to continue being a leader in the payment processing space. It's a business that feels like it's at the forefront of where the industry is headed.
Are you a current student? Moneris offers a variety of internships and co-op placements in many different areas of our business. Check your school's job board for available opportunities or look for us at a campus career fair!
---
Interested in working at Moneris as a developer? Explore our list of current Moneris job openings and make sure to visit the Moneris Developer Portal to access tools and resources available exclusively to the developer community.
The information in this article is provided solely for informational purposes and is not intended to be legal, business or other professional advice or an endorsement of any of the websites or services listed.