Moneris Employee Spotlight is an on-going series meant to highlight stories of the amazing individuals behind our organization. Meet Rath, a Software Developer from our Technology team.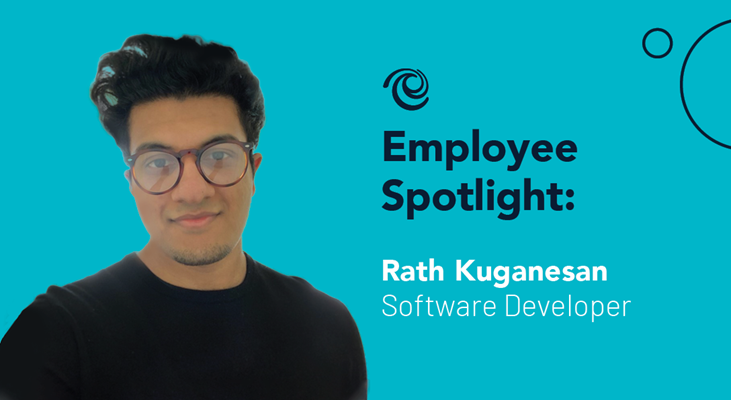 You started with Moneris as an intern. What's been the biggest factor in you remaining and continuing to develop your career here?
Around the time of my internship, Moneris was beginning to push the ecommerce side of the business more. That got me excited to come back as I thought it was a good opportunity to help grow our online payments solutions. I considered it a challenge that requires creativity and proper execution, which would help my development. People are naturally supportive here as well, I expressed that a goal of mine was to take more ownership of a project and be responsible for not only new product features but also handling the day-to-day responsibility of one of Moneris' products. This is a goal that I was able to start working on early this year, as I took more responsibility for Moneris Checkout.
What's been the most meaningful part of your job?
Currently my main job is working on Moneris Checkout. What makes [working on Moneris Checkout] meaningful for me is seeing the work I create having an impact on reducing friction for our merchants. That can include fixing critical issues, adding functionality that allows merchants to accept more customers such as wallets and multi-currency, reducing fraudulent transactions by incorporating the latest fraud tools and making the Checkout process easy to use. Especially with today's current events, more merchants than ever before are looking for ecommerce solutions so our team's mission has been to improve the product as much as possible.
What's it been like working from home? Have there been any special challenges as a Technology professional? If so, how have they been met?
It was a challenge at first because I missed the routine of coming into work, but I quickly learned everyone was just as responsive and things began to feel more normal. From a technology point of view, from the start, we had everything we needed including remote access, weekly check in meetings for our projects and discussion channels so that everyone in the project can stay on the same page. With the abundance of tools there are for working remotely, as technology professionals, we are fortunate in that productivity did not suffer much.
Do you have someone on your team you consider a role model? If so, what is it about them that inspires you in your job?
My manager (Caleb Reynolds) when I was first hired as an intern is someone I consider a role model. From a project perspective, he always knows his stuff and is someone I can always turn to when I am stuck or need advice. I think what makes him special is that he does a great job of being that way with everyone. While he is managing many projects he always makes time for everyone, and that is a quality that I think is unique in this industry because it is not something you can learn from a textbook or course.
Tell us about the most exciting project you've been a part of with the Technology team. What did it teach you?
My most exciting project was being part of the Moneris.com relaunch. This was my first major project as an intern where I helped redesign the website and develop a solution to offer an online customer service chat option. What made it exciting was that it was a multi-disciplinary project. I worked with my own team (front-end) to develop the website, our digital marketing team who gave us assets and branding guidelines, third party vendors who helped build some of the back-end functionality of the site and the IT team who use our support software to talk to customers. Compared to my experience, which consisted of school projects, this was a huge change. What it taught me was [I've learned] how to collaborate in a bigger setting and how to communicate with folks who may not have a technology background. I consider these as vital skills that are hard to get without hands-on experience.
Can you share an example of how teamwork helped you with a challenge or goal?
One of the first projects I worked on when I came back to Moneris was a decisioning feature for Moneris Checkout that would allow us to run fraud tools on behalf of merchants. Along the process there was a certain flow that I had designed incorrectly, which we noticed a little late into the QA process. I remember sitting down with my manager and going through the code to figure out a better solution. After finishing implementation, I worked with project managers to make more test cases to make the solution as robust as possible. This example showed me how it is important to remember that it can take layers of teamwork to get the solution right.
You have a special perspective on a Moneris career path. What can Moneris offer new graduates looking to start their career in Technology? And what can they offer more experienced Technology professionals who may be looking for a change or to grow their career?
For new graduates, Moneris offers hands-on experience where you're presented with challenges that will help you grow. It's an environment that encourages creativity and the opportunity to see your ideas come to life. For the professionals looking for a change, because Moneris is an industry leader the work can be fast paced and require innovation. In my own experience, teams here will go the extra mile to help you achieve your goals. It is an excellent place to take on new challenges and grow your career.
Interested in working at Moneris as a developer? Explore our list of current job openings and make sure to visit the Moneris Developer Portal to access tools and resources available exclusively to the developer community.
---
The information in this article is provided solely for informational purposes and is not intended to be legal, business or other professional advice or an endorsement of any of the websites or services listed.