As Moneris celebrates its 20th year in business, we're highlighting the incredible members of our team who have been here since the very beginning. Each month, we'll feature an in-depth interview here on the blog and on our social accounts highlighting their unique Moneris experience over the years.

This month, meet Sabrina Cioffi Manager, Product Governance & Reporting. Sabrina is responsible for driving change within Product Operations, including change to product documentation, process and harmonization in support of the Product strategy and organization. She leads the support of Product through development and execution of data visualizations, dashboards, and reporting, as well as planning, prioritization, and driving best practices to support Product execution activities.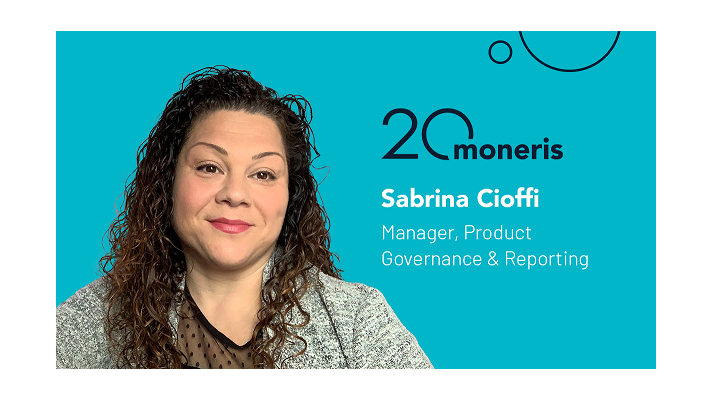 Congratulations on your 20th anniversary with Moneris! How has your role in the company evolved since you started?
To be honest, it's pretty crazy to think back and see that this journey has been 20 plus years! I started full time at the call center where I held a few roles developing from an agent and progressing to a Manager of what was then, the Major Merchant call center. I was then very fortunate to spend about 13 or so years in the Project Management Office (PMO), again growing from a Project lead to a Program Manager. That experience really gave me an in-depth understanding of our business end-to-end, and helped build my network throughout the organization.

Now, I have a great role working in Product, leveraging my experiences to help build and lead a team of governance, data and documentation specialists. This role has grown over the past few years and having the ability to work directly with the Product leadership team has given me tremendous development opportunities to expand my knowledge of our products and solutions.
What's been the biggest lesson you've learned on your journey?
Awesome question! The biggest lesson(s) I have learned on my journey is to trust the process, and don't give up when the desired outcome is not achieved on the first try. Sometimes our greatest source of learning comes from those trial and errors and as long as we have the courage to continue, we will find success.
What would you say has been the company's role in your career development?
The company has been key to my career development because the company has been true to its values. We collaborate, we guide, we challenge each other, and we believe we can create wins for our customers and each other. The Moneris values – and how this organization has evolved and embraced all the changes that has occurred over the years – keep me driven. It allows me to push myself into things that are out of my element, so I am always learning, growing and creating opportunities.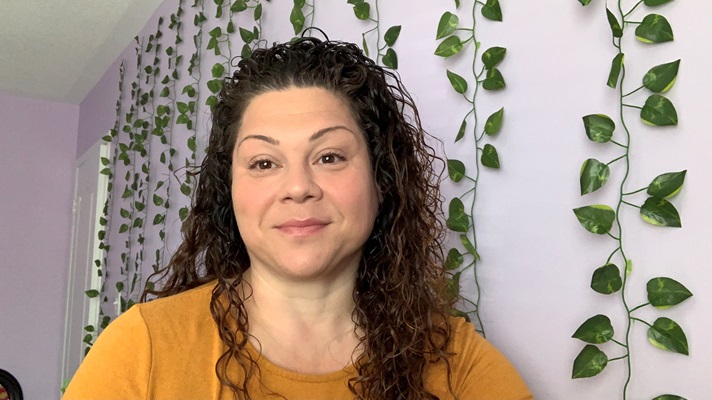 How has the industry as a whole changed since you started?
I am going to age myself right now! Haha! Working in the call center we were a very small team (maybe 20 people?) and we supported all types of inquiries from a range of merchants who wanted to accept MasterCard or Visa, many of whom only had an IVR (Interactive Voice Recognition) and an imprinter to accept credit cards. Over the years, I had the opportunity to work with some phenomenal Core teams, and lead through some of the business readiness activities. From Wifi enablement, EMV (Chip & Pin), PAYD (Mobile Payments) to where we are now with smart terminals, online payments, fraud tools etc., as well as supporting merchants with a store front and/or online processing. It has been an extraordinary evolution so far, with more to come!
What's the thing about your job that gets you excited to get to work every day?
It is tough to choose one thing…so maybe a couple! As a people leader, part of my excitement is seeing change and growth not only of my own but my direct team and those teams that we support and collaborate with. For me, leadership is a combination of integrity, courage, honesty, passion, and humility. So seeing people succeed through this journey is very exciting. I truly believe we have amazing people and a culture like no other. People genuinely want to work together and do the right thing and it truly is a sense of family.
Why should someone consider a career at Moneris?
Moneris is a fantastic place to work and grow your career. We are the top industry leader for payments. Our products and solutions continue to grow and support our evolving market and merchant needs. We consider the full end to end experience for our merchants, and we are developing incredible tools to enhance that business experience for them. Last, but certainly not least, every individual, regardless of what role is held in this organization, is working together to keep us successful. I definitely would want to be a part of a fine group of smart, determined, motivated people to work with every day.

Check back here next month when we spotlight another Moneris employee celebrating his or her 20th year with Moneris!