As Moneris celebrates its 20th year in business, we're highlighting the incredible members of our team who have been here since the very beginning. Each month, we'll feature an in-depth interview here on the blog and on our social accounts highlighting their unique Moneris experience over the years.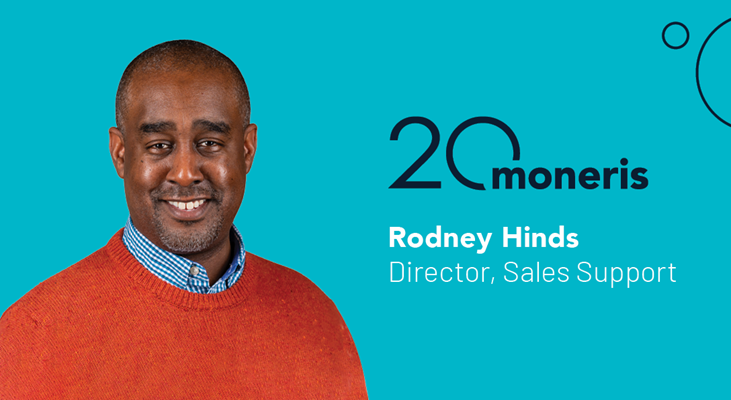 This month, meet Rodney Hinds, a Director from the Sales team. He's responsible for leading a team of people to support the sales team to hit their goals. Whether it is through implementing effective processes, providing coaching and facilitating sales training, managing technology in conjunction with IT, driving sales drive campaigns, or providing sales consultants with day-to-day business support.
First of all, congratulations on being with Moneris for the entirety of its existence! How has your role in the company evolved since you started?
I started at the company working part-time in our Financial Control area reconciling customer paper statements to dot-matrix reports. Since then I have been fortunate to grow with the organization through its evolution by taking on more complex and senior positions. Now, I have a great role leveraging my experience in sales, customer experience, project management, and technology to support our fast paced sales organization.
What's been the greatest development you've seen at Moneris since you started?
It was amazing to see how we built our Moneris gateway system and merchant facing report system (Merchant Direct) and the impact it had to business. I was able to speak directly with customers and hear from them how much these tools have helped them become successful. In recent years I am impressed with how we invested in great technology such as CRM's, and Marketing Automations tools that are being used to continue to evolve the organization to the next level in knowing our customers and anticipating their needs.
Your career path has led you to a leadership role at Moneris. What's been the biggest lesson you've learned on your journey?
Wow, great question. The biggest thing I learned is in leadership you should always look to hire someone who is different from your style. This is a blessing and is critical to drive change and keep things fresh. It brings new ideas to the organization, and created an environment where it allows everyone to challenge their ideas and learn from each other.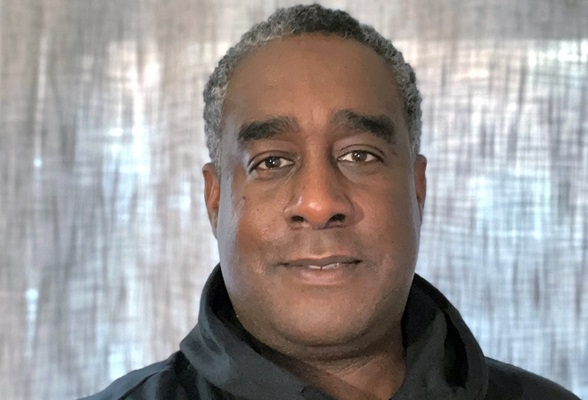 With it being Black History Month, we want to know how you've seen the workplace change as far as diversity and inclusion. Professionally, did you have Black leadership role models or mentors as you advanced your career, whether at Moneris or elsewhere?
When I started my professional career, diversity and inclusion were not prevalent. It was challenging to work through environments of covert and overt racism while trying to develop yourself as an employee. Over the years, organizations have started to work towards building and fostering a diverse working environment for all backgrounds. They have seen the wealth of knowledge and perspectives that diversity can bring. While they continue this process they are working to fully cultivate a culture of inclusion that allows people to be authentic in who they are; once true diversity and inclusion are achieved, team members, businesses and the community will flourish. Very early in my career I had one mentor/role model who helped me understand corporate culture.
Why should someone consider a career at Moneris?
Moneris is a great place to grow your career! You get to work for the top payment processor in Canada, be a part of a company that leverages cutting edge tools to drive the business forward, and be with a leader who uses data and technology to help us understand what our customers need to take their business to the next level.
What do you think the future holds for your career?
At Moneris, there is a lot of opportunity to grow! With the valuable experience that I have gained, I see myself working towards more senior leadership roles at the organization.

Check back here next month when we spotlight another Moneris employee celebrating his or her 20th year with Moneris!