There are hundreds of ways to map out a successful career when you hone in on your transferrable skills and bring them to new experiences. Our Customer Experience (CEx) team at Moneris is made up of a diverse group of employees with a range of unique experiences that brought them to where they are today. We chatted with James McCart and Kimberly McKibbin, Customer Service Representatives II, to hear their unique stories on transitioning to CEx at Moneris.
1. What were you doing before you started your role at Moneris?
James: I was raised on a dairy farm and have been working in the dairy industry all my life. Most recently I was working as a herd manager until earlier this year when I made a career change to work at Moneris in Customer Experience.
Kimberly: Before joining Moneris, I worked first as a Property Manager in Co-operative Housing and later as an Upgrade Specialist at Countryside Chrysler.
2. How have your transferrable skills helped to make you successful working in CEx?
James: For the past 20+ years, computer technology has been playing a bigger role in farming which has helped me to develop my technical and troubleshooting skills. Farmers must be good at different skills because there isn't always the time to call in someone who specializes in the problem that you are dealing with. The skills I gained in farming have allowed me to be resourceful to support our merchants.
Kimberly: Although I've worked with customers in different capacities over the years, there are several transferable skills that have made me successful since joining Moneris. To name a few; active listening, creativity, ability to adapt, dependability, patience, and troubleshooting have all allowed me to help our merchants find solutions.
3. How have Moneris and your team supported you since joining?
James: Moneris has provided me with an in-depth training experience and an inclusive onboarding process that has proven valuable throughout my time here so far. The team has been great getting to know professionally and personally. My team members have supported me by being available to answer any questions that I have.
Kimberly: Moneris is true to its values and that made me feel welcome from day one. I got in-depth training and was encouraged to ask any questions I had to my leaders and team. Some members of my team have even created a Teams channel to have a safe space for asking any questions or collaborating, which we still use on a daily.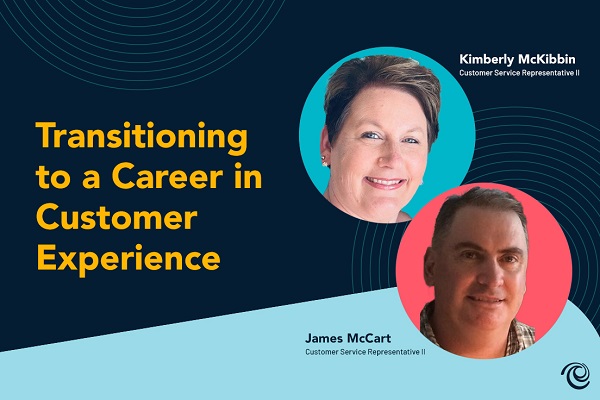 4. What do you enjoy the most about working in your role?
James: I enjoy the problem-solving aspect the role encompasses, how every day is different and the challenge of solving the merchants' problems.
Kimberly: I enjoy interacting with merchants every day and having an open and welcoming team to work with. Even though it's a large-sized company, I don't feel like just a number.
5. What is your advice to someone considering a career change to CEx?
James: Never underestimate the skills and experience that you have acquired no matter the difference in domains because they can transfer to other jobs and aspects of life.
Kimberly: You're not alone when you join a CEx team. We all support one another to be successful and it feels like you're a part of a big family. There is also ample opportunity to grow into other roles within the company by using your transferrable skills.

If you are looking to transition your career to CEx and are eager to find a company that you can grow with, we're hiring. Explore our current opportunities here.